Unless it is an emergency, to reduce the risk of catching or spreading the coronavirus, we have to stay home. Since last week I have been working from home, avoiding public transport and searching for public places through google maps to share! ;) While the experience of seeing a piece of art with your own eyes is hard to beat, virtual museums are such a wonderful opportunity to (virtually) escape your home these days. So let's visit some from the comfort of our couches. Here are my Top 5 virtual museums in Berlin.
By the way - I "meet" friends at the moment in virtual museums via skype or zoom - each one prepares themselves to say something about one piece of art in each of the virtual museums. A great way to virtually experience Berlin museums together!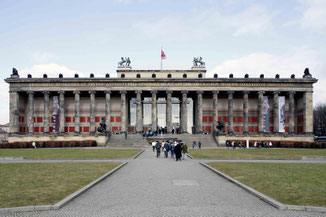 Altes Museum in Berlin
The effects of social distancing have left many feeling, well, a little crazy. Though I try to stay busy by working out virtually and working from home during the Coronavirus pandemic it's always good to do new things. Luckily, there's more than one way to stave off boredom while staying in the house. Instead of binging through Netflix, it's time for a visit to a virtual museum in Berlin. Let's start with Karl Friedrich Schinkel's Altes Museum in Berlin. Friedrich Wilhelm III dedicated this museum to the study of all antiquities and the free arts, in 1828. Today, the museum houses the antique collection, showcasing its permanent exhibition on art and culture of the Greeks, Etruscans, and Romans. So, whilst virtually visiting this museum you could even also feel as if you were travelling to these countries at the same time!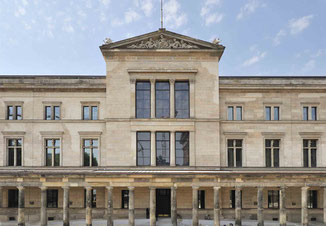 Neues Museum in Berlin
In the digital age, we can "walk" through this prestigious but virtual museum in Berlin from home. The opening of the Neues Museum marked a key chapter in the history of 19th-century art, museum design, and technology. From home, visitors can access the museums' collections of Egyptian art from the Ägyptisches Museum und Papyrussammlung, the collections of prehistoric objects from the 'Museum für Vor- und Frühgeschichte', and the classical antiquities from the antique collection. This joint exhibition featuring exhibits allows visitors to digitally trace the development of prehistoric and protohistoric cultures, spanning from the Middle East to the Atlantic and from north Africa to Scandinavia. if you are interested in antique art and want to know how it felt to be in Egypt this is your virtual museum!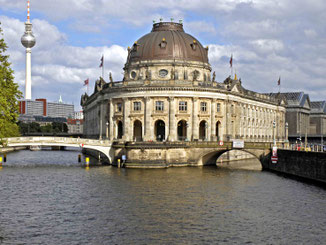 Bode-Museum in Berlin
During Coronavirus and us having to stay home - we have plenty of content, stories, and characters to lose ourselves in during this time of social distancing. There is no shortage of movies or virtual museums to fill every last moment of our free time at home. And with the help of virtual technology, world-renowned museums have been able to provide virtual tours to enjoy for a while now. The concept of the Bode Museum, which was originally called the Kaiser-Friedrich-Museum, can be traced back to Crown Princess Victoria of Prussia, who published her ideas in a memorandum in 1883. It was Wilhelm von Bode who finally put these ground-breaking ideas into practice. When the Kaiser-Friedrich-Museum opened in 1904, painting and sculpture, considered at the time as the 'high arts', were presented side by side for the first time on an equal footing. Contrary to the original concept, it now principally houses the Sculpture Collection and the Museum of Byzantine Art. Today we can "visit" the virtual Berlin museum with one mouse click!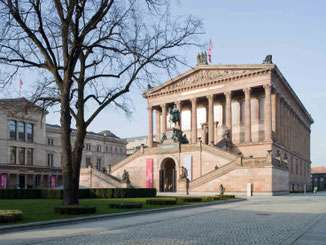 Alte Nationalgalerie in Berlin
The Old National Gallery is closed for the time being, but you can still visit virtually at any time - from home. No need to check the opening hours! So let's take a virtual 360°-degree tour through current exhibitions of Alte Nationalgalerie in Berlin. The idea of establishing a cultural and educational centre across from the Berlin Palace dates back to the time of Friedrich Wilhelm IV, who dreamt of creating a "sanctuary for art and science" on the site. The Alte Nationalgalerie in Berlin is an art gallery showing a collection of Neoclassical, Romantic, Biedermeier, Impressionist and early Modernist artwork, which you can check out from your couch.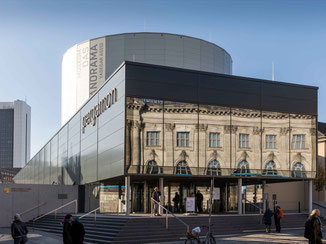 Pergamonmuseum
The museum was designed by Alfred Messel; its construction was overseen by Ludwig Hoffmann and lasted from 1910 to 1930. This Berlin museum houses the Antikensammlung, Vorderasiatisches Museum, and the Museum für Islamische Kunst. The impressive reconstructions of massive archaeological structures – the Pergamon Altar, Market Gate of Miletus, the Ishtar Gate and Processional Way from Babylon, and the Mshatta Facade – have made this Berlin museum internationally famous, and can now be admired virtually.
I hope by visiting all these virtual museums in Berlin, you can have some fun and feel like being outside, even in times like this! Take care XoXo.
If you want to find more hidden gems of Berlin, check out my folding maps BertaBerlin and QueerBerlin. They are available in well-chosen locations all over Charlottenburg, Neukölln, Kreuzberg, Mitte and Prenzlauer Berg in Berlin and online. But for those of you, who want to stay up to date, feel free to follow me on INSTAGRAM, FACEBOOK or register for my NEWSLETTER BertaNews.