Apart from a select group of exceptions such as buying food, to reduce the risk of catching or spreading the coronavirus, we must stay at home more than usual. From last week onwards I have been working from home, avoiding public transportation and looking at public places through google maps! ;) While it's hard to beat the experience of seeing a piece of art with your own eyes, virtual museums are such a wonderful opportunity to (virtually) escape your home these days. So let's visit some from the comfort of our couch to learn about something new and to have some fun. Here are my Top 5 virtual museums worldwide!
By the way - I "meet" friends at the moment in virtual museums via skype or zoom - each one prepares themselves to say something about one piece of art in each of any virtual museums worldwide. A fun activity which maybe you could try out too whilst "visiting" one of the fantastic worldwide virtual museums below.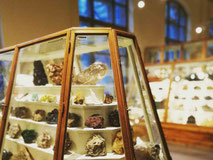 Virtual Museum für Naturkunde in Berlin
The effects of social distancing have left many feeling, well, a little crazy. Though I try to stay busy by working out virtually and working from home during the Coronavirus sometimes I'm still left longing for some kind of virtual activity different to the norm! Luckily, there's more than one way to stave off boredom while staying indoors. Instead of binging through Netflix, it's time for a visit at a virtual worldwide museum. Let's start with the Museum für Naturkunde in Berlin. During the virtual tour, there is a lot to see about evolution and geo processes. Whilst at the virtual museum visitors will also see the skeleton of Tyrannosaurus Rex 'Tristan'. At the end of January the dinosaur was shipped to Copenhagen for at least a year however when visiting the virtual museum it's as if he's never left!
National Museum of Science in Milan
During the digital age, we are lucky enough to be able to "walk" through this prestigious virtual museum in Milan. The 'National Museum of Science and Technology Leonardo Da Vinci' is one of Europe's most important museums in the fields of science and technology. This museum, which can now be visited virtually worldwide, contains the world's largest collection of machines built on the basis of Da Vinci's sketches. One of the highlights of the virtual tour is seeing what a submarine looks like from the inside. Virtual visitors to this museum will also be able to look at old steam locomotives and explore the exhibit on space travel. This museum offers a great virtual tour so, if you want a little more museum couch action, this way!
Virtual Museum Frida Kahlo in Mexico
Take a virtual trip to Mexico from your living room! Frida Kahlo is a timeless and world-renowned figure in art and women's history. If you want to take a closer look at the artist and learn more then visitors can now visit the house where Frida Kahlo was born and where she lived until her death online. During this virtual tour, you can view her incredible paintings as well as some of her furniture, painting utensils and clothing. This virtual museum offers a great opportunity to escape your mundane every day and lets you be transported to the interesting life of Frida Kahlo. For those not too into art, visitors can also click through the collection of 'Classical Art Memes', which are also online at this virtual museum for visitors worldwide.
Virtual Museum d'Orsay in Paris
Another of Europe's most famous and renowned museums is the Museum d'Orsay in Paris. This art museum is located in the centre of Paris, directly on the Seine, however, at the moment people all over the globe can visit from their own homes. During the virtual tour, exhibits from the period 1848-1914 are on display including paintings, sculptures and photographs. Highlights of the tour for me were being able to view works by famous artists such as Paul Cézanne, Claude Monet and Gustav Klimt. 
Van Gogh Museum in Amsterdam
The Van Gogh Museum in Amsterdam houses the largest collection of artworks by Vincent van Gogh (who lived between 1853-1890) in the world. The permanent collection of this museum includes over 200 paintings by Vincent van Gogh, 500 drawings and more than 750 letters. Online visitors can virtually explore these artworks from their couches and enjoy all the museum has to offer. The museum, and it's virtual tour, also presents exhibitions on various subjects from 19th-century art history. Here visitors are able to both discover the art and learn more about the context around it. For more information on Vincent van Gogh, please visit the section Vincent van Gogh's Life and Work on the museum's website www.vangoghmuseum.nl/en.
I hope by visiting all these virtual museums in Berlin, you can have some fun and feel like being outside, even in times like this! Take care XoXo.
If you want to find more hidden gems of Berlin, check out my folding maps BertaBerlin and QueerBerlin. They are available in well-chosen locations all over Charlottenburg, Neukölln, Kreuzberg, Mitte and Prenzlauer Berg in Berlin and online. But for those of you, who want to stay up to date, feel free to follow me on INSTAGRAM, FACEBOOK or register for my NEWSLETTER BertaNews.