Kids love to go swimming in the summer. When school gets out in early June, the local playgrounds with water are a very popular place to be. To cool down and splash around Berlin's water playgrounds are perfect, not only for children! As I recently published my PlayBerlin Map in English, I also discover Spielplatzguide Berlin, which is a travel guide for parents and children in Berlin, published in German and focused on (water) playgrounds. As I don't want you to miss out, I invited Marianna und Johannes to tell me also their hidden gems in Berlin: Here are our Top 5 water playgrounds in Berlin.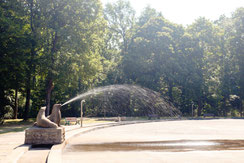 Water Playground in Plänterwald
The largest water playground of Berlin can be found in Plänterwald. It's a water paradise for children since GDR era. Children are jumping around from water fountain to water fountain on stone ground between water splashing stony pairs of seals. The water is continuously draining, causing a not over-filled basin with always fresh water. On the edge of the basin, children can discover ping-pong tables, spring riders, a climbing net, two swings and a boat. Having a picnic is possible on the benches and the meadow of the park. A shady path (Dammweg) is leading to the water playground from Neue Krugallee. The entry is free, sometimes an ice cream cart is coming around. The area can get very crowded on hot summer days.
Dammweg 6, 12435 Berlin Treptow, Station: S8 Plänterwald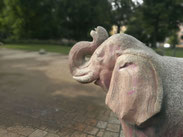 Water Playground at Forcki
The two amazing stone elephants at the Forckenbeckplatz seem to compete about who's able to splash the water higher and farther. This is perfect for children who seek refreshment after the playful work on the adventure and construction playground Forcki – for a fresh shower one has just to stand between the two grey pachyderms.
Forckenbeckplatz 1, 10249 Berlin Friedrichshain, Station: S8, S41, S42, S46 Landsberger Allee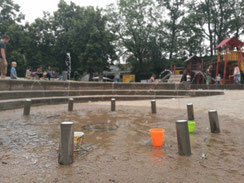 Water Playground at Stuttgarter Platz
Water-loving children are jumping around and are splashed with water from the ten circularly arranged water jets at Stuttgarter Platz. Parents can sit and watch on the likewise circularly arranged stone steps on the edge of the basin. Next door is a big climbing castle built on sand inviting the children to play in the sand and splash around.
Stuttgarter Platz 1, 10627 Berlin Charlottenburg, Station: U7 Wilmersdorfer Straße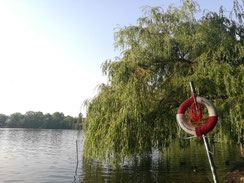 Water Playground at Weißer See
Who's not ready yet to hop into the lake will be happy on the water playground right nearby. Even though the lake is also very nice and has shallow water parts! Children can enjoy the cool water in a flat basin between many water fountains and two sea lions whilst the parents lay in the sunbathing area and watch the hustle and bustle.
Parkstraße 1, 13088 Berlin Pankow, Station: M10 Berliner Allee/Rennbahnstraße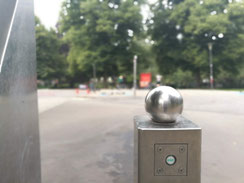 Water Playground in Weinbergspark
The water playground in Weinbergspark is situated in the heart of the city. Children bustle around on the blue stone ground between geometrical, water splashing statues. After having worked off energy on the playground, parents and children can have a picnic under the shady trees of the park meadow.
Weinbergspark, 10119 Berlin Mitte, Station: U8 Rosenthaler Platz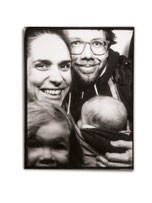 Guest-authors: Marianna and Johannes, founders of Reisedepeschen Verlag: Since Marianna Hillmer and Johannes Klaus have explored Berlin together with their daughters from their child's perspective, they discovered the capital city in a completely new way – and fell in love with the creative playground areas Berlin has to offer. With the Reisedepeschen Verlag being founded in 2018, the playground guide was one of their first and favorite project. Sometimes they even wish to explore knights castles, jungle gyms which nearly reach the stars and tiny witch's cottages themselves.
Their travel guide Spielplatzguide (of Berlin) can be found here.
If you want to find more organic markets in Berlin, check out my folding maps BertaBerlin and QueerBerlin. They are available in well-chosen locations all over Charlottenburg, Neukölln, Kreuzberg, Mitte and Prenzlauer Berg in Berlin and online. But for those of you, who want to stay up to date, feel free to follow me on INSTAGRAM, FACEBOOK or register for my NEWSLETTER BertaNews.