As Ally and I are publishing our WeddingBerlin Guide this month, we want to give you some more wedding tips. Because whether you're throwing a big party or not it's still your wedding day — and you shouldn't have to worry about anything. Find over 50 tips for wedding dress and suit shops, flower shops, wedding locations more in Berlin on our WeddingBerlin Guide. This month I'd like to show you inspiration of where to shoot your wedding photos in Berlin so here are my personal "Top 5 wedding photo locations in Berlin.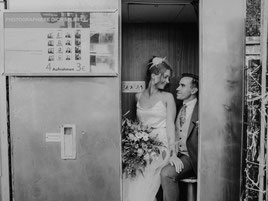 Wedding photo in Berlins Photoautomat
Whilst maybe not the first place you think of to get pictures taken of your wedding day, pictures from photo booths really are something special. Intimate, fun and unique, this wedding photo location is definitely out of the ordinary and capture some really lovely moments. Whilst many photo booths are located all over Berlin, why not visit ones near the Oberbaumbrücke or at Zossener Straße. You could even bring friends along too and get some instant photos for them all to take home and cherish to remind them of the big day!
pic by Adela von o'dear
By Oberbaumbrücke, 10243, Berlin (Friedrichshain), Station: U1, U3, S3, S5, S7, S9 Warschauer Straße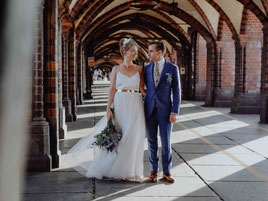 Wedding photo at Oberbaumbrücke
The Oberbaumbrücke is one of Berlins best-known sights and provides a perfect backdrop for any wedding photos. From either side of the bridge, you and your new husband or wife will look out onto impressive vistas of the city. For wedding photos with even more breath-taking scenery, have your wedding photos taken at dawn or sunset to take advantage of the often stunning, colourful skies. My tip here would be to avoid having your wedding photos taken in the middle of the day here, as this spot usually gets extremely busy! 
pic by Adela von o'dear
Oberbaumbrücke, 10243, Berlin (Friedrichshain), Station: U1, U3, S3, S5, S7, S9 Warschauer Straße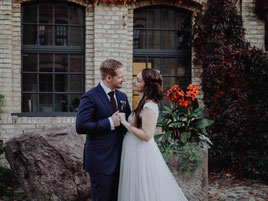 Wedding photo in a castle
If a fairytale wedding has always been your dream then surely the only place to take your wedding photos is in a castle! Even in Berlin, this is possible at Schloss Britz. This historic setting not only offers the perfect environment for a whole wedding day reception but it also itself a stunning backdrop to for your photos documenting the big day. Couples can have their wedding ceremony in the castle park of the Britz manor and then at the location after too, topping it off; your wedding guests can even stay overnight. Become enchanted in this romantic location and have your wedding photos taken here for an unforgettable experience.
pic by Adela von o'dear
Schloss Britz, Alt-Britz 73, Berlin, (Neukölln), +49 30 60 97 92 30, info@schlossbritz.de, www.schlossbritz.de, Station: U7 Parchimer Allee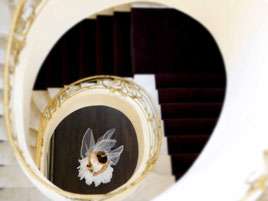 Ermelerhaus
The Ermelerhaus, part of the art'otel Berlin Mitte is a great location for elegant wedding photos. For me, the highlight of this location is the stunning spiral staircase. This venue truly has an insightful and colourful history, including it's conversion into a Rocco Palace with traditional ceiling paintings and reliefs. Anyone who spends their special day here is bound to have equally special photos to always look back on. Right in the heart of the vibrant city, this wedding photo spot is a hidden gem! The adjoining hotel also has over 100 rooms so no one will have to walk too far to their accommodation from the wedding venue. 
art'otel Berlin Mitte, Wallstraße 70–73, 10179 Berlin (Mitte), +49 30 24 06 20, ermelerhaus@pphe.com, artotelberlinmitte.de, Station: U2 Märkisches Museum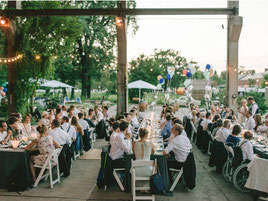 Oberhafenkantine
In the midst of the hustle and bustle of Berlin celebrate your wedding day in the idyllic wooden house on the Flutgraben and enjoy a beautiful outdoor area with all of your guests. Especially unique in Summer this location offers a simple, elegant and relaxed backdrop to any wedding photos. This trendy wedding location, near the Spree, offers a beautiful, white chapel for getting married in the garden. Fiancés are invited to the Oberhafenkantine on Tuesdays between 12:00 and 20:00 to discover this beautiful wedding venue and photo location.
Am Flutgraben 2, 12435 Berlin (Kreuzberg), zimmer@oberhafenkantine-berlin.de, www.oberhafen kantine-berlin.de, Station: S41, S42 Treptower Park 
If you want to find more hidden gems in Berlin, check out my folding maps BertaBerlin and QueerBerlin. They are available in well-chosen locations all over Charlottenburg, Neukölln, Kreuzberg, Mitte and Prenzlauer Berg in Berlin and online. But for those of you, who want to stay up to date, feel free to follow me on INSTAGRAM, FACEBOOK or register for my NEWSLETTER BertaNews.
Behind this project are Ally and I. Ally is a Berlin blogger, who recently got married and planned her wedding nearly two years. Needless to say, this woman became an expert in wedding planning, especially in Berlin. This is why we want to help others to create their perfect wedding – effortlessly.