So, you've decided to forego the elaborate wedding and head straight to the courthouse. Seems simple enough, right? Ally thought so, too. But when she decided to call off her big wedding and opt for city hall nuptials, she was surprised by how little information was out there about how to plan a wedding in Berlin. That's why we have put together a "Wedding Berlin map" of things you should know before and while ;) getting married. But today I would like to give you some wedding tips in Berlin that you might not have yet on your list.
Wedding rings
With a lot of love for and attention to detail, you will find your ideal wedding ring in a cosy atmosphere and with personal advice. Popular traditional ring designers and brands that produce exclusively in Germany are usually available with a very large selection of sample rings on site. At Juwelier Fidan, in Berlin Prenzlauer Berg, you can have sample rings customised with a configurator or have special requests implemented in their own goldsmith's shop. Another tip for this wedding spot is that there are regular sales and events with up to 20% discount.
Juwelier Fidan, Schönhauser Allee Arcaden im 1. OG, Schönhauser Allee 79–80, 10439 Berlin (Prenzlauer Berg), +49 30 47 98 21 02, +49 151 25 91 12 57, j.hartmann@juwelier-fidan.de, www.juwelierfidan-schoenhauserallee.de, Station: U2, S8, S41, S42, S85 Schönhauser Allee, Mon–Sat 10:00–20:00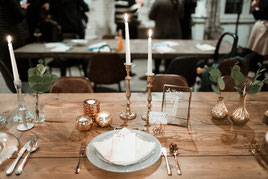 Wedding decorations
Happily Ever After is a Berlin based decoration rental service primarily for weddings. Here you will find everything the wedding heart desires - from seating plans, wedding signs, candy bars and wedding arches to games like giant Jenga! What's more, this wedding haven offers fairy lights, garlands and table decorations such as candle holders, cutlery, coloured napkins and place plates. Happily Ever After gives brides and grooms in Berlin the opportunity to create their dream wedding by borrowing decorations, saving time money and storage capacity, all whilst being more sustainable. You can find the prices and the extensive wedding range online.
Happily Ever After, Prenzlauer Allee 26, 10405, Berlin (Prenzlauer Berg), kontakt@happily-ever-after.berlin, www.happily-ever-after.berlin, Station: M1, M2 Knaackstrasse 
pic by Vasil Bituni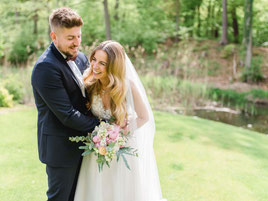 Wedding photos
For Sophie from Ganz in Weise, wedding photography is a dream come true. For her, it captures people during the important moments in their lives and enshrines these precious moments into pictures forever. As a great Berlin based wedding photographer, she does this in a very natural, emotional and unobtrusive way. At weddings, her photography is usually invisible to guests and yet she still manages to document all the small and important details of the wedding day. For big Berlin weddings, you can also book Sophie along with another of her colleagues, so that your collection of wedding pictures will be even more extensive.
Sophie Weise, Ganz in Weise, Lychener Straße 73, 10437 Berlin (Prenzlauer Berg), +49 176 64 14 00 10, www.ganzinweise.com, Station: S8, S41, S42, S85, M1, Prenzlauer Allee, pic by Sophie Weise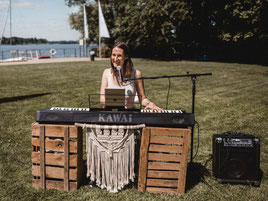 Wedding entertainment
Berlin based, Andrea is not only a brilliant wedding singer who performs covers of the most beautiful love songs with her piano but also composes couples a personalised wedding song. Regardless of whether the wedding ceremony takes place in a church, on an open meadow, at the registry office or with a champagne reception, music at your chosen wedding venue with Dear You is bound to touch visitors and the married couple alike and guarantees unforgettable emotions and memories.
Dear You, +49 172 84 09 214, andrea@dear-you.de, www.dear-you.de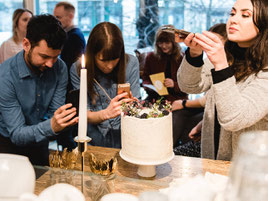 Wedding cakes
Are you looking for handmade and lovingly decorated wedding cakes in Berlin that also happen to be vegan? Then with Laura, you have found the perfect place to order your wedding cake delight. With stylishly simple or more extravagant decorations and one or more tiers, these cakes are tasty as well as a visual highlight at every wedding. Upon request, all flavors can be tried on-site in the café.
Café Neundrei, Monbijouplatz 2, 10178 Berlin (Mitte), +49 30 548 782 87, cafe@neundrei.com, www.neundrei.com, Station: S3, S5, S7, S9 Hackescher Markt, Mon–Sat 8:00–18:00
If you want to find more hidden gems in Berlin, check out my folding maps BertaBerlin and QueerBerlin. They are available in well-chosen locations all over Charlottenburg, Neukölln, Kreuzberg, Mitte and Prenzlauer Berg in Berlin and online. But for those of you, who want to stay up to date, feel free to follow me on INSTAGRAM, FACEBOOK or register for my NEWSLETTER BertaNews.
Behind this project are Ally and me. Ally is a Berlin blogger, who recently got married and planed her wedding nearly two years. Needless to say, this woman became an expert in wedding planning especially in Berlin. This is why we want to help others, to create the perfect wedding – effortless.