There is a wide variety of weekly organic markets in Berlin. All over the city and almost every day of the week you can find organic groceries, handmade crafts and more. While connecting with locals over a freshly brewed cup of coffee and chat with farmers from around Berlin and Brandenburg.
Here are my Top 5 weekly organic market in Berlin. If you want to get to know Berlin and more hidden gems, you can also pick of one my maps, preferable my BertaBerlin map.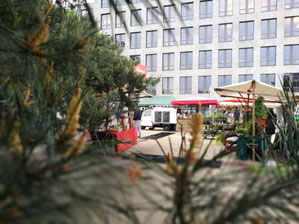 Organic market at Nordbahnhof
If you're looking to escape the hustle of the city this small weekly organic market is the one for you. The relatively new market brings together local vendors from Berlin and Brandenburg at the Elisabeth-Schwarzhaupt-Platz every Wednesday afternoon. It's best to come hungry because you shouldn't miss out on the freshly baked pizza. After satisfying your hunger it's time to shop from the nice variety of organic, seasonal fruit and vegetables, freshly baked bread, meat, fish, cheeses and other delicacies.
Every Wednesday 12:00–18:00, Elisabeth-Schwarzhaupt-Platz, 10115 Berlin (Mitte), +49 30  39 73 17 60, www.marktzeit.berlin/mz/, Station: S1, S2, S25, S26 Nordbahnhof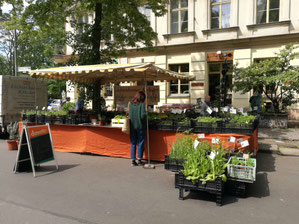 Organic market at Kollwitzplatz
"Harvested in the morning, sold at noon" that's the slogan every Thursday afternoon around Kollwitzplatz. This market is a project by the GRÜNE LIGA and has been around for more than 20 years already. Locals and tourists alike love this eco market for its wide variety of organic and ecologically grown produce like fruit, vegetables, cheeses, meats and teas. You can also enjoy some freshly baked cakes or a warm lunch after browsing clothes, jewelry, antiquarian books and more which are also sold at some of the 40+ stands.
Every Thursday 12:00–19:00 (18:00 during winter), Wörther Straße 35, 10435 Berlin (Prenzlauer Berg), +49 30 44 33 91 48, www.grueneliga-berlin.de/themen-projekte2/oekomarkt/, Station: U2 Senefelder Platz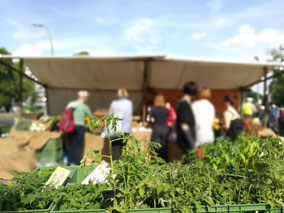 Organic market at Hansaviertel
Prepare yourself for a great start into the weekend with a visit to the organic market in Berlins smallest district Hansaviertel. Find all kinds of organic groceries your heart desires and explore the many other fair-trade, hand-crafted goods like jewelry, soaps, knitted scarfs and more. And if you get hungry you should enjoy one of the freshly made crepes and a warm cup of coffee while watching the bustle around you.
Every Friday 12:00–18:30, Altonaer Straße 18, 10557 Berlin (Hansaviertel), +49 30  39 73 17 60, www.marktzeit.berlin/mz/, Station: U9 Hansaplatz, S3, S5, S7, S9 Bellevue
Organic market at Arkonaplatz
Enjoy the perfect escape from busy Berlin Mitte at the weekly organic market at Arkonaplatz. As one of the smaller markets it provides everything you need in a relaxed and familiar atmosphere. You can see and taste the love merchants put into growing and preparing of their products. No matter if it's organic fruit and vegetables, homemade jam, Mediterranean snacks or fresh fish.
Every Friday 12:00–19:00, Arkonaplatz, 10435 Berlin (Mitte), +49 30 29 77 24 86, www.mv-perske.de/arkonaplatz, Station: U8 Bernauer Straße
pic by Gili Chen for Adira be fearless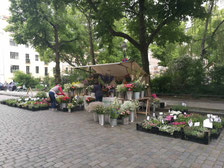 Organic market at Chamissoplatz
Explore one of the oldest and biggest weekly organic markets in Berlin. This is where Kreuzberg locals meet on Saturdays to pick up fresh organic groceries, enjoy a cup of coffee and chat to each other. It's way more than a quick shop, so bring some time to discover everything vendors have to offer from colorful produce to freshly baked bread and cakes, dairy products, meat, honey but also fresh flowers, clothing and hand-crafted goods. There's a playground right next to the market which makes it the perfect location for the whole family.
Every Saturday 9:00–15:00, Chamissoplatz, 10965 Berlin, +49 30 84 30 043, www.oekomarkt-chamissoplatz.de, Station: U7 Gneisenaustraße, U6 Platz der Luftbrücke
If you want to find more organic markets in Berlin, check out my folding maps BertaBerlin and QueerBerlin. They are available in well-chosen locations all over Charlottenburg, Neukölln, Kreuzberg, Mitte and Prenzlauer Berg in Berlin and online. But for those of you, who want to stay up to date, feel free to follow me on INSTAGRAM, FACEBOOK or register for my NEWSLETTER BertaNews.