If you don't know what to do in Berlin and want to get warm in winter, Olga and Zhenya from La La Sport helped my to find ideas for you – here are our top 5 winter sports in Berlin.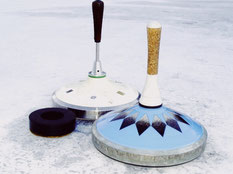 Ice stock sport in Berlin
If the Olympic variation of curling is too much for you try its little brother. Ice stock sport (Eisstockschießen) is a combination of curling and boule. This one you can do without a coach and the only must have is friends by your side and mulled wine or tea.
Rinks are located in front of the Ganymed Brasserie, next to the Berliner Ensemble (Schiffbauerdamm 5, 10117 Berlin). Three minutes from the metro station Friedrichstraße.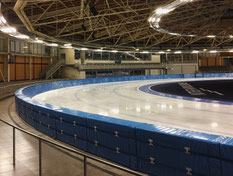 Speed ice skating
Super speed and super style. Ready to take your ice skating to the next level? Try speed ice skating at the imposing Sportforum Berlin ice rink. Due to undeserved lack of popularity of this sport, the whole ice track will be just for you and a couple of fans. You will be zooming around ice track faster than you could ever imagine! After the training session, you can stay with the team for fries and Glühwein right there at the rink.
Some experience with ice skating is required.
Eisschnelllaufhalle im Sportforum Berlin, Konrad-Wolf-Straße 39, 13055 Berlin, www.lalasports.co, every Wednesday, Friday 18:30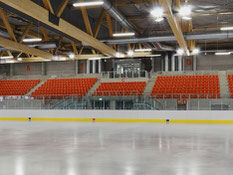 Figure skating in Berlin
Not only it is a lot of fun but also an incredibly cool way to bring some activity into your life. By the time you've finished the training session, you'll be gliding on ice, pirouetting to your heart's content and feeling more energized and confident.
Eissporthalle Charlottenburg, Glockenturmstraße 14, 14053 Berlin, hello@lalasports.co, every Wednesday and Friday for beginner and advanced groups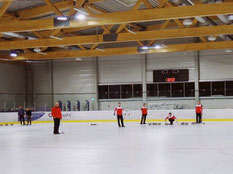 Curling in Berlin
No wonder some call curling "Chess on ice". Best way to improve your mental well-being while doing interesting and varied physical exercises. The awesome Eishalle of Berlin's curling team makes it possible. Please bring a pair of shoes that do not walk over the ankle, with the non-slippery and clean sole (most sneakers are suitable) and warm, sporty clothes. There are a changing room and parking spaces in front of the hall.
Eissporthalle Charlottenburg, Glockenturmstraße 14, 14053 Berlin, hello@lalasports.co, training sessions will start from 21 January at 18:00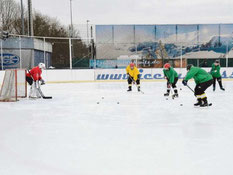 Ice hockey in Berlin
For those who like when everything is serious. The team of enthusiasts gathering on the ice rink once a week and looking forward to introducing you to this tough and cool sport. The rink itself is rather far, but quite lovely especially in snowfall as it is outdoors.
Eisbahn Lankwitz Leonorenstraße 37, 12247 Berlin, every Tuesdays, from 22:20 to 23:50
Olga and Zhenya are founders of Berlin-based startup LA LA SPORTS. They launched this platform in the testing mode researching and adding cool sports one by one from Olympic to niche and extreme. The inspiration for the service came from their experience, as they discovered diving (the Olympic sport one) at the age of 27, then they involved more and more people into this sport, started taking part in contests all over the world and finally came up with this idea to show people all amazing sports and make them easy and fun to experience.