Because I am scouting for new awesome locations in Berlin all the time, I do have a lot of coffee dates. I am not complaining, I love it, but sometimes I want to do something else. Berlin offers a lot of do-it-yourself workshops, which I found really refreshing: From brushing, taking photos to planting, I tried it all. I would also highly recommend the workshops for your unique birthday party or as a gift. To put it in a nutshell, here are my Top 5 workshops in Berlin.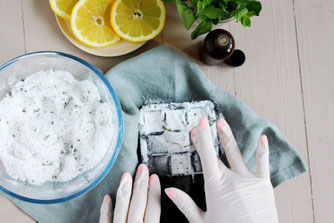 Natural cleaning workshop
Have you ever thought about making your own cleaning products? You will not just avoid a lot of plastic you will also take care of the environment and your health. At the first natural cleaning workshop in Berlin you will learn to create several cleaning products out of 100% natural ingredients. Such as baking soda, vinegar or citric acid. During two hours Lucie will guide you through natural household remedies and teach you how to create your own products. You will choose three of five recipes and create for example a magic cleaning soft scrub, cleaning tabs, an all-purpose cleaner or a glass cleaner. 
Werkstatt für alles (2nd doorway right), Paul-Lincke-Ufer 41, 10999 Berlin, workshops at various dates, next one is on the 29th of August, +49 176 22 10 79 82, lucie@puure.de, www.puure.de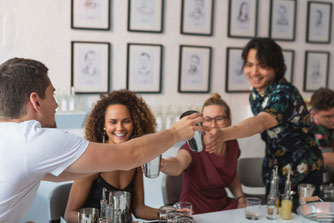 ShakeNight Wiskey Sour
By joining this workshop we not only learned, how to create a tasty cocktail (they offer different workshops), you will also have a lot of fun while designing your cocktails. The concept is rather simple: You meet up at the office space or bar and learn to mix Wiskey Sour (in my case), Negroni or Old Fashion. Their are other ShakeNights, hosted in a different location: As each ShakeNight focuses on one cocktail, you can choose your favorite cocktail and also visit another workshop to discover more drinks and bars in Berlin.
With the VOUCHER SHAKETHISWAY20 you get 20% off!
Freimeisterkollektiv, Erkelenzdamm 59–61, 10999 Berlin (Kreuzberg), +49 160 98 00 41 79, hello@shakenight.com, www.shakenight.com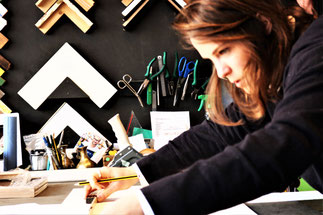 Framework Berlin
At this workshop Claire will teach you, how to make your own unique picture frame. There is no experience required, other than the desire to learn how to frame your own image. You will have access to all of Frameworks unique moulding. The most relevant elements of an image and consequently the frame – professional mounting tactics, so that you do not damage your print – cutting glass and backboard – how to cut and join moulding to create a frame, sealing and hanging methods. The only thing you need to bring, is a picture or print no bigger then 30 cm x 30 cm. ALL COURSES ARE ON SATURDAYS STARTING AT 12:00 NOON
Buschkrugallee 103, 12359 Berlin (Neukölln), +49 30 53 66 49 96, info@frameworksberlin.com, www.frameworksberlin.com, all workshops are on a Saturday at 12:00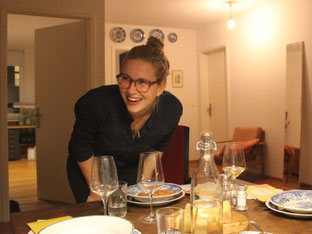 How to be a Berliner
To give you some help in discovering the hidden gems of this lovable city, I joined forces with Lena. As a networking queen and a publisher of travel guides (and a real Berliner ;) we created a semi-serious dinner to how to "become" a real Berliner and where to find them. The IDEA: Up to 8 people from all over the world AND BERLIN come together. We welcome you with an original drink from Berlin – beer from Quartiermeister and BRLO. German bread and more will be offered as a snack, but we will also enclose, where you find awesome bakeries (because we also LOVE bread, not only toast ;). Other topics are: Where to find the best food, and also how to survive as vegetarian in Berlin.
This workshop takes place only once a month, here you can see the dates.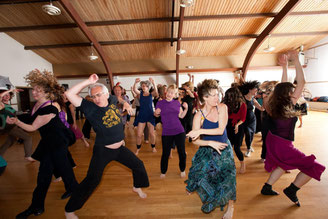 Dance In 5Rhythms®
5Rhythms, a conscious dance method, was developed by Gabrielle Roth at Esalen Institute in Big Sur, California, in the 1960s. Themes of the summer of love exhibition will inspire the workshop. Via body awareness, flow of breath, creative expression, and surrender in motion, you will be invited intuitive dance, heart opening, and expansion of consciousness—liberating and drug free. 5Rhythms, Flowing-Staccato-Chaos-Lyrical-Stillness, follow the organic flow of energy to experience essential aspects of energy and expression. After a short introduction into the exhibition, 5Rhythms® teacher Irene Husung will guide body intuition and invite the joy of connection in motion —"people in motion," to quote the famous song "San Francisco." "Dance In" welcomes everybody; no prerequisites, just comfortable clothes and barefoot if possible.
Palais Populaire, Unter den Linden 5, 10117 Berlin, +49 30 20 20 930, www.db-palaispopulaire.de, Saturday, July 13, September 7, October 26, 16:–18:00, Thursday, August 8, 18:30–20:30
pic by Carmen Alvarez
More workshops in Berlin: