Because I am scouting for new awesome locations in Berlin constantly, I have a lot of coffee dates. I am not complaining, I love it, but sometimes I want to do something different. Berlin offers a lot of do-it-yourself workshops, which I found really refreshing: From brushing, taking photos to planting, I've tried it all. I would also highly recommend these workshops below for a unique birthday party or as a gift. In a nutshell, here are my top 5 workshops in Berlin.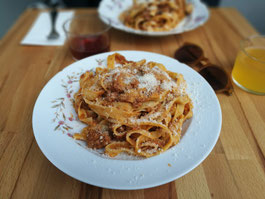 Pastificio Tosatti
The first workshop on our list is located at Pastifico Tosatti, an italian oasis in the heart of Berlin Besides eating fresh pasta, different sauces, desserts, even wine is always available to buy. Tagliatelle, Bigoli, Pappardelle and much more - here you'll find everything an Italian heart beats for. Thursday is Lasagne day. They also teach the art of Italian pasta. During their workshops you will learn step by step all important grips and tricks about making the most known types of fresh pasta from scratch. It's every Wednesday at 18:30.
Schliemannstraße 14A, 10437 Berlin, www.tosatti.de, Pasta shop Tue–Fr 12:30–19:00, Sat 16:00–19:00, restaurant Thu–Sat 18:00–22:30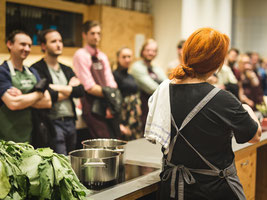 Cooking with insects
Our worlds population is growing and resources are dwindling. Meanwhile, our meat consumption is reaching its limits. So, it's time to find new sources of protein and use them. Although 2 billion people already eat insects every day, Western society still finds cooking with insects difficult. In this workshop you will learn what you need to know to cook insects that are allowed in Europe. Currently there are four varieties: grasshoppers, crickets, buffalo and mealworms. As Nicole, the cook master of the workshop from Goldhahn & Sampson, says: "Honey, there are mealworms today!"
Goldhahn & Sampson GmbH, Wilmersdorfer Straße 102–103, 10629 Berlin (Charlottenburg),www.goldhahnundsampson.de, Station: S3, S5, S7, S9 Savignyplatz, Store: Mon–Sat 8:00–20:00
Massage oil candle workshop
Lit Lab's concept is to come into their atelier, and whether they are on a date night, with friends, or traveling — together they create a fragrance — and every time that candle is lit, they are reminded of that very moment, person, and place. They also collaborate with MasterCard to create an EXCLUSIVE Berlin workshop for you. This workshop gives you the opportunity to create a massage oil candle for your boo thang, or make one together as the perfect Berlin date night. A massage oil candle is exactly as it sounds: you light it, wait for the wax to melt, pour into hands, apply to the body and give a scentual massage. In this workshop you will have an array of essential oils to mix and match. And no worries, Lit Lab will guide you through the step-by-step process of making your massage oil candle.
Oranienburger Straße 32, 10117 Berlin (Mitte), +49 176 28 90 12 83, hello@lit.berlin, lit.berlin/a/l/de/, Station: U6 Oranienburger Tor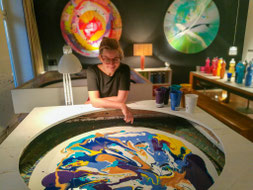 Spin Painting Workshop
If you feel like exploring your creative side then this workshop is for you. Jans Echternacht is one of the first Spin Painting artists in Europe. His spin painting consists of specially mixed liquid acrylic paint, then applied to a canvas with a wooden wedge frame which is rotated by a hi-tech electric motor. Forces during rotating cause colours to flow outwards and mix. A great deal of experience is required to achieve the correct mixing ratio of colours. Jans Echternacht has been designing large-format Spin Paintings for four years, which his collectors have all over Europe. With his experience and support you will create your own unique artwork.There are over 20 different liquid acrylic paints available, specially mixed by Jans for Spin Painting. In his spin painting workshop you will paint a work of art together, which you can then hang up in your home. Whether young or old, everyone can make their own creative contribution to their own artwork.
Jans also runs a children's aid project. With every donation you make, he visits children in hospitals, homes and refugee shelters with his mobile Spin Art machine to paint Spin Paintings together with them. Donate here.
studio jans echternacht, Oderberger Strasse 35, 10435 Berlin (Prenzlauer Berg), +49 151 12 73 03 19, info@studiojansechternacht.com, Station: U2 Eberswalder Straße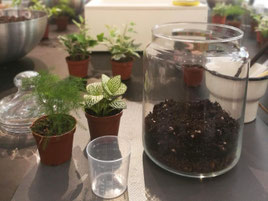 Terrarium workshop
Petite Jungle, in Berlin Mitte, organizes terrarium workshops at Lit Lab Berlin in the wonderful Heckmann-Höfe. Step by step, you will build a candy glass terrarium with tropical plants of your choice and learn everything about plants, substrates, suitable vessels and care! A green thumb is not necessary (which is especially important to me)- a love for plants and DIY workshops are enough. All the materials for your mini ecosystem are included in the workshop fee. You will also take home two leaflets about the steps and care to build and maintain a terrarium so that your new terrarium will live on even after the workshop ;).
Lit Lab Berlin, Oranienburger Str. 32, 10117 Berlin (Mitte), www.petitejungle.de
More workshops in Berlin:
If you've been inspired by one of our workshop recommendations and you want to find more hidden gems in Berlin, check out my folding maps BertaBerlin and QueerBerlin. They are available in well-chosen locations all over Charlottenburg, Neukölln, Kreuzberg, Mitte and Prenzlauer Berg in Berlin and online. But for those of you, who want to stay up to date, feel free to follow me on INSTAGRAM, FACEBOOK or register for my NEWSLETTER BertaNews.