As it is Yoga Day today (21rst), I would like to point out some yoga spots in Berlin! Here are my Top 5 yoga places in Berlin!
In case you need a good overview of yoga studios in Berlin, my YogaBerlin map can help you out. More info can be found here.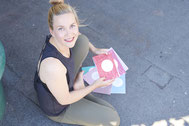 WTF is YOGA? Grind, bump & flow!
As I released my YogaBerlin map with lululemon, I know about a yoga class which you should not miss today! Join lululemon for a truly unique yoga experience with Steph Jaksch & Boom Bäng Namaste. They'll combine live electro beats with finest Hip Hop music leading you through a dynamic flow session in an old supermarket (Supermarkt Berlin, Jannowitzbrücke). Here you might see that yoga can be whatever you want it to be. Through the power of music, community, and movement.
20th of June at - 19:00–22:00 at Supermarkt, Holzmarktstraße 66, 10179 Berlin Mitte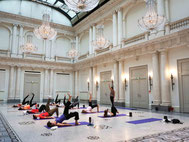 Eat & Treat - yoga workshop
This yoga workshop will be teached by Gianna Thiess at Hotel de Rome. She is an expert when it comes to bringing movement and posture into balance. Her yoga workshop varies from breathing techniques, massages, core training to full body work out. She believes in the magic of fresh and healthy ingredients in creative and unexpected fusions. Her food concepts are all vegetarian and offer a touch of exotic flavours. After yoga you can try her creations in a relaxed atmosphere at this beautiful venue.
Next yoga workshops are on Saturday 6th of July, 3rd of August and 28th of September. It will take place at 11:00 in the ballroom of Rocco Forte Hotel de Rome, Behrenstraße 37, 10117 Berlin Mitte, www.eatandtreat.de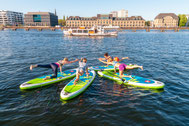 Yoga on the Spree
For all the water babies and yogis out there, Badeschiff offers not only yoga on land, but also on the water. From 'cat' to 'cow', over 'down dog' to plank, yoga on the Stand Up Paddle Board is exhausting and meditative at the same time. Here you can exchange the mat for a paddle board, dangle all four limbs in the water and forget your worries. From June to September yoga on land takes place every Tuesday and Thursday from 9:00–10:00 and SUP Yoga is always available on Monday at 18:00, Saturday at 10:30 and Sunday at 12:30.
Badeschiff, Eichenstraße 4, 12435 Berlin, hello@standupclub.de, www.standupclub.de/sup-yoga
Yoga in the Brauhaus
Ooommtastic! Did you know you can combine two bottles of beer with yoga? With these two together, people have been relaxing their mind, body and spirit for centuries. The exuberance of drinking beer in combination with the body awareness of yoga makes for an energizing experience. After the yoga class, you can enjoy your beer at Tempelhofer Feld. Cheers! Namasté. Also recommended in my BeerBerlin map.
Brauhaus Neulich, Selchower Straße 20, 12049 Berlin Neukölln, www.bieryoga.de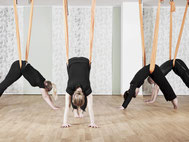 Aerial Yoga at Aspria Berlin
This fitness studio offers sports, fitness, spa and wellness all in one place.They use the finest techniques in modern, cutting-edge facilities to deliver the ultimate wellbeing experience. My favorite yoga class at Aspria is Aerial Yoga with Jost. A must do! My personal highlight is the rooftop cafe where you can enjoy a smoothie after the workout and catch some sun.
Karlsruher Straße 20, 10711 Berlin (Charlottenburg), +49 30 89 06 88 80, www.aspria.com, Station: U7 Adenauerplatz