For many Berliners, over the past few years, it has become increasingly important to live healthily.  Recently yoga has become a favourite part of my routine to relax and stay fit. Luckily for you, I have worked on a YogaBerlin map. It took time and sweat, but here you have my Top 5 yoga studios in Mitte. If you want to find more hidden gems of the German capital, pick a map in my shop.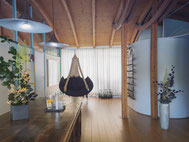 Spirit Yoga Mitte
Developed by Patricia Thielemann, Spirit Yoga offers over 100 Yoga and Pilates classes. The first studio opened in Mitte in 2004 and since has taught a modern mix of dynamic and vinyasa flow yoga in Berlin. Spirit Yoga studio offers yoga without Indian nostalgia: modern and European, which empowers you to meet the challenges of everyday life. Spirit Yoga is taught witha  clear structure, a positive attitude and with soul. As the creator of this Yoga culture, Patricia is known as "The Jil Sander of Yoga." Special focus is given to pre- and postnatal yoga. If you are new to the studio, you can buy three intro tickets for 25 Euro. Most classes are taught in German, but you can let the teacher know if you need instruction in English.
Rosenthaler Straße 36, entrance G, 10178 Berlin (Mitte), www.yogaspirit.de, Station: S3, S5, S7, S9 Hackescher Markt, pic by Nadja Klier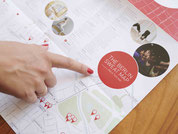 Raum für Yoga
Since 2000, Raum für Yoga has taught Hatha Yoga, Yoga Nidra and Shakti Women Yoga in Berlin, Mitte. Every Wednesday and Saturday morning you can also visit the free Sadhana classes by Roland. Whoever participates in the previous evening meditation on Tuesdays or Fridays at this yoga studio can also stay for the night.
Chausseestraße 17, 10115 Berlin (Mitte), www.raum-fuer-yoga.de, Station: S1, S2, S25, S26 Nordbahnhof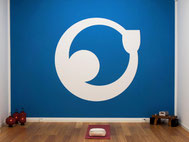 Chimosa Yoga in Berlin Mitte
This yoga studio is where martial art, yoga and meditation come together in a neat, modern atmosphere. Never mind if you are a beginner or more advanced, you can start practising anytime. The name Chimosa consists of the homeland of both founders: CHIna and ForMOSA (Taiwan). While Yi-Chung is responsible for the sporty side of things, Jing has devoted her love to tea. Other than during the summer, she masters the Chinese tea ceremony. After each yoga session at this studio, a delicious cup of tea is waiting for you. Of course, you can buy this very special tea directly at the studio and even attend tea-seminars. If you make an appointment, you can also try one lesson - yoga or martial art - for free.
Linienstraße 127, 10115 Berlin (Mitte), www.chimosa.de, Station: U6 Oranienburger Tor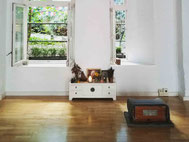 Jivamukti Yoga Berlin
Yoga studio: Jivamukti Yoga Berlin offers different classes - such as, "Jivamukti spiritual warrior," a class where you move continually in a sequence of asanas, with the breath as your rhythm. This class is only 60 minutes – perfect for a lunch break. At this yoga studio, you can practice a single class or buy a monthly ticket (where you can visit the yoga classes in both Mitte and Kreuzberg).
Brunnenstraße 29, 3nd backyard, 10119 Berlin (Mitte), www.jivamuktiberlin.de, Station: U8 Rosenthaler Platz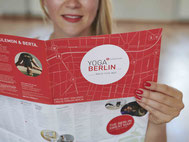 Yogatribe
This yoga studio in Berlin Mitte offers more than 40 yoga classes per week, for beginners and experienced yogis alike. From powerful morning yoga to beginner's classes and 'Vinyasa Playground' up to restorative yoga in the evening you can choose from many options. This studio also offers a free community class on Wednesdays from 15:00–16:30.
Neue Schönhauser Straße 16, 10178 Berlin (Mitte), www.yogatribe.de, Station: U8 Weinmeisterstraße