As the temperatures are starting gradually to climb, practicing yoga in an air-conditioned room isn't always an option because let's face it: yoga under the sun is so much more fun. Apparently it is not as easy to find really good outdoor yoga spots in Berlin as you would think, but I found my top 5 yoga-under-the-sun in Berlin.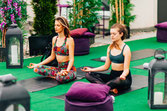 Yoga at Hotel Zoo Berlin 
Every Wednesday at 8:00 Tala and Aleks gives Open Sky Yoga classes on the rooftop of Hotel Zoo Berlin, last time we were only two people, so it is a real hidden gem, yet! Looking into the sky while holding a pose and breathing mindful while listening to the sound of wind: 60 min of Vinyasa Yoga will give you the perfect start in the day. And afterwards you can grab a croissant at Grace Restaurant (breakfast Mon–Fr 7:00–10:30, 36 Euro)
Kurfürstendamm 25
10719 Berlin (Charlottenburg)
12 Euro (mats are included)
Station: U2, U9, S3, S5, S7, S9 Zoologischer Garten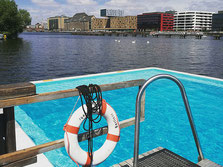 Yoga at Badeschiff
Every Tuesday and Thursday at 9 am you can start the day with Yoga at Badeschiff. Afterwards you can take a dip in a swimming pool that floats in the river, or grab a drink at the beach bar. They only have ten mats, so if you are running late, bring your own mat - just in case. The yoga class costs 7,50 Euro and the entrance for Badeschiff 5,50/3,00 Euro.
Yoga at the river Spree
Eichenstraße 4
12435 Berlin (Kreuzberg)
Station: U1 Schlesisches Tor
7,50 Euro per class
entrance for Badeschiff 5,50 Euro
Swim Season: May–Sep 8:00–0:00
Escobar: Thu–Sun 16:00–0:00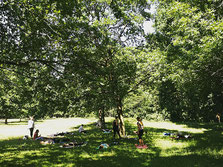 Sunday Yoga in the Hasenheide
Sometimes my beloved yoga teacher Victoria gives Open Sky Yoga classes in the park Hasenheide - follow @swanmountainyoga on Instagram to stay tuned. The lesson starts at 11:00 am on Sunday. Enter in through the first entrance coming from Hermannplatz (opposite of the cafe Macha-Macha) and follow the arrows. Expect a badass class and lots of humor. Bring your own mat and pay by donation.
Yoga in the park Hasenheide
12045 Berlin (Kreuzberg) 
Station: U7, U8 Hermannplatz
by donation
Yoga at Hotel de Rome
Every Sunday from July until the end of August from 9 am until 10 am you can roll out your mat on the rooftop terrace of Hotel de Rome. At this beautiful yoga session by Spirit Yoga you can catch some sun, get some stretching done in the wind and enjoy a fantastic view over the German capital. The class ends with the ringing  of nearby church bells.

Hotel de Rome
Behrenstraße 37
10117 Berlin (Mitte)
+49 30 46 06 09 11 60
Facebook: Rooftop yoga at Hotel de Rome
Station: U6 Französische Strasse
Price per hour 20 Euro, including towels, yoga mat, fruit and a refreshing drink.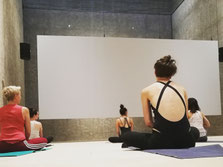 Yoga at König Galerie
Every Wednesday evening at 19:00 Eva Kaczor invites you to her yoga session in the former church St Agnes at König Galerie - come and get yourself steamed up, surrounded by art. As it is in a church it is kind of under the sun ;).
Yoga in the former church St. Agnes
Alexandrinenstraße 118-121
10969 Berlin (Kreuzberg)
Class length: 75 min
Facebook: Eva Kaczor
Station: U1 Prinzenstraße
10 Euro per class
Please bring your own mat.
If you want to find hidden gems of Berlin, check out my folding maps BertaBerlin and QueerBerlin, BeautyBerlin, GDRBerlin, VeganBerlin and BeerBerlin. They are available in well-chosen locations all over Charlottenburg, Neukölln, Kreuzberg, Mitte and Prenzlauer Berg in Berlin and online. But for those of you, who want to stay up to date, feel free to follow me on INSTAGRAM, FACEBOOK or register for my NEWSLETTER BertaNews.