Beautiful mountain landscapes, skiing, traditional villages, classical music and tempting dishes like Wiener Schnitzel, Kaiserschmarrn and Germknödel are probably the first things coming to mind when thinking about our neighbors in Austria. Sadly, Austria is not quite around the corner but here are my "Top 5 spots to travel Austria in Berlin".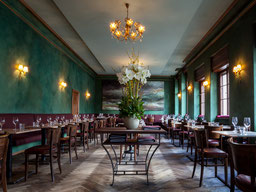 Wanna Austrian fondue?
With large artwork on the walls, serving delicious Austrian cuisine and pastries, Jolesch is one of my favorite Austrian restaurants. I can especially recommend Zwiebelrostbraten and Kaiserschmarrn. They also offer the smallest Schnitzel worldwide, as well as you can even preorder fondue, with which you feel like in Austria! Little tip: order the Kaiserschmarrn, when you get the main course, as it needs 45 minutes.
Jolesch, Muskauer Straße 1, 10997 Berlin (Kreuzberg), +49 30 61 23 581, www.jolesch.de, mail@jolesch.de, Station: U1 Görlitzer Bahnhof, Every day 12:00–23:00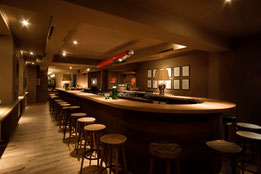 Bar Freundschaft
Enjoy a relaxed evening with lovely wine and typical Austrian "Brotzeit" dishes. The name says it all, this wine bar is a wonderful place to enjoy quality time with your friends and unwind from all the hustle and bustle in Berlin. Their huge wine selection (also from Austria ;) holds means there's sure to be the perfect wine for everyone. The two Austrians Johannes Schellhorn and Willi Schlögl are doing what they know best: recommending selected wines from a handpicked selection of over 600 wines. Just as pleasant as a trip to Austria.
Mittelstraße 1, 10117 Berlin (Mitte), +49 30 80 49 24 44, wein@istdeinbesterfreund.com, Station: U6, S1, S2, S3, S5, S8, S25 Friedrichstraße, Tue–Sat from 18:00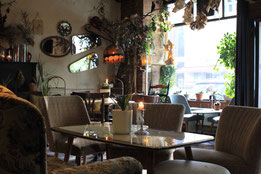 Café Vögelchen
As soon as you enter this charming café, you'll feel right at home or maybe like a coffee place in Austria. It's carefully furnished with many hidden treasures and some typically Austrian details like antlers creating an atmosphere as if it were Austria in Berlin. During the day you can enjoy a delicious cup of coffee combined with a piece of homemade cake. Later Vögelchen turns into a bar with tasty drinks and waiters, who go out of their way to make you feel welcome.
Eisenbahnstraße 6, 10997 Berlin (Kreuzberg), +49 30 60 03 18 65, birdstoldme.blogspot.com, birdsletter@gmail.com, Station: U1 Görlitzer Bahnhof, Mon–Sat from 14:00, Sun 17:00–1:00
pic by Sara Martinus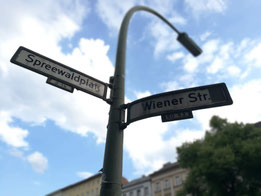 Austria in Berlin
Berlin even has a street named after the Austrian capital. Wiener Straße runs alongside Görlitzer Park and ends at the Landwehr Canal. It has been named after Vienna because of a train connection to Vienna via Görlitzer Bahnhof. There aren't any typical Austrian locations to be found at Wiener Straße but just like the Austrian capital it is very multicultural. You can find Swabian comfort food at Spätzle express, dumplings made from saved groceries at DingsDums Dumplings or typical Brazilian food at Café Mori. As well as a Mozart pharmacy, a bar named Wiener Blut, Original Unverpackt (a German concept store selling groceries without packaging) and Winer 63. And fun fact, the main character Herr Lehmann in the same-titled book by Sven Regener works at a fictional bar on Wiener Straße.
Wiener Straße, 10999 Berlin (Kreuzberg), Station: U1, U3 Görlitzer Bahnhof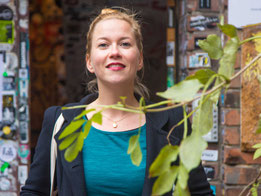 Schweighofers
Once you enter this Austrian restaurant you will be completely impressed by its rustic character. There's a traditional tiled stove to create an even cosier atmosphere. It's easy to forget that you're still in Berlin, not in Austria. The Wiener Schnitzel comes with Berlin's best potato salad and the famous Tafelspitz is so tender it almost melts in your mouth. Austrian hospitality is priority here, so I garantee, you leave this place with a happy smile on your face. Austria in Berlin at its best.
Weimarer Straße 12, 10625 Berlin (Charlottenburg), +49 30 31 30 127, schweighofers@hotmail.com, www.schweighofers.de, Station: U2 Deutsche Oper, Tue–Sat 17:00–24:00
pic by pic by Gili Chen for Adira be fearless