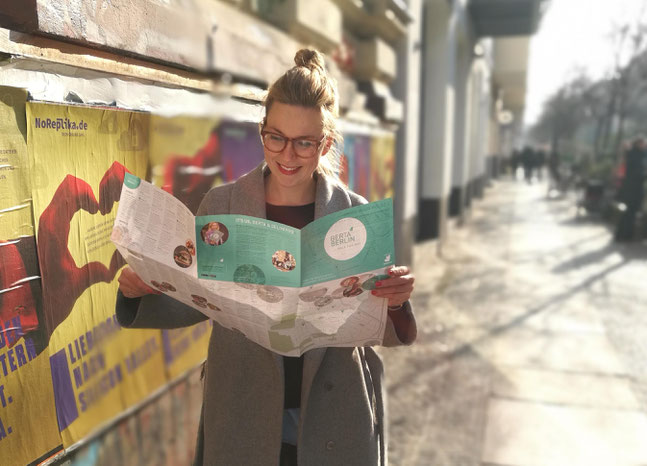 A taste for the world 
What are the must-try dishes in China? How should an authentic African cuisine taste? With that in mind Deliveroo and I designed a list of the best 59 culinary destinations in Berlin.
These restaurants will wow you with their recipes. Today everyone is interested in some kind of unique food experience when they travel or in everyday life. We help you to experience different cultures through the cuisine without traveling.
14 countries.
59 restaurants.
In Berlin
Recently I designed a culinary BertaBerlin map with Deliveroo, crafted so you can explore the taste of 14 countries in Berlin with ease. We created a culinary tour through the regional flavors of Africa, China, India, Thailand and many more. From cutting edge restaurants to traditional tastes of India's exceptional culinary legacy - like an amazing Telangana lamb dosa, Chutnify specialties and one-of-a-kind Indian finds that can't be found anywhere else. Here you have a sneak peek of the map, I selected my favourite 11 restaurants from 11 different countries in Berlin.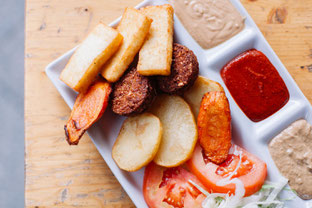 1) A taste of Africa
Sahara Imbiss serves one of the best Falafel in Berlin - authentic and extremely delicious! I highly recommend the falafel topped with halloumi and a fantastic tahini sauce. This is perfect for a quick lunch break.
Sahara Imbiss
Herfurthstr. 5
12049 Berlin
+49 176 56 56 56 46
Station: U8 Boddinstraße
Daily 12–24h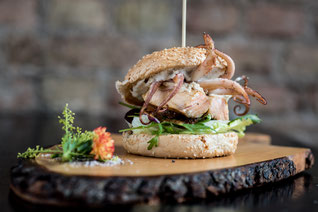 2) American way of life
"The American way of life" is still a dream for many people. But at least foodwise, you get lucky in Berlin. Burger Art offers traditional dishes like spare ribs, tasty burger and steaks. They really provide authentical ambience that you see in American movies with real American food.
Burger Art
Albrechtstraße 131
12163 Berlin
+49 30 76 72 28 33
www.burgerart.com/en
Station: U9 Rathaus Steglitz
Mon–Sat 11:30–22h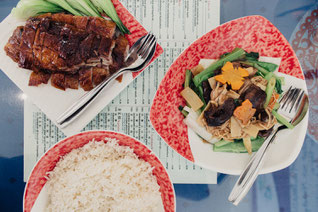 3) About Peking Duck
Good Friends is considered Berlin's best Chinese restaurant. They offer truly authentic Chinese dishes from soup to dessert. Note the ducks hanging in the restaurant's window if you're wondering just how authentic. I loved the sweet-and-sour pork or fried rice with shrimp.
Good Friends
Kantstraße 30
10623 Berlin
+49 30 31 32 659
goodfriends-berlin.de
Station: S5, S7, S75 Savignyplatz
Daily 12–1h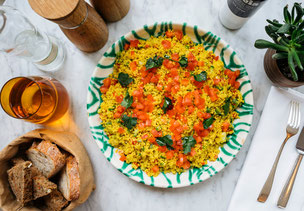 4) Classic German & more
ROCA by Waldorf Astoria stands for quality at the highest level. Starting from the choice of ingredients to the preparation, this restaurant sets standards. The Restaurant blends cuisine from around the world with signature fresh dishes. Enjoy homemade bread and pasteries, as well as Continental fare. Get pampered and reward yourself. I highliy recommend their breakfast.
ROCA by Waldorf Astoria
Hardenbergstraße 28
10623 Berlin
+49 30 81 40 00 24 60
www.waldorfastoria berlin.de
Station: U2, U9, S3, S5, S7, S75 Zoologischer Garten
Daily 12–22h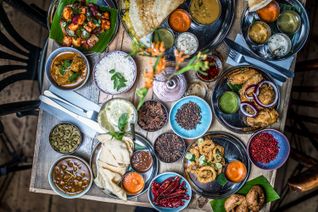 5) Colorful India
This small, colorful Indian restaurant is located in Prenzlauer Berg. There is no better place for Indian street food in Berlin! Dosas, chutneys and incredibly delicious curries are waiting for you.
Chutnify
Sredzkistraße 43
10435 Berlin
+49 30 44 01 07 95
www.chutnify.com
Station: U2 Eberswalder Straße
Daily 12–23h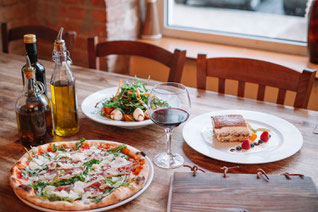 6) Bella Italia
Hidden in the middle of Friedrichshain you can nd the Italian restaurant Pepe Nero. Pick from all kinds of pizza and enjoy the Italian feeling.
Pepe Nero
Bötzowstraße 30
10407 Berlin
+49 30 63 96 82 98
www.ristorante-pepenero.de
Station: S8, S9, S41, S42, S85 Greifswalder Straße
Daily 12–23h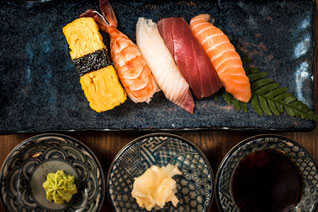 7) Best Sushi in town
Directly at Rosenthaler Platz there is this little sushi heaven. Tepanyaki and sushi are prepared by the chef right in front of your eyes on special grilling plates. This Japanese restaurant is a great choice for lunch and also a nice family dinner.
Aiko Sushi
Brunnenstraße 193
10119 Berlin
+49 30 28 09 81 11
www.aiko-sushi.de
Station: U8 Rosenthaler Platz
Mon–Fr 12–24h, Sat–Sun 13–24h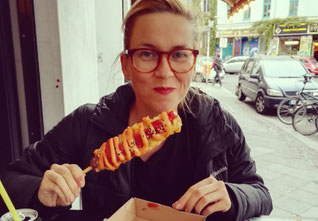 8) Fried chicken Korean style
Their fried chicken makes for some of the best wings in town, and the potato hot dog, nestled a deep fried pastry crust, with french fries is highly recommended.
Angry Chicken
Oranienstraße 16
10999 Berlin
+49 30 69 59 94 27
www.angry-chicken.com
Station: U1, U8 Kottbusser Tor
Daily 11–23h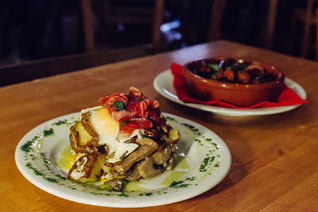 9) On Egin
One of the best Spanish tapas restaurant I tried in Berlin. They cook with fresh ingredients, all imported from Spain. Here you find a mix of Spanish and Basque cuisine in the heart of Neukölln.
On Egin
Wildenbruchstr. 88
12045 Berlin
+49 30 84 11 39 18
www.oneginberlin.de
Station: U7 Rathaus Neukölln
Tue–Sun 18-1h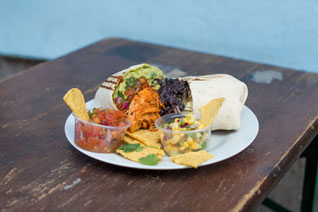 10) No Hablo Español
No Hablo Español is a true seduction for all Mexican fans. You can expect delicious burritos, quesedillas & co. whith a touch from San Francisco and Mumbai.
No Hablo Español Burrito
Kopernikusstr. 22
10245 Berlin
+49 30 95 60 93 51
www.nohabloespanol.de
Station: S7, S75 Warschauer Straße
Daily 12–23h
11) Vietnamese street food
You've always wanted to go on holiday in Vietnam, but haven't yet managed it? Then try out an alternative option by spending an evening at the COM Á in Berlin Kreuzberg. This Vietnamese restaurant serves Vietnamese street food right in a refined atmosphere of Berlin. Take a culinary tour of Vietnam at COM Á.
COM Á
Oranienstraße 191
10999 Berlin
+49 30 91 51 26 59
www.com-a-berlin.de
Station: U1 Görlitzer Bahnhof
Daily 12–23h
If you want to find more hidden gems of Berlin, check out my folding maps BertaBerlin and QueerBerlin. They are available in well-chosen locations all over Charlottenburg, Neukölln, Kreuzberg, Mitte, Schöneberg and Prenzlauer Berg in Berlin and online. But for those of you, who want to stay up to date, feel free to follow me on