Why not travel in Berlin? You don't have to always go fare to explore another country. In Berlin it is very easy to "travel through Turkey" without leaving the city. This article took some time, even though I am living in Neukölln, where the second largest Turkish community can be found. But here are 5 spots, where you can feel like in Turkey.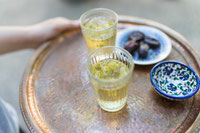 Turkish market
Why not starting the day with a breakfast at the riverside of the Landwehrkanal? When I visit the Turkish market I always end up buying several mangoes for a one Euro! Every Tuesday and Friday you can buy your groceries like fruits, vegetables and Turkish specialties like olives, textiles, spices, accessoires and clothes at the Maybachufer. Try the freshly made Gözleme with some traditional Turkish tea.
Maybachufer (corner Friedelstraße), 10999 Berlin, Station: U8 Schönleinstraße, www.tuerkenmarkt.de, Tuesday and Friday 11-18:30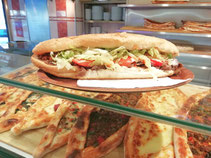 Imren Grill
Imren is a pearl among Berlin's snack bars, the crispy bread and yoghurt sauce taste delicious. This homemade kebab is a different quality than what you can find in almost every corner of Germany. Besides kebab they offer many other Turkish dishes, the vegetables look excellent and they always have a lamb soup steaming, which is highly recommended.
Karl-Marx-Straße 75, 12043 Berlin (Neukölln), +49 30 00 000, kms@imren-grill.de, www.imren-grill.de, Station: U7 Rathaus Neukölln, Mon–Sat 9:00–3:00, Sun 9:00–24:00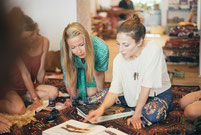 wild heart free soul
For many years Beyza travelled to Turkey to connect herself with her roots, to explore traditional Anatolian textiles and to understand their symbolism. During her travels she collected hand-woven old kilims, ceramics and calligraphy art. Today her heart beats especially for ancient kilims, the fact that they were woven by women and in harmony with Mother Nature. You can find many beautiful kilims @wildheartfreesoulberlin, as well as she can answer all your questions while drinking a Turkish tea!
Wild Heart Free Soul @ Beyza-Tempel, Sredzkistraße 44, 10435 Berlin, Beyza@wildheartfreesoul.com, www.wildheartfreesoul.com, Thu–Fr 12:00–19:00, Sat 11:00–19:00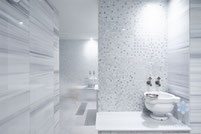 Sultan Hamam
Taking a bath in the @sultanhamamberlin means taking warm water from marble basins and pouring it over your body. In the center of the Hamam, you will find a traditional "hub stone" (turkish: Göbek Tasi). The hub stone and all other marble benches are heated. The warmth of that natural stone will get through your body and will help you to fully relax.
Bülowstraße 56–57, 10783 Berlin (Schöneberg), +49 30 21 75 33 75, info@sultan-hamam.de, www.sultanhamamberlin.de
Gözleme
Turkish food is still not known enough in Berlin. We celebrate enough Döner sandwich, but that's about it. But at the Turkish restaurant Gözleme you can taste delicious Manti, a Turkish Knödel. It is filled with meat or potato, served with yoghurt sauce and a paprika butter, and perfect when you are on the go. The restaurant itself is not a cosy beauty, but it has a big open kitchen with friendly women working the dough and fill the Manti infront of you.
Karl-Marx-Straße 35, 12043 Berlin (Neukölln), +49 30 61 34 134, Mon–Fr 10:30–23:00, Sat 11:00–23:00, Sun 12:00–23:00