Travelling Russia in Berlin is fairly easy – Berlin's relationship with Russia is unique and after the Second World War, Russia had a big impact on the German capital. There are now an estimated 300,000 Russians living in Berlin. Many of them made their home in the borough of Charlottenburg, which soon earned the nickname 'Charlottengrad'. At the Russian su­per­mar­ket, next to Charlottenburg sta­tion, you can still buy Russ­ian dumplings, vodka and clas­sic Aly­onka chocolate. But within this article, you will discover also Russian memorials, tea houses, parks and even cinemas.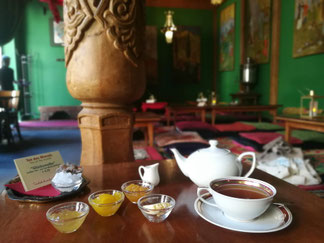 Tadshikische Teestube
This restaurant is a former GDR pearl (German Democratic Republic). A Tajik tea salon in the middle of Berlin! The whole institution was a gift to the GDR from the former Soviet constituent republic Tajikistan. It combines two worlds: an Asian tea salon with an extensive tea menu and a feel of Russia with Russian dishes made from fresh ingredients and homemade dumplings. Just take your shoes off, enter and order the Samovar ceremony!
Oranienburger Straße 27, 10117 Berlin (Mitte), +49 30 20 41 112, info@tadshikische-teestube.de, www.tadshikische-teestube.de, Station: S3, S5, S7, S9 Hackescher Markt, Mon 16:00–22:00, Tue–Fr 16:00–23:00, Sat 12:00–23:00, Sun 12:00–22:00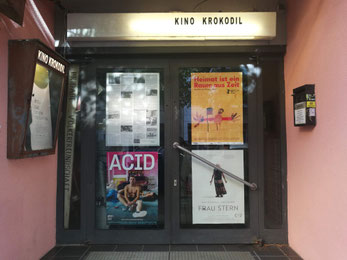 Kino Krokodil
If you don't want to miss out on Russian movies in Berlin, Kino Krokodil in Prenzlauer Berg is the right place for you. The cinema program includes contemporary Russian films as well as Soviet classics and silent movies, but also German and Polish productions that focus on Eastern Europe. Two movies are shown every evening in the 72-seat cinema. In addition, filmmakers are regularly invited for discussion evenings at the Kino Krokodil.
Greifenhagener Straße 32, 10437 Berlin (Prenzlauer Berg), +49 30 44 04 92 98, kinokrokodil@email.de, www.kino-krokodil.de, station: U2, S8, S41, S42, S85 Schönhauser Allee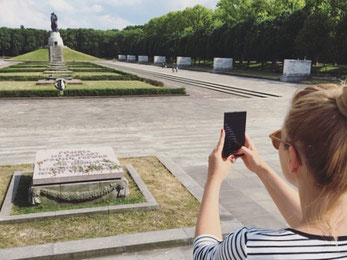 Treptower Park
The largest and the most prominent Soviet memorial in Berlin is actually a war cemetery, with 5000 soldiers buried there. Visitors at Treptower Park can observe all main elements of the Soviet style: the figure of the mother, who sent her sons to the war, as well memorial slabs and frescos that depict the course of the war, and not forgetting the Stalin quotations. The picture is completed by the imposing figure on top of the mausoleum: a soldier carrying a rescued German child. This monument is part of a triptych called 'The Motherland Calls.' The first two monuments are located in Russia. One in Magnitogorsk, depicting a labourer and soldier holding a sword together. The second monument is in Volgograd and shows an image of the Motherland raising the sword above her head which symbolizes the crucial moment in a war. The Berlin memorial completes the triptych. The soldier puts the sword on the earth, which symbolizes the end of war.
PS: There is also a Russian memorial in Tiergarten, five minutes walk from the Reichstag. The monument is flanked by two Red Army tanks.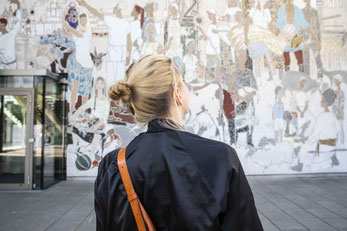 Café Moskau
Built from designs by Josef Kaiser this prestige building was supposed to symbolize the brotherhood between GDR and Soviet Union. Russian cuisine was on the menu, and moreover, it was a popular meeting place for black market and spying activities. The Sputnik on the roof still decorates the entrance of Cafe Moskau and a mural displays the German-Soviet friendship in all its contradictions, including the Russian phobia of those who witnessed the invasion of the Red Army, the state-imposed friendship with the big brother and Russian lessons at school. Since 2009 it has been used as an event venue.
Karl-Marx-Allee 34 10178 Berlin www.cafemoskau.com Station: U5 Schillingstraße, pic by Christian Kuhn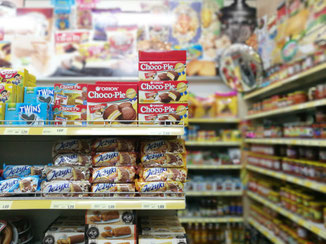 Rossiya supermarket
If you're hunting for borscht or pelmeni in Berlin, Café Rossia in Charlottenburg is one of those rare eateries that stays open round the clock, seven days a week. Offering a wide range of treasures from Russia, essentially located in a glass box! The attached Russian supermarket is also a 24-hour deal and devoted to Russian groceries – super sweet candies, a huge selection of Russian sour cream and sausages, Kimchi and sweetened Russian condensed milk.
Russian Café and supermarket Rossia, Stuttgarter Platz 36, 10627 Berlin, Station: S3, S5, S7, S9 Charlottenburg, 24-hours
PS: There is an authentic Russian village in Potsdam, called Alexandrowka. It was built for Russian choir singers and is quite similar to a native Russian village. I highly recommend the local café that offers traditional Russian beverages: tea in a samovar, pelmeni and solyanka.