Only in Berlin – with just a foot out the door you can get to know prominent influencers of the past. In this article about Berlin's street names you have the opportunity to look at Berlin and recognize the names that arise (e.g. poets, politicians, flowers, wars). Why only female names? ...Because in Berlin only 20 percent of the street names are female, mostly in new districts, as Berlin tries to make up for this imbalance!
Let me take you on a walk of fame through nearly a 100 years of history in a city where identity & desires of all varieties can be freely expressed. In addition to the Ella-Trebe street and Bertha-Benz street, we'll take in beautiful architecture, contemporary hubs like the Marie-Elisabeth Lüders Haus and much more.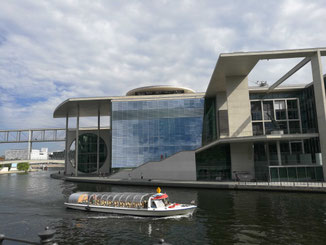 Marie-Elisabeth Lüders Haus
First on our walk of fame is a building dedicated to Marie-Elisabeth Lüders (1878-1966), a liberal social politician and representative of the women's movement in Germany. She also studied economics at today's Humboldt University in Berlin, where she was the first woman in Germany to receive a doctorate in 1912.
Adele-Schreiber-Krieger-Straße 1 10117 Berlin Station: U55 Bundestag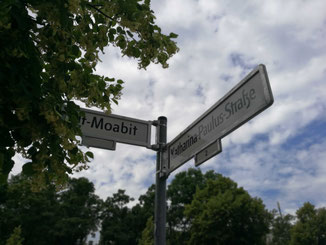 Katharina Paulus
Just a few 100 meters further, you will find a street dedicated to the fame of Katharina Paulus alias Käthe Paulus (1868-1935). She was the first German professional airshipper, aerial acrobat and inventor of the collapsible parachute.
Paulus already had a penchant for acrobatics at a young age which set her up for fame. She learned the profession of tailoring, which later turned out to be ideal for her career and fame. During a stay at a health resort in Wiesbaden she met the balloonist Hermann Lattemann and was enthusiastic about his art. He taught her the art of ballooning and parachuting. She climbed 516 times in a balloon and fell 147 times with her parachute. Her ascents met with enormous public interest: once she sold almost 20,000 tickets. In July 1914, the 46-year-old made her last balloon flight. A few days later, the First World War broke out. She gave her balloons and parachutes to the army administration. At the time of the First World War she was regarded as Germany's expert and best advisor to the balloon reconnaissance troops. In the summer of 1916, she began manufacturing the parachutes she had invented and the corresponding covers in her apartment on behalf of the Prussian Ministry of War. A worthy location to stop off at on our walk of fame!
Katharina-Paulus-Straße, 10557 Berlin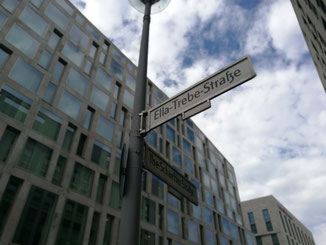 Ella Trebe
Around the corner is the Ella-Trebe street- stop number 2 on our walk of fame. Ella Trebe (1902-1943) was a German resistance fighter against National Socialism. She worked as a metal worker for the Lewin company and as a winder in the AEG factory in the Berlin. Her political commitment began in 1922 when she joined the German Metalworkers' Association (DMV). In 1926 she joined the KPD. In 1929 she was elected to the district assembly of her home district. She married her companion Paul Trebe. From 1929/30 she supported the strategy of the Revolutionary Trade Union Opposition (RGO). In 1930/31 Trebe was a women's leader on the board of the Unified Association of Berlin Metalworkers (EVMB). After the "seizure of power" by the National Socialists, Ella joined "the security apparatus of the north" of the underground KPD district leadership. At the beginning of the Second World War, there was close contact with Wilhelm Guddorf and Erwin Reisler. As courier for the Red Chapel, she maintained contact with other communist groups at home and abroad. Even after the waves of arrests against this resistance organization, she continued her resistance. Due to the carelessness of a parachutist she had hidden, Ella Trebe and other supporters were revealed in 1943, arrested on charges of espionage and deported to the Sachsenhausen concentration camp. A short time later she was shot without trial. With Ella Trebe, Ernst Beutke, his parents and brothers as well as 30 other resistance victims were murdered that day. Ella-Trebe's story is one that should not be forgotten and for that reason it is an easy inclusion on our walk of fame in Berlin. 
Ella-Trebe-Straße, 10557 Berlin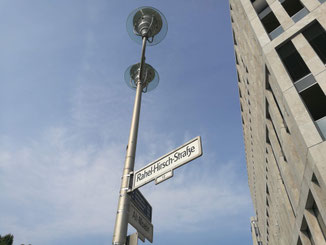 Rahel Hirsch
Rahel Hirsch (1870-1953) was one of the first female scientists to conduct research at the Charité for 16 years whilst also having a practice at Kurfürstendamm in Berlin. Because of her scientific achievements, Hirsch was the first female physician in Prussia to be awarded the title of professor in 1913. In order to escape her teaching profession, she enrolled at Zurich to study medicine as this was not possible for a woman in Germany. Shortly thereafter, Hirsch moved to Leipzig and Strasbourg, where she passed her state examination in 1903. After completing her doctorate, she worked at the Charité in Berlin; as the second female doctor in the history of the clinic after Helenefriederike Stelzner. Hirsch left the Charité in 1919 and concentrated on practice as it did not pay her a salary. Empowerment of the Nazi regime meant that Hirsch, a Jew, was deprived of her health insurance license and was no longer allowed to treat gentiles. In October 1938 she gave up her practice and emigrated to London, where she lived with one of her sisters. Because her license was not recognised by the British authorities, she worked as a laboratory assistant and later as a translator. Four years after she died, the assistant to Hirsch's former colleague at the Charité, in his habilitation thesis, picked up and confirmed Hirsch's findings on the permeability of the renal wall. In memory of her discovery, he named the proven process Hirsch Effect, her fame not only lives on in science but also on this Berlin street. Make sure you don't miss it on our walk of fame!
Rahel-Hirsch-Straße, 10557 Berlin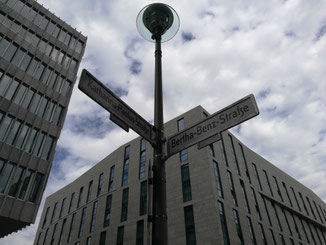 Bertha Benz
Bertha Benz (1849-1944) was a German automotive pioneer and must be incorporated in our walk of fame. She was business partner and wife of automobile inventor Karl Benz. In 1888 Bertha was the first person to drive an automobile over a long distance, rigorously field testing the patent Motorwagen, inventing brake pads and solving several practical issues during this 65 mile (105 km) trip. In doing so, she and her sons proved the everyday suitability of the horse-drawn carriage by driving from Mannheim to Pforzheim and back. This journey became a tremendous success - with almost one billion drivers worldwide today! It is probably one of the most successful marketing campaign of all times and definitely contributed to her fame. You are therefore cordially invited to her past and visit the Bertha-Benz street in Berlin Mitte, which is named after this brave woman.
Bertha-Benz-Straße, 10557 Berlin
If you want to find more hidden gems in Berlin, check out my folding maps BertaBerlin and QueerBerlin. They are available in well-chosen locations all over Charlottenburg, Neukölln, Kreuzberg, Mitte and Prenzlauer Berg in Berlin and online. But for those of you, who want to stay up to date, feel free to follow me on INSTAGRAM, FACEBOOK or register for my NEWSLETTER BertaNews.