From museums to cafes, sights, restaurants, bars and more, you will find boundless options for every budget in Berlin, Kreuzberg. To make the choice a little easier for you, I have selected some of my favourite hidden gems in the much-loved district of Berlin Kreuzberg and created a short walking tour for you. The entire walking tour and more crafted walking tours through Berlin can be explored in my BertaWalks App and in my BertaBerlin map for Berlin Kreuzberg. If you want to be stay informed, register for my BertaBerlin newsletter.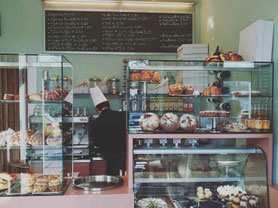 Breakfast at Salon Sucre
Hidden at the end of Görlitzerstraße you can indulge in delicious French delicacies such as tarts with forest fruits or chocolate and strawberry cakes with thousands of layers, and get a new hair cut at the same time: an unusual combination that you can also enjoy separately! In summer you can picnic with the French pastries you have bought in Görlitzer Park.
Görlitzer Straße 32A, 10997 Berlin (Kreuzberg), www.salonsucre.de,Station: U1, U3 Görlitzer Bahnhof, Patisserie: Sat–Sun 10:00–17:00, Salon: Wed–Sat 10:00–17:00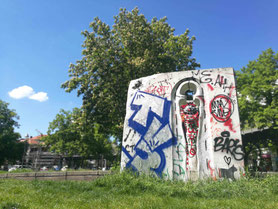 Menschenlandschaft Berlin
'Menschenlandschaft Berlin' is a sculpture path with seven artworks that lead from the Schlesischen Tor to the May-Ayim-Ufer. The sculptures deal with the subject 'Kreuzberg as a crystallisation point for immigration'. It starts with the sculpture 'Dove Vai' (Italian for 'Where are you going?'). The lying figures were created by Andreas Wegner in 1958. Between Schlesische Straße and Oberbaumstraße is the sculpture group 'People in the City', which was made by the Turkish sculptor Mehmet Aksoy from white Carrara marble. This art piece consists of nine figures in total. A crowd of people confront a single figure and symbolises the conflict between uprooting and lack of integration of foreign immigrants. Another sculpture group belonging to the path is the 'The Encounter', which was created by the Turkish sculptor Azade Köker. Her five female sculptures are located in the shades of a small park between Oberbaumstraße and May-Ayim-Ufer.
Schlesische Straße, 10997 Berlin (Kreuzberg), Station: U1, U3 Schlesisches Tor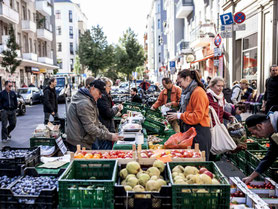 Markthalle Neun
Markthalle Neun is one of the few remaining historical market halls from the 19th century. Today it accommodates vendors offering fruit and vegetables, a delicatessen and regional specialities. Here you will also find the Anatolian-Mediterranean booth of Meze Feinkost with delicious Turkish 'mezze', which means tapas in Turkish. Stuffed vine leaves and cold vegetables in olive oil or spicy yoghurt creams are just a few of the things that you can choose from as the name promises. At the entrance, you can also visit the Turkish Multi-Kulti supermarket with a wide range of fresh fruits and vegetables, herbs, homemade Turkish pasta varieties and bread. Every Friday and Saturday, the weekly market with local goods invites you to do your weekly grocery shopping and on 'Street Food Thursday' visitors can discover current culinary trends. May-Ayim-Ufer. .
Eisenbahnstraße 42, 10997 Berlin (Kreuzberg), www.markthalle­neun.de, Station: U1, U3 Schlesisches Tor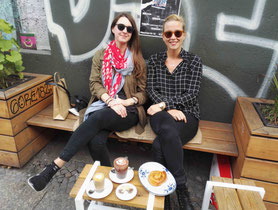 Kaffee Kirsche
Berlin has many great cafés, with just a handful serving truly great coffee, but Kaffeekirsche really has some tasty brews. Passionate about quality, they source the best coffees in the world in a way that is mindful of our environmental impact and thoughtful of the social impact. Besides making the delicious sweets, the café is famous for excellent coffee roasts and dog-friendliness.
Adalbertstraße 23, 10997 Berlin (Kreuzberg), www.kaffeekirsche.berlin, roastery@kaffeekirsche.berlin, Station: U1, U3, U8 Kottbusser Tor, Mon–Fr 8:00–19:00, Sat–Sun 10:00–18:00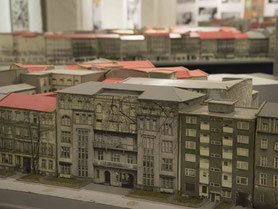 FHXB Museum
Today, Turkish shops crowd together on the Adalbert and Oranienstraße. Almost 40 years ago, Kreuzberg became the centre of life for migrants from Turkey. The FHXB Friedrichshain-Kreuzberg Museum, located directly opposite the Baklavaci Kilicoglu, is dedicated to them and the history of migration in Kreuzberg. On two floors the museum shows the history of migration in Kreuzberg, for example of immigrants from Turkey.
Adalbertstraße 95A, 10999 Berlin (Kreuzberg), www.fhxb-museum.de, Station: U1, U3, U8 Kottbusser Tor, Tue–Thu 12:00–18:00, Fr–Sun 10:00–20:00, pic by Ellen Roehner