From museums to cafes, sights to restaurants, bars and more, you will find boundless options for every budget in Berlin Mitte. To make the choice a little easier for you, I have selected some of my favourite hidden gems in the much-loved district of Berlin Mitte and created a short walking tour for you. The entire walking tour and even more crafted walking tours through berlin can be explored in my soon to be released BertaWalks App. If you want to be stay informed, register for my BertaBerlin newsletter.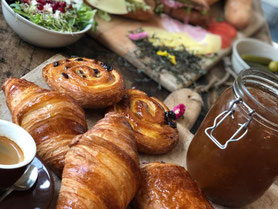 Marcann´s* Feinkostladen
Let's start the day with a French-style breakfast at Marcann's. In the heart of Berlin, you will find a lovely café with an inviting atmosphere. Here you can enjoy French delicacies like quiche, croque monsieur, sweet tartelettes or pain au chocolat.
Reinhardtstraße 19, 10557 Berlin (Mitte), www.marcanns.com, Station: U6 Brandenburger Tor, daily 7:00–18:00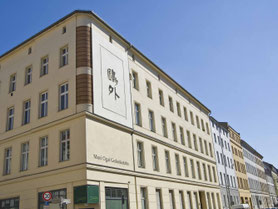 Mori-Ôgai-Gedenkstätte
After breakfast, you could visit the Mori-Ôgai Memorial. It is a museum of the Humboldt University dedicated to the memory of the Japanese doctor, poet, translator and critic Mori Ogai. It is located in the building where Ogai first lived during his stay in Berlin in 1887–88. Here, you can explore Mori's biography and gain insights into his work, which is still relevant today.
Luisenstraße 39, 10117 Berlin (Mitte), www.iaaw.hu-berlin.de, Station: U55, S1, S2, S25, S26 Brandenburger Tor, Mon–Fri 10:00–14:00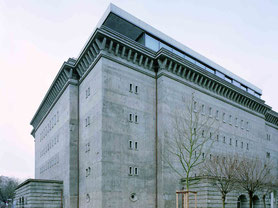 Boros Bunker in Berlin Mitte
Another hidden gem in Berlin Mitte is this former bunker with its contemporary art collection. Most rooms contain just one art piece. The bunker can only be visited with an in-house guide. The tours start on the hour in German, on the half-hour in English, and can be booked online.
Reinhardtstraße 20, 10117 Berlin (Mitte), +49 30 24 08 33 300, www.sammlung-boros.de, Station: U6, S1, S2, S3, S5, S7, S9, S25, S26 Friedrichstraße, Thu 15:00–20:00, Fri-Sun 10:00–20:00; pic by Noshe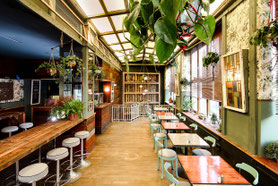 Lunch at House of Small Wonder
This restaurant is perfect for a lunch break! In a Brooklyn-like atmosphere of the hidden rooftop studio, you can enjoy a mixture of American-Japanese Tapas. My favourite is Okinawan Taco Rice. They also own another, more exclusive, Japanese restaurant on the ground floor, so-called Zenkichi Berlin.
Johannisstraße 20, 10117 Berlin (Mitte), www.houseofsmallwonder.de, Station: U6, S1, S2, S5, S7, S9, S25 Friedrichstraße, daily 9:00–16:30, 17:30–23:00, pic by Stefan Kühne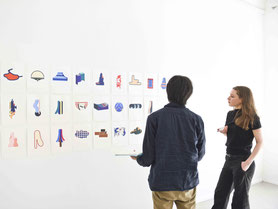 Gallery Migrant Bird
Migrant Bird is a Berlin, and Beijing, based art foundation and gallery, which is dedicated to artistic exchange between Asia and Europe. The gallery offers a professional platform for cross-cultural communication between China and Europe with a focus on contemporary Chinese art. Migrant Bird Arts organises not only exhibitions worth seeing, but also regular lectures and talks.
Koppenplatz 5, 10115 Berlin (Mitte), www.migrantbirdspace.com, Station: U8 Rosenthaler Platz, Tue–Sat 13:00–18:00, and by appointment, pic by Andrea Katheder