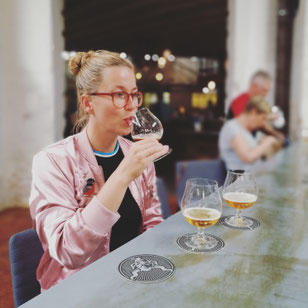 Pale ale, wheat, Pils, Bock. . . The choice in beers is gigantic in Germany alone. And for every taste the right beer is in place, because beer is not beer! Uncomplicated evening Pils, amber nectar for the gourmets or Bock for strong characters: Which kind of beer fits your personality and which beer harmonises with which food?
The list of the beer ingredients is very easy to grasp thanks to German purity requirements (Reinheitsgebot): water, malt, hop and yeast. And every beer still has its own taste. This range of flavour originates from the use of different kinds of malt which can be produced, for example, from barley, wheat, hop, or yeast as well as by different brewing styles. Experienced brewers can generate by suitable variations a plethora of tastes – completely without other additions.
I am not a beer expert, but as I am always curious to learn about everything, I did ask one: Colin Lenz from Stone Brewery. I even joined a tour through their impressive brewery complex. And as I host a lot of dinners, I was also curious to know, what beer is right for what kind of person and dish! Here you have my Top 5 beer types.
1) Smoked Porter for the uncomplicated beer drinker
Malty, smoky from the smoked malt with hints of chocolate & coffee – this English beer was brewed originally for the porters, to have them well fed without getting them completely drunk right away.
This smoky beer can be paired with BBQ Pulled Pork Filo Dough Spring Roll, smoked red pepper coleslaw and spicy plum pepper sauce. Robert Hilges, the executive Chef of Stone Brewing, decided to create a US-BBQ tapas version in an US-Asian style. It finishes with a crispy, smoky and juicy spring roll which is perfect to eat with a sweet and sour plum sauce and the bell pepper coleslaw.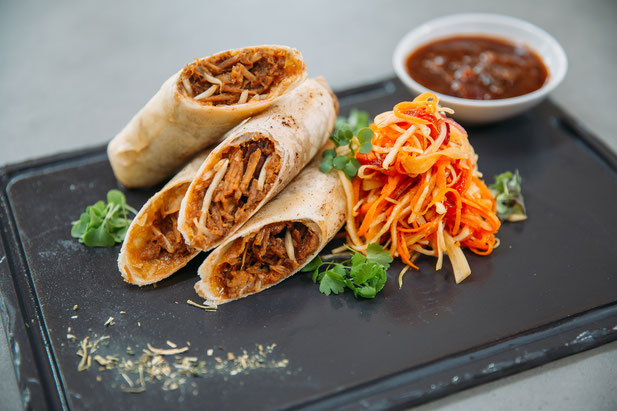 2) The Berliner choice
Stone White Ghost Berliner Weisse is a Berliner Weisse (a sour beer), typical for Berlin, in its original form without syrup or schnapps. It is sour, fresh, comparably light around 3-4% while the Stone White Ghost Berliner Weisse is a bit stronger with 4,7% - for summer evenings, a good choice if you are bored from white wine or cider ;). Foodwise, the chef recommends aromatic and crisp ceviche with tortilla chips and guacamole.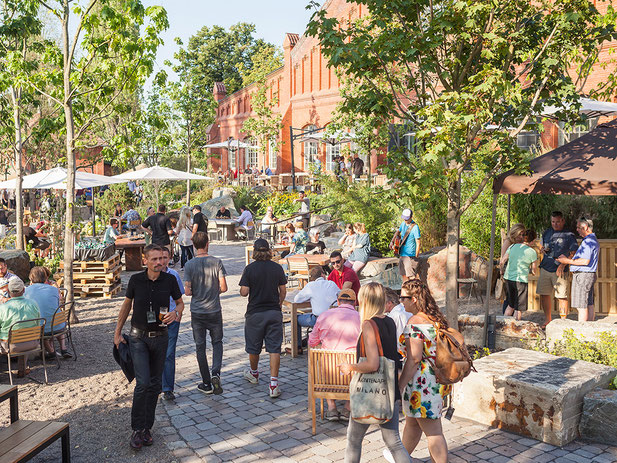 3) For the bold beer drinkers
Stone Ruination Double IPA is more intense in taste, big, bold and hugely aromatic - or as Colin Lenz says a "Liquid Poem to the Glory of the Hop". This beer is perfect to eat with a soup out of roasted garlic, extra-sharp white cheddar cheese, Stone Ruination Double IPA itself and smoked paprika. It is one of the Stone's signature dishes, served in all Stone bistros from Escondido to San Diego to Berlin.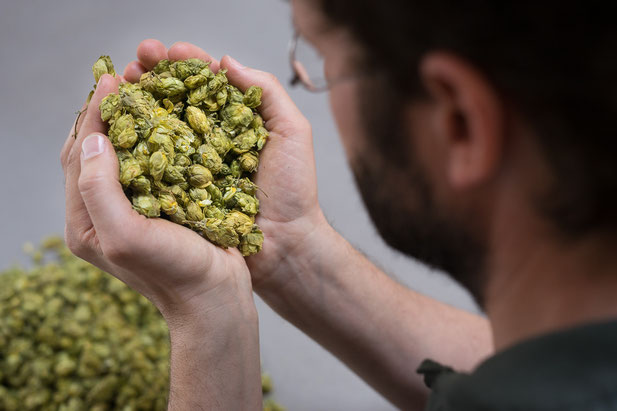 4) Dark and stormy Stout - The Gourmet's Choice
"A good dark beer is wholehearted, a little bit sweet and has malty and roasting flavor with 7,2 % - the description of the beer style says it all - we do not even tell how high the IBU (International Bitter Units) are. And we are not saying much about the beer. It speaks (so to say by design) for itself", Colin Lenz explains. Colourwise, this dark beer, with its deep-brown tone, is also a highlight among pale beers.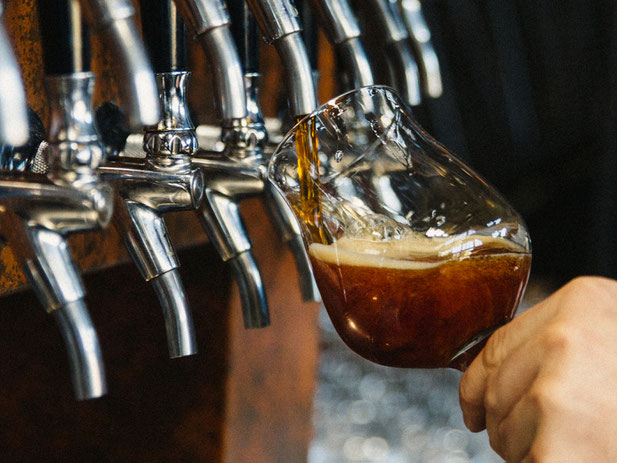 5) Stone IPA - Everybody's Darling
Stone IPA is an India Pale Ale, hoppier and higher in alcohol than its little brother, the pale ale. This is the classic Westcoast Style IPA (6,9 %) piney and fruity in taste. The local sustainable Pink Perch served with chorizo butter, crispy rye bread salad with tomatoes, parsley, onion and spring leek with this piney beer is the close to perfection match for a sunny day at the terrace at Stone Brewing Gardens in Berlin.
Besides these five beers you can find many more at the Stone Brewery, they also hosts a lot of events like openair cinema, beer festivals or guided brewery tours.
Stone Brewery
Im Marienpark 23
12107 Berlin
Hours: daily 12-0h