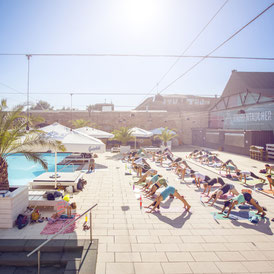 OPEN SKY YOGA
*** Open sky yoga is not available in 2018. 
Every Sunday at 9 am and Wednesday at 10 am Anna and Sünne give Open Sky Yoga classes by the pool of the Haubentaucher, before it's open the doors to the public. So don't forget the bikini and bathers.
Looking into the sky while holding a pose and breathing mindful while listening to the water - 75 min of Vinyasa Yoga will give you the perfect start in the day. Yoga is a powerful path to freedom of mind and body. At Open Sky Yoga you will be guided along this way.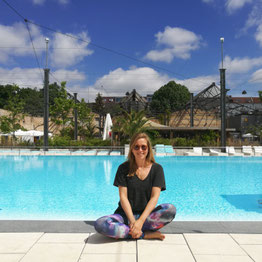 Details:
75 min.
Vinyasa Yoga
with Anna and Sünne
Open Sky Yoga at Haubentaucher
16 Euro (mats are included)
Revaler Str. 99
10245 Berlin
Facebook: Open Sky Yoga  
anna@haubentaucher.me
Station: U1, S5, S7, S75 Warschauer Str.
Haubentaucher opens every day from 12h
Breakfast at Khwan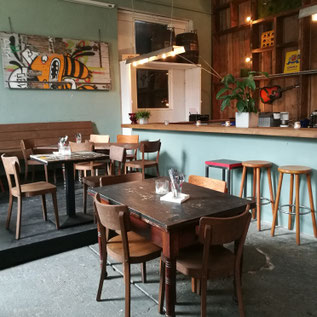 And on Sunday after Yoga you can enjoy a delicious Thai breakfast just around the corner at the restaurant Khwan. Housed in the RAW grounds, you smell the food of Khwan and hear their lovely music before you actually see it. Their menu offers delicious Thai dishes like Oysters, smoked lamb, grilled chicken and BBQ ribs, but they also serve tasty breakfast.
The owners really know how to grill flavour into every dish. Since I have been away from Thailand I never saw so colorful plates of thai food. Smoke, spice, sweet and sour, everything - these are the flavours of Khwan, which make up for a special breakfast.
Currently the owners are running a pop-up restaurant, open Thursday-Sunday, but their contract only lasts until September. What happens after is so fare only a guess. So make sure that you go their and try experience Khwan before the end of summer.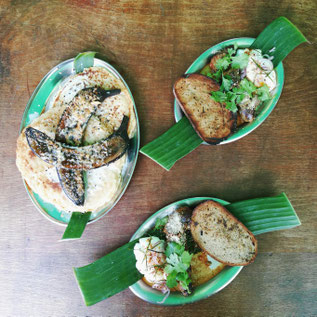 Khwan  
Revaler Str. 99
10245 Berlin
+49 152 59 02 13 31
khwanberlin@gmail.com
Station: U1, S5, S7, S75 Warschauer Str.
Hours: Thu-Sat 18-22:30h, Sun 11:30-16:30h
If you want to not only watch hidden gems of Berlin (in a movie), but see it in reality, check out my folding maps BertaBerlin and QueerBerlin. They are available in well-chosen locations all over Charlottenburg, Neukölln, Kreuzberg, Mitte and Prenzlauer Berg in Berlin and online. But for those of you, who want to stay up to date, feel free to follow me on INSTAGRAM, FACEBOOK or register for my NEWSLETTER BertaNews.