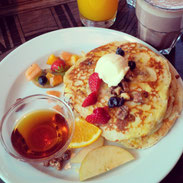 Cabslam is a little gem, carefully hidden in the streets of Neukölln next to the Weigandufer. Cabslam is an American diner which is offering an excellent breakfast. This is one reason why it is very popular in Neukölln.
The interior decoration is very cosy. It is mostly peacock texture chairs and wooden tables with indian appearing drawings. It's has as well a very good hangover breakfast. The menu offers - Eggs Florentine or Benedict - the crème de la crème of Californian breakfast interpretations of Europa.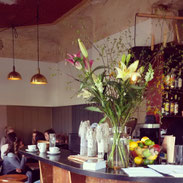 If you want to have a low profil breakfast, you can order the pancakes which are amazing and the portion is large. I burned some calories laughing at the humorous menu, like the nuevos Huevos Rancheros. It is introducing Thorsten, the chicken who gave us his very best and Cabslam refines their taste with some delicious ingredients. If you do not want to spend much, you could go for the Cab Mary and you got yourself a quasi meal with bacon deco, celery and spices.
You can also have a burger dinner there. In summer you can sit outside or even order something and sit next to or on a bridge above the Weigandufer.
One important detail, which is applying for nearly every cafe, restaurant or bar in Berlin, Neukölln, is that you can only pay cash and the next atm is fare away. So do not forget to bring some money.
Ca.B.Slam (American, diner)
Innstraße 47
12045 Berlin (Neukölln)
Station: S41, S42 Sonnenallee, 
M41 bus Erkstr.
www.cabslam.com
+49 30 68 69 624
cabslam@googlemail.com 
Open: Mo-Sun [10-2h]
This recommendation is one of many in the Mini Pocket Guide BertaBerlin.