Tropical Islands - a getaway from the city. Relaxation 60 kilometers from Berlin. If you are cold in Winter and want to feel some sand between your toes, you can visit Tropical Islands. I would recommend to go in the late afternoon, then you fight with less people over beach chairs ;). You could also bring food and drinks and have a romantic picknick at the beach.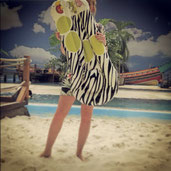 You can stroll along a sandy beach, walk through a baby rainforest and relax in the Tropical Sauna & Spa Complex. You can even stay overnight and sleep in tents and more luxurious accommodation options. On the website you can get lucky and find sometimes special offers.
Tropical Islands (by Berlin)
Tropical-Islands-Allee 1, 15910 Krausnick
+49 35477 605050
www.tropical-islands.de/en
welcome@tropical-islands.de
Open: [Mon-Sun] 8-21h
This recommendation is an addition to the Mini Pocket Guide BertaBerlin (for Berlin and Neukölln).