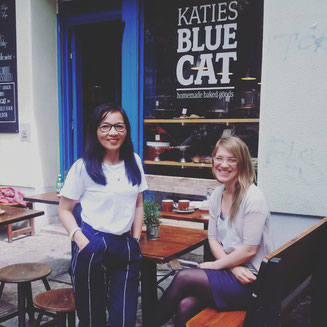 The cafe Katies Blue Cat was found by Olivia and Ngoc and its located between Kreuzberg and Neukölln. Since opening on the quiet side street Friedelstrasse in 2011, it has become one of my neighborhood favorite. Not only is the coffee prepared with care, the cafe opens super early at 8:30 am. The big quality of a cafe is that they have good products, amazing service and great location.
Before they opened, Ngoc had a Handbag Label and Olivia was a graphic designer. Olivia started to bake after becoming a mother. As she originally is from New Zealand and was raised in Canada, she was searching for American, New Zealand recipes, to find the pastries which would make her feel at home.
Olivia and Ngoc opened the cafe Katies Blue Cat out of love for coffee and pastries, with high quality standards. Ngoc with her catering experience was the perfect complement to the back then hobby bakeress Olivia.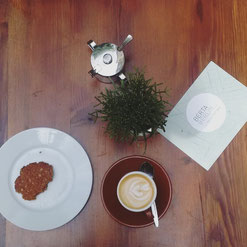 The cakes are delicious and a wild mix out of various recipes from America, Canada, Australia, Ireland and England. Every day you find homemade pastries here. Besides the cakes, you can also drink very good coffee. You will be served by real baristas, who celebrate the third wave coffee. This is a special way of preparing coffee respectively the art of making coffee.
But as I said, its not only the coffee. The baked goods like cookies, pies and crumpets are amazing. The specialty of the cafe is the ANZAC biscuits.
ANZAC biscuits
ANZAC biscuits have been associated with the Australian and New Zealand Army Corps (ANZAC) established in World War I. The basis of the recipe is rolled oats, Cococnut and syrup. The biscuit is a variation of Scottish oat cakes. The biscuits are non-perishable and as the transportation needed upwards of two months, New Zealand mothers made them for their men and sons fighting abroad.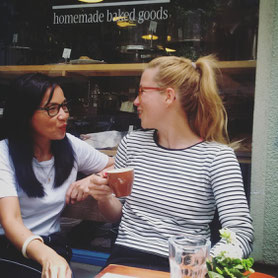 Cafe Katies Blue Cat
Friedelstraße 31
12047 Berlin (Neukölln)
Station: U8 Schönleinstr.
www.katiesbluecat.de

Open: Mo-Fr [8:30-18:30h], Sa-Sun [10-19h]
Payment: cash only
Price range: affordable quality 
(two stars out of three)
This cafe is one of many recommendations of the Travel Guide BertaBerlin (for Berlin and Neukölln).