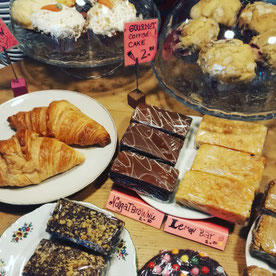 The owner of Geschwister Nothaft Cafe worked as a waiter at - Oktoberfest for years, worming his way through 10,000 beer-swilling revellers, 16 hours a day for 16 days straight. While testing the limits of even the most crowd-loving extrovert, he met the former owner of a cafe in Neukölln. Little did he know, he would go on to rent that very same space for his own cafe, which he started in 2010 with his sister Lena. Soon after, in 2012 a second, Cafe Nothaft and Seidel, would follow in Prenzlauer Berg.
Cafe Nothaft is, in my opinion, the best cafe around the S-Bahn station Sonnenallee. Take away or have a seat and try a tasty lemon tart with a superb coffee.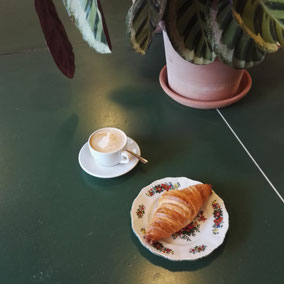 I live in the neighbourhood, so I visit Café Nothaft often, and every time I walk in, I am greeted with a smile from one of the baristas. David and Daniel, the owner and manager, really want everybody - not only customers, but also staff – to feel at home, and this laid-back atmosphere is present indeed.

If you are hungry you should go for a grilled sandwich, made with (goat) cheese, salami, turkey or pesto. There are also homemade cakes, and even options for the vegan sweet tooth.
A lot of locals and passers-by are sitting here, so if you are new to the area, you could join in and get to know the people of Neukölln. Just watching the guests come and go can be entertainment in itself, some grabbing a bite to eat on the S-Bahn or in their office, others coming for their usual hang out. For people who work from home, like myself, the sofas and big tables are a perfect escape from the daily office scene.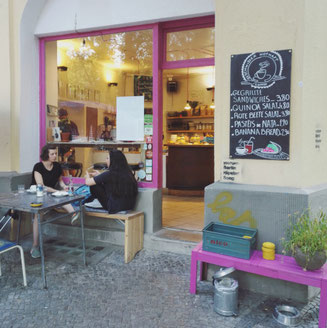 The cafe closes at 7 p.m., so if you are a bit late for a coffee at Cafe Nothaft, you can check out the bar B-Lage, just a couple blocks away.

Geschwister Nothaft Cafe
12055 Berlin (Neukölln)
Station: S41, S42 Sonnenallee
www.nothaftcafes.com

Open: Mo-Fr [7:00-19:00h], Sa-Sun [9-19h]
Payment: cash only
Price range: affordable quality
(three stars out of three)

This cafe is one of many recommendations of the Travel Guide BertaBerlin (for Berlin and Neukölln).