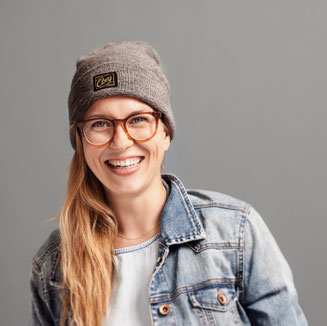 An interview with Berta, who has developed a unique minimalist folding map, known as BertaBerlin! Berta's desire is to help people get to know Berlin from a uniquely local perspective.
Born in Berlin 32 years ago, she moved around Germany repeatedly, and even after stopovers in South Africa, Canada and Peru, she has always been drawn back to her birthplace. After living in many districts of Berlin, five years ago she chose to stay in Neukölln. One day, while planning a trip of her own to Milan, rummaging through numerous guides, she had an idea. A minimalist guide in form of a folding map would solve the exact problem she was facing. Not more than a few months later and BertaBerlin was born.
Berta: Berta is full of energy, keen and cheerful. She is truly a Berliner, though never hesitant to get out.
That's how presumably my friends would describe me (laughs). I really like to travel and welcome a lot of friends and Airbnb guests from around the world in my home in Neukölln.
What is BertaBerlin?
Berta: To help my guests quickly find their way through the neighbourhood, I initially compiled PDFs with recommendations for bars, restaurants and clubs. When I travelled to Milan at the end of 2015 and rummaged through numerous guidebooks, what I really wanted was a folding map with walks through the city for a weekend. A few months later I transferred this idea to Berlin and Neukölln, and BertaBerlin was born.
BertaBerlin allows visitors to discover Berlin themselves without a personal guide or overwhelming planning. It presents three city walks with not only tourist hotspots, but also a few insider gems, including cafes, restaurants, bars and more in Neukölln.
---
 * BertaBerlin allows visitors to discover Berlin themselves without a personal guide or overwhelming planning. *
---
Does your product fill a gap?
Berta: My present and my future travel guide will lead people through Berlin with ease. You shouldn't have to look down into a book all the time while trying to enjoy Berlin. With my folding map, tourists can take my "suggested walks" and still have options for dining, sights, and cocktails. They get to know Berlin without stress. Additionally BertaBerlin offers a wide selection of recommendations in Neukölln, such as picnic basket rentals, swimming in the Stadtbad Neukölln, and yoga at Yellow Yoga.
Let's look into the crystal ball. What is in the stars for BertaBerlin?
Berta: I hope I find time to write and publish another guide for another district in Berlin. I would love to create a folding map for Tempelhof and for travellers with children. I just started. BertaBerlin is still fresh off the press. In any case, I hope that more doors will open, as I continue to meet more inspiring people, and can expand the range of the company: walk this way. A small dream of mine is to pass on my travel guide to guests of my own hostel, though it may be in the distant future.
---
 * BertaBerlin is still fresh off the press. In any case, I hope that more doors will open, as I continue to meet inspiring people, and can expand the range of walk this way. *
---
Your home is an Airbnb destination. Do you want to share one story?
Berta: Funny thing, my first Airbnb guest, Audrey, helps by editing for BertaBerlin. After she left, we became neighbours, and still remained friends.
I have insanely cool guests: from photographers, singers, and music producers to teachers, researchers, and techies. Last summer I welcomed Adam, an art curator, as my guest, who was in town to visit various artists in Berlin. I thought he could use accompaniment on his tour of artists' studios (and I, of course, didn't mind the idea of going along), so I offered to play the part of his personal assistant for the day. We rode our bikes through the city together to see the art studios of Berlin, and I was even lucky enough to meet the acclaimed painter, Jonas Burgert.
When I travelled to Los Angeles last fall - through a concatenation of unfortunate circumstances – I was unexpectedly in need of a place to stay. Adam came to the rescue and helped me out by organizing accommodation with his best friend in town, Danny. Since it was a house full of musicians, I got to go to a lot of shows, listen to a lot of jams in the house, and passed up some queues outside clubs. 
Neukölln: problem child or diamond in the rough?
Berta: Anyone who lives in Neukölln usually does not need to speak a word of German. It is a very international neighbourhood, and culture from around the globe can be found around every corner. From Turkish markets, to English-speaking hangs, and world cuisines, multiculturalism is in the air and it feels pretty good to me. My hope is that it remains as it is, and does not start to adopt too many of the same characteristics that can be found in other neighbourhoods of Berlin, such as Mitte or Prenzlauer Berg. When I want to enjoy the atmospheres of those boroughs, I can always hop on my bike or the metro.
From Life: what's not on your schedule next week?
Berta: In addition to my work as an online marketing and PR manager, I'll be writing my blog. On Monday, I meet Mandy Jochmann, founder of Go Girl Run. Tuesdays, I relax at Yellow Yoga. Wednesday, Verena Metzler, writer of the blog www.sehenswürdigkeiten-berlin.com, and I will paddle on the Landwehrkanal and write on a joint blog post. Thursday, I philosophize with Christina Wendlandt, author of www.glueckaufwanderlust.com, about a common future. On Friday, I swing my Tennis racquet at the Tennis club T. C. Weiss-Rot and perhaps on the weekend I'll go to the Wilde Möhre festival.
Since a few weeks you are a part of the Fielfalt network. Time for a preliminary conclusion:
Berta: Through my guide, BertaBerlin, and blog I got to know many new inspiring people and have learned so many things. Interaction with other bloggers from Fielfalt expanded my perspective immensely. I have worked for years in online marketing and last year also began serving as a PR consultant. Being a blogger is great extension for me, but I have to and want to learn a lot. Therefore, I am very pleased that I found other bloggers with whom I can plan new projects.
You've seen a lot of the world. What can Berlin learn from other cities?
Berta: In particular Neukölln is still extremely dirty. If you go along Saalestraße, you have to climb over bathtubs and old sofas. In Singapore, I was very impressed with the cleanliness of the city. However, I also not certain a 500-euro fine for eating in the S-Bahn should prevail in Berlin.
The Berlin blogger scene is a pretty mixed bunch. What blogs or bloggers would you like to huddle?
Berta: Admittedly, I do not read so many blogs. I like to go out and have an adventure, so I recommend, especially for Berliners and visitors, www.askhelmut.com/berlin, where you can always find current events. I also visit www.residentadvisor.net regularly, where you can be sure to find the next party to crash.
Thanks for the interesting interview.
Original German Source: fielfalt.de/berta-berlin