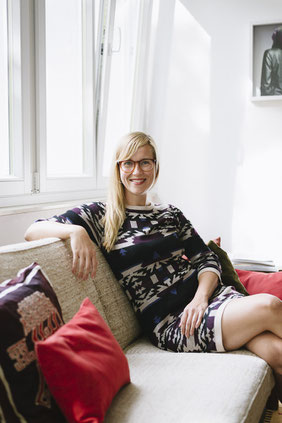 I was born in Berlin just 33 years ago and grew up moving several times around Germany. Even after living in South Africa, Canada and Peru, I was drawn back to my birthplace. Having lived in many neighbourhoods of Berlin, I decided five years ago that Neukölln is my gem. I work as an Online Marketing Manager and since 2015 also as a PR Advisor. In 2016 I founded the company WALK THIS WAY- a visitors guide map with my travel guide BertaBerlin and wrote my Blog www.walk-this-way.net.
How did you come up with BertaBerlin?
When I was traveling in Milan rummaging through seemingly endless guides in an attempt to plan the perfect weekend, I sparked this idea, and perhaps a solution to this dizzying process for guests back home: a minimalist guide, like a folding map, for Neukölln and Berlin. Just a few months later, my first travel guide, BertaBerlin, was born.
BertaBerlin enables visitors to discover Berlin in a few days, in spite of its overwhelming offers. In BertaBerlin you are introduced not only to touristic hotspots, but also to well-selected jewels on three city walks. The other side of the folding map recommends my favorite cafés, restaurants, bars and more in Neukölln.
What were the biggest challenges?
Because I work as an Online Marketing Manager and PR advisor as well as establishing WALK THIS WAY and its distribution, I must schedule my time wisely. As an entrepreneur, one takes over many duties for the first time. Therefore, it is important to set myself realistic goals, not to overburden myself and to delegate tasks. WALK THIS WAY is financed independently. Hence, my present challenge is to optimize the distribution of BertaBerlin.
Who is the target group of BertaBerlin?
BertaBerlin with its three suggested city walks through Berlin is ideal for travellers who come at short notice or only for a few days to Berlin. BertaBerlin also highlights Neukölln, so that newcomers to this district get to know the cafes, restaurants and hidden gems with ease.
How does BertaBerlin function?
BertaBerlin is a folding map with travel recommendations for Berlin and Neukölln. Three city walks on the one side of the map are designed to guide you effortlessly through Berlin. Alternatively, the opposite side of the travel guide features cafes, restaurants, bars and more in the district of Neukölln. Furthermore, detailed maps and photos help you find your own way. There are Berlin hotspots, street markets, museums, shops, restaurants, cafés, bars and more, as well as opening hours, contact data, paying and reservation possibilities, as well as the prize level.
Why should you use BertaBerlin?
BertaBerlin should guide travellers with ease through Berlin. You don't have to always look in a book if you want to discover Berlin. With BertaBerlin, visitors can follow my suggested walks and optionally select travel recommendations from breakfast, the Boros art collection, to dinner. Thus they get to know Berlin in a relaxed way. In addition, BertaBerlin offers a selection of cafés, restaurants, bars and activities as for example rent a picnic baskets, swimming in the public bath of Neukölln or yoga in the studio Yellow Yoga. BertaBerlin also helps newcomers to discover their new home district.
Where do you see yourself in five years?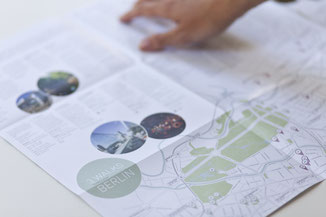 I hope to write and publish more travel guides for another district in Berlin. I would love to create a folding map for Tempelhof and for travelers with children. In the future, I would like to offer BertaBerlin also an App and guide visitors with the App through Berlin. The App should enable you to find your way without folding map through foreign city.
Which three advices would you give first time founders?
One must not always look for a gap, but rather optimize products and services. It should still be decisive that the elective occupation is fulfilling. Another advice for my part is to separate work and leisure time. At the beginning it is difficult to not see leisure time as lost working hours. However, in the long run you need the rest "to hang on". An important knowledge is also to understand the professional freedom as a chance and not as a threat. Presumably every founder has felt striked once from his own goals. Of course you should reach your goals, but especially at the beginning it is healthier to progress in small steps, rather than to pause lethargically before the Spanish Stairs.
source: startupvalley
portrait by Jörg Brüggemann
pic by Mathias Kutt