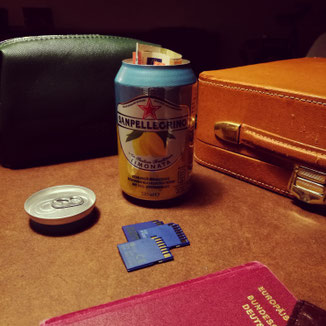 Single travelers in Berlin often have a recurrent problem: Where do I put my luggage, if I briefly leave my table in a cafe or even my shared room in a hostel? This is a legitimate question. The number of thefts during travel increases and thieves become more shifty. In 2015 40.399 pickpocketings were reported to the police in Berlin. Most crimes were reported by the Alexanderplatz. Since 2013 the number of the cases has even doubled in Berlin.
 If the luggage or wallet gets stolen, it often takes weeks to replace all documents and it might be necessary to shift the departure. This is why the fear travels with many travelers. Who leaves his table briefly, worries about his luggage left behind - or drags it along. And - another important fact - only who does not let the luggage or ist bag out of sight, will receive a payment of the insurance (if you have one). All other will be defined as robbed because of "careless action" and get nothing.
As I was living and traveling in South America and Africa I know from experience, Berlin is by fare a safer place when it comes to traveling, but - as in every big city - even in Berlin you cant do everything.
5 Steps to Avoid Getting Robbed
Hide money and documents carefully: While traveling you should never leave a wallet open on a table or put it in an open bag. Many times in Peru, I saw tourists counting their withdrawn money in front of a bank and I am pretty sure they did not keep their banknotes for long. It is also worthwhile to take a photo of your passport and to send it by email to yourself. In case you get robbed, you be able to show the copy with all its information to the police.
Use lockers: Some hostels offer lockers where travelers can stow valuables. You just throw a coin as deposit or lock it with a padlock. I always bring one on my travels. If there is no locker, I recently discovered a safety tin from Stefan Neser aka vanrode. He tinkers secret compartments in everyday objects. With his safety tin I traveled already through Europe and never got robbed.
Talk to other travelers: If it is an emergency and you cannot lock your luggage,- in Berlin at least I do - you could ask someone to watch it (in a cafe or in a train). But I would recommend to ask in a way that serveral other parties can hear your request too.
Chain your luggage while traveling: I must confess, I never tried it, but it makes sense. If you travel for example as a freelancer with expensive equipment, you chain the bag with the equipement with a big padlocks and bicycle chains (cool because it makes a lot of noise if someone tries to crack it) to an immobile object.
Be aware: I would try to avoid walking around in dark and empty places in Berlin like the Görlitzer Park. A short cut is never worth a lot of trouble. I would also wear my bag in the front of my body in crowded places just to be sure.
These are only tips for you, to travel with ease through Berlin. I was born in this city and never got robbed or mugged - even though I live in Neukölln ;).
Places where travelers get robbed the most in Berlin:
Alexanderplatz / Unter den Linden / Friedrichstraße (Berlin Mitte)
Kurfürstendamm / Tauentzienstraße / Breitscheidplatz (Berlin Charlottenburg)
Hackescher Markt (Berlin Mitte)
Parlaments- und Regierungsviertel (Berlin Tiergarten and Mitte)
Karl-Marx-Straße / Sonnenallee / Hermannplatz (Berlin Neukölln)