Posts tagged with "breakfastplaces"
---
28. February 2021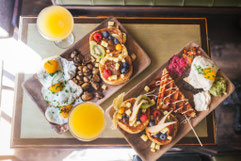 When birthday parties and bar hangs aren't possible during the novel coronavirus lockdown, care packages can be one way to pass along some joy to loved ones. And with no more dine-in service, many local restaurants and cafes are supplementing their business by offering boxed breakfast sets to boost sales during the corona. Whether sending somebody — or yourself — a pick-me-up treat, here are a few breakfast boxes that may feel more celebratory than a standard grocery order. See our "Top 5...
22. January 2021
Berlin is a culinary surprise bag. This is also true for breakfast. Whether hearty, cosy, trendy, or traditional: It has something for every taste and every time of day (or night!). Here are a few of my favorite breakfast cafés: Breakfast is the most important meal of the day. It is also a meal that many Berliners skip. This is a shame because so many cafes in the German capital create and do some amazing things before 11:00. Whether it's with a civilized traditional breakfast, bagels with...