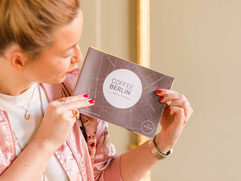 Berlin is a culinary surprise bag. This is also true for breakfast. Whether hearty, cosy, trendy, or traditional: It has something for every taste and every time of day (or night!). Here are a few of my favorite breakfast cafés: Breakfast is the most important meal of the day. It is also a meal that many Berliners skip. This is a shame because so many cafes in the German capital create and do some amazing things before 11:00. Whether it's with a civilized traditional breakfast, bagels with extraordinary toppings or outrageously good banana pancakes, here's my 'Top 5 places for breakfast in Berlin' - where to start a day off right. Affordable, creative or straightforward. If you want to have more coffee recommendations check out my CoffeeBerlin map.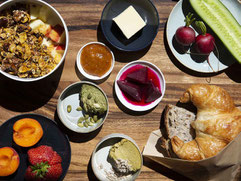 Breakfast in Berlin Friedrichshain
If you're looking for a good breakfast in Berlin, check this place out. The wait time can be long, but worth it. The Michelsberger Hotel offers fresh, seasonal fare with a keen awareness of food not only for breakfast ;). Chef Alan Micks creates truly beautiful dishes.
Michelberger Hotel, Warschauer Straße 39, 10243 Berlin (Friedrichshain), +49 30 29 77 85 90, reservations@michelbergerhotel.com, www.michelbergerhotel.com, Mon–Fr 7:00–11:00, 12:00–14:30, 18:30–23:00, Sat 8:00–12:00, 18:30–23:00, Sun 8:00–12:00, Station: U1, U3, S3, S5, S7, S9 Warschauer Straße, pic by Zoe Spawton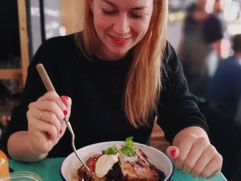 Breakfast in Prenzlauer Berg
Allans Breakfast Club is run by a super friendly Frenchman, Allan, who offers delicious Aussie-style breakfast platters and classics like Eggs Benedict and Croque Monsieur combined with quinoa salad. Their coffee is also a real treat and should not be missed!
ABC - Allans Breakfast Club & Wine Bar, Rykestraße 13, 10405 Berlin (Prenzlauer Berg), Station: S8, S41, S42, S85 Prenzlauer Allee, Mon–Fr 10:00–15:00, Sat–Sun 10:00–16:00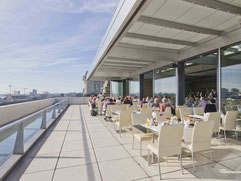 Breakfast in Berlin Mitte
A real hidden gem – even so it a very popular building in Berlin – is this rooftop restaurant! After World War II, the building fell into disuse, as the parliament of the GDR met in the Palast der Republik in East Berlin. No attempt at full restoration was made until after German reunification on 3rd October 1990, when it underwent a reconstruction led by architect Norman Foster. After its completion in 1999, it once again became the meeting place of the German parliament, the Bundestag. Today there is a sunny rooftop restaurant where you can have delicious breakfast. It is in a government building, so there will be a security check at the entrance and you need a photo ID.
Käfer Dachgarten Restaurant on the Reichstag, Platz der Republik 1, 11011 Berlin (Mitte), +49 30 22 62 99 0, www.feinkost-kaefer.de, Station: U55 Bundestag, Thu–Mon 9:00–13:00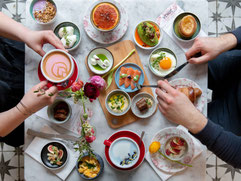 Breakfast in Berlin Neukölln
The Venue café offers a brunch menu à la carte on the Weserstraße in Berlin Neukölln. The so-called "Morning Plate" consists of delicacies such as green vegetables, egg dishes, yoghurt, bacon and fish or e.g. waffles. The breakfast tapas are then served individually in small bowls so that each course is skilfully presented. I can highly recommend the waffle with delicious ice cream and the avocado with pleasantly hot chili oil, watercress and chopped almonds, among others. Besides the lovingly arranged breakfast, Giacomo and Anna also created a lovely atmosphere in this café- with floral wallpaper, diner-style furniture and many colorful bouquets.
Café Venue, Weserstraße 172, 12045 Berlin (Neukölln), Station: M41 Fuldastraße, daily 10:00–17:00, breakfast 10:00–15:00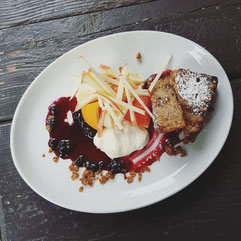 Breakfast in Berlin Kreuzberg 
The banana walnut bread is so good, I wish I could eat it every day, combined with a mild coffee. Here is simply nothing more to wish for. The interior decor is just perfect and you can sit outside as well.
Le Bon, Boppstraße 1, 10967 Berlin (Kreuzberg), +49 30 63 42 07 94, www.lebon-berlin.com mail@lebon-berlin.com, Station: U7, U8 Hermannplatz, Tue–Fri 9:30–16:00 Sat, Sun 9:30–17:00
---
The CoffeeBerlin map is a must-have for all true coffee enthusiasts! Featuring experimental conceptual coffee laboratories like Happy Barista, artistic cafés like Oslo Kaffebar and minimalist modern coffee shops, I hope my list will satisfy all your coffee needs and help you find the perfect place for breakfast in Berlin, whilst providing three walks to explore Berlin thus combining a good read, art and exercise with always the guarantee of one or two excellent coffee pit stops. The CoffeeBerlin map will support a journey of discovery as you explore this vibrant city; shaped by its unique history, cosmopolitan population, growing international tech scene and renowned laid-back, fun and welcoming attitude.
Other awesome Coffee Spots in Berlin:
If you want to find more organic markets in Berlin, check out my folding maps BertaBerlin and QueerBerlin. They are available in well-chosen locations all over Charlottenburg, Neukölln, Kreuzberg, Mitte and Prenzlauer Berg in Berlin and online. But for those of you, who want to stay up to date, feel free to follow me on INSTAGRAM, FACEBOOK or register for my NEWSLETTER BertaNews.