Budapest, the Hungarian capital with its historic grand cafés, thermal baths and lovely street markets has a lot to show and do!
First four, then two, but in the end three – that's how this trip to Budapest started. I wanted to travel with four friends of mine; one had to cancel because of work and the third missed his plane, but came the next day ;). We spend a magnificent weekend in Budapest. So here is a guide to Budapest's most (hidden) gems within two walks through the city.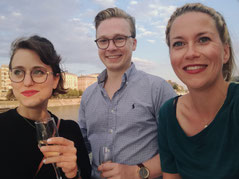 Café Gerbeaud
Located in the heart of Budapest, Gerbeaud is one of the oldest cafés of Europe, operating since the middle of the 19th century. Do spare some time to walk through all the rooms and admire the varied decoration! You'll see the portrait of Emile Gerbeaud, the Swiss pastry chef who bought the place in 1884. He created the famous Hungarian bonbon, konyakosmeggy: sour-cherry soaked in cognac and covered with dark chocolate. Its flagship cake is the Gerbeaud with ground walnut and jam filling between layers of sponge covered with chocolate.
Vörösmarty tér 7., V. district of Budapest, daily 9:00–21:00
You could also have a breakfast at the Great Market Hall at the Pest end of Szabadság Bridge to combine shopping, sightseeing and eating. It is one of Budapest's most popular street markets. Offering everything from produce to clothing to spices to souvenirs, it's an enjoyable atmosphere to explore. Not only a great place to stroll in rainy weather. Many locals do their everyday shopping there too.
Vámház krt. 1-3, Budapest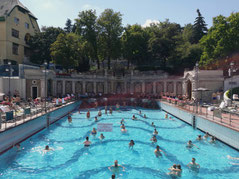 Gellért Baths
Over 120 thermal springs run underneath the city of Budapest. Part of the Gellért Hotel, the Gellért Baths are a pristine and natural bathing complex that is characterized by majestic pillars, skylights, and a balcony overlooking the long baths. The baths have been present at this location, albeit in different forms since the Ottoman Empire conquered this region many hundreds of years ago. Take a step back in history and relax in the splendour of these baths.
Kelenhegyi út 4, 1118 Budapest, www.gellertfurdo.hu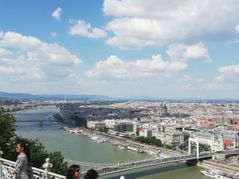 Statue of Liberty
This iconic statue based in the heart of the city was constructed in 1947, showing the world the spirit, freedom and prosperity of Hungary as a nation. If you get there early, you will avoid the majority of visitors. It is a nice place to have a picnic after the visit of the therme or to just enjoy the view over Budapest. Note: You can shop some grocery in the Great Market in the morning.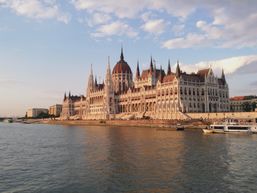 Rooftop bar at Clark Hotel
If you just want to have a small lunch or a delicious drink, and don't want to hike up to the Statue of Liberty, you can also visit the rooftop bar at the Clark Hotel with its incredible panorama view.
Clark Ádám tér 1, 1013 Budapest, +36 70 88 27 777, www.hotelclarkbudapest.hu, daily 12:00-00:00
Boat cruise
If you are in the mood for a peaceful evening with amazing sightseeing on the river Danube, you can dine on riverboat cruise accompanied by piano music. This was definitely one of my highlights of the trip. While sitting you pass the very impressive Hungarian Parliament and the memorial 'Shoes on the Danube Bank'. With steep, pointed turrets, the parliament stands out against the skyline. It's the third largest Parliament building in the world and boasts nearly 13 miles of stairs. 
The memorial 'Shoes on the Danube Bank' is a sombre reminder of the horrors against Jewish people that were committed in World War II, it reflects on the lives of many innocent victims that were shot in the city.
Jane Haining Rakpart, Dokk 11, 1052 Budapest, +36 20 33 25 364, www.silver-line.hu
Szimpla Kert
About ten years ago a new pub opened in Budapest: 'Szimpla kert' (Simple Garden) in the former Jewish quarter of the 7th district, used a building intended for demolition. It was also called 'Romkocsma', a ruins pub, and soon it became a fashion that became an integral part of the nightlife of the Hungarian capital. It is an iconic party place, where you can smoke a shisha, have a snack, drink or dance.
Kazinczy u. 14, 1075 Budapest, www.szimpla.hu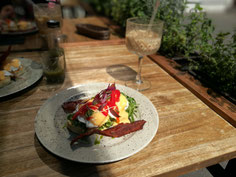 Stika breakfast
For breakfast or brunch, served daily until 18:00, the poached eggs with crispy bacon or eggs Benedict and the fluffy pancakes doused in maple syrup were my breakfast highlight of this trip.
Dob u. 46/a, 1072 Budapest, +36 1 2 74 80 44
If you want to go to the Széchenyi Baths and prefer to be outside, you can also rent a paddle boat at Tóterasz and have a breakfast picnic on the lake!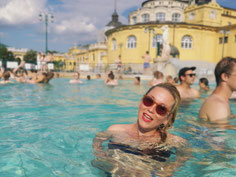 Széchenyi Baths
The baths is a great place to start as it is open every day and offers mixed bathing. Opened in 1881, it's over a century old and offers 18 different pools and even an underwater aqua massage. You can enjoy snacks, wine, and beer (they have a beer bath). Széchenyi Baths are very popular and incredibly beautiful. In case you only have time for one bath, I would definitely recommend this one.
Állatkerti krt. 9-11, 1146 Budapest, www.szechenyifurdo.hu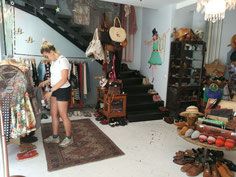 Shopping in Budapest
There's not a perfect way to wind down a trip to the city than to go shopping in Budapest street markets. If you're interested in a less crowded market, I suggest the Szimpla Famer's Market, a smaller market that's open every Sunday. But also you will find small beautiful shops everywhere like Ludovika VNTG Shop or Szputnyik shop D20.
Gozsdu Udvar, 1072, Király u. 13, 1075 Budapest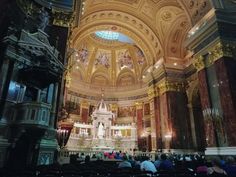 St. Stephen's Basilica
You don't want to miss the St. Stephen's Basilica, it was one of my favorite buildings in Budapest. In a city filled with marvelous architecture, it stands out as a massive, baroque style cathedral. Admission is free, but as they also host classic concert, I listened to Bach, Haendel, Vivaldi, Mozart and many more, while sitting in this incredible scenes depicted on the walls and ceiling of the cathedral.
Szent István tér 1, 1051 Budapest, www.bazilika.biz, www.classictic.com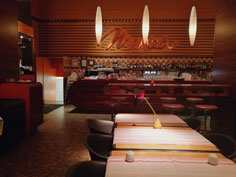 Golash at Menza
Nobody can leave Budapest without eating a Hungarian golash! We went to the restaurant Menza, and had an absolutely delicious golash there. The service is super friendly and fast (which was an exception during this trip) and the atmosphere was magnificent.
Liszt Ferenc tér 2, 1061 Budapest, +36 1 4 13 14 82, www.menzaetterem.hu