Discover your neighborhood with BertaBerlin
Berta Heide was born in Berlin and has a talent for developing solutions to problems. Her enthusiasm for discovering new things first brought her to Peru after school and many other countries were to follow. Berta therefore knows only too well about the needs and hurdles that a stranger faces in a new environment. With Walk This Way, she has created a mini-guide with carefully curated recommendations. The idea is simple and yet there is no comparable product on the market. The special feature of the mini-guides is that Berta recommends different routes on the self-drawn map, where you can explore cafes, restaurants & bars on foot, but also places of interest, playgrounds and sports fields. The motto is simple: Don't think. Just walk. The themes of the cards are varied and are now also very popular with companies. We are very happy that Berta now shares her monthly highlight here on Overview with us. You can read the June highlight "The 3 Most Beautiful Gardens of Berlin" here. How Berta managed to turn an idea into a scalable and attractive product, she now tells you herself: 
Overview: You are from Berlin. What made you decide to make a Berlin travel guide?
Berta Heide: It came out of necessity and frustration. Every year my mother and I go on a short vacation. Three years ago we flew to Milan and I wanted to have a plan for the three days: Where to have a good breakfast, what to see, where to go and how long, where to drink espresso, where to have dinner, etc. I have browsed through all the travel guides and researched them, but somehow there was no such thing as a pre-planned schedule from morning till evening. I myself had Airbnb guests from time to time, to whom I told each time anew what one could do here. I would have preferred to have simply put something in their hands and used the time to get to know them better myself. And so I started to do some research in my neighborhood, Neukölln, and got to know not only my own surroundings much better, but also the whole city.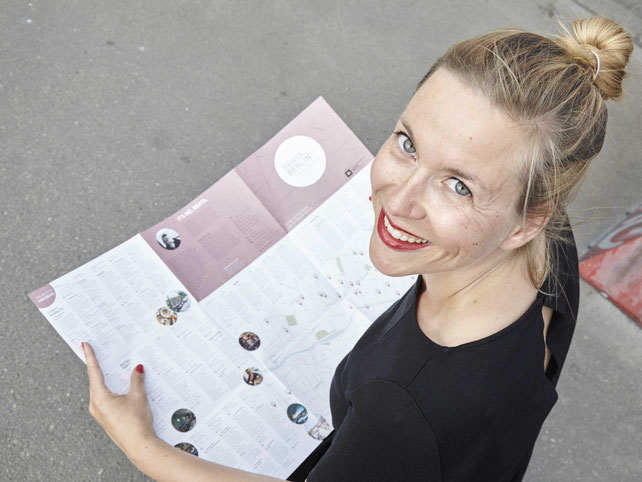 O: What is so special about your mini travel guides?
Berta Heide: I design mini travel guides for the respective districts here in Berlin. The folding plans each have 3 different walking routes drawn in, with the top 5 recommendations for cafés, bars, restaurants, shops, sights, playgrounds, sporting activities and so on. I am also in contact with the employees or owners myself and learn something about them and what they do and if I think that's good, I list them on the map. It's about covering the basic needs of the stranger and creating orientation.
O: How did you get it? What did you do for a living or study before?
Berta Heide: I was born in Lichtenberg, went to school in Mecklenburg Vorpommern and then came back to Berlin to study. I studied communication sciences, art history and philosophy at the TU. I then spent 6 months in Arequipa, Peru for a semester abroad, later again for an internship in Port Elizabeth, South Africa, where I initiated the AIESEC program, which still exists today. Before my master's I was in Vancouver, where I really had a dream job. I organized an information fair there for students. Back in Berlin I then built up marketing in smaller companies and finally did further training in journalism. Then I graduated as a speaker and started to work in PR, did interviews, made image films, wrote advertorials. But I noticed that I needed something to live a little more and then I started with the cards.
O: Where can you find your cards and is there an app for it?
Berta Heide: On the website you can read my Top5. The BertaBerlin maps with the walking routes and recommendations are available in printed form. The map costs 5€ and can be ordered either via the website or from various shops here in Berlin, also for 5€. Actually, I'm more of a fan of offline, but many male customers often ask me if there is also an app. We are currently working on it and hopefully it will be released in autumn. But I also have to say that I'm really still so happy when a person decides to take 5€ in his hand and buys one of my tickets. There my heart really opens.
O: Meanwhile you also get orders from well-known companies. How did this happen and how exactly does it work?
Berta Heide: In the beginning I concentrated only on the districts. Through an event I met a woman by chance, with whom I actually also met a coffee without hesitation. During our meeting she searched her contacts all the time and then connected me with someone from the LGBTQ+ scene, with whom I then created the QueerBerlin guide with Travels of Adam; my first individual card. At some point I had a good portfolio of cards that I could present to potential cooperation partners to give them an idea of what I was doing. It's not really self-explanatory after all, and it's not that easy to convince people in a conversation that this is new. But then I had something with which everyone can quickly do something. Of course not every contact is a hit, but you just have to keep going. Deliveroo then became my first business customer. The first map was a culinary trip around the world, sorted by country. Then came the picnic card. Here I scouted some parks and picnic places, because Deliveroo also delivers to public places. Many do not know that at all. Then I made other individualized maps for e.g. the GDR Museum, a VeganMap, a YogaMap, etc. Depending on the customer, there are then certain requirements and sometimes I also make the suggestions. In the further process there can be then new editions of the maps and so a business model develops from it.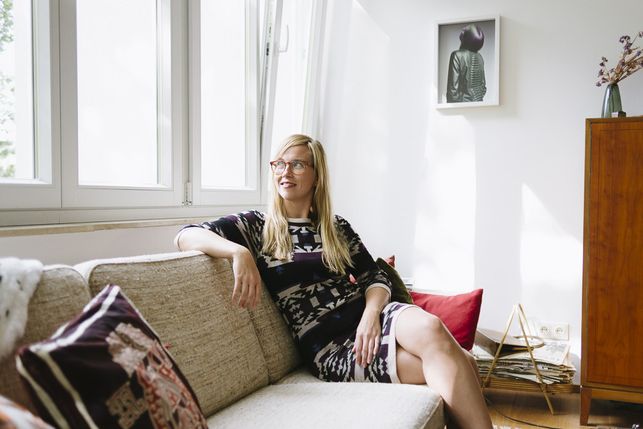 O: In principle, the idea is highly scalable. What are the future plans for Walk This Way?
Berta Heide: Exactly, over the last few years I've built up a large database and created a grid on which you can build. I can well imagine that it would then be a kind of franchise to spread to other cities. After all, there is no shortage of ideas. But for this I need a partner, because everyone should be paid fairly; the graphic artist, the scout etc.. In any case, for this year the app is still pending, two new editions and the launch of three new cards. Hopefully a book next year.
O: Everything sounds super and simple. Does it all just come to you like that?
Berta Heide: So of course the luck and the possibilities don't come to me when I lie lazily on the couch. You have to make your own luck. I am open and communicative and am inspired by every conversation, which creates and develops new possibilities. In school I was actually more of an outsider, the nerd from the front row. I only sat there because I heard badly on one ear. Nobody saw the way I was outside school, so my former classmates are probably more surprised about what I do today. I don't see many things through business glasses either. Not everything I do leads directly to monetary success. I also like to work together with supposed 'competitors'. I tend to look for synergies, because I think life is too short to wage war. You can always support and complement each other somehow.
Written by Hannah Lueg from Overview Magazine
Get an overview w/ Berta Heide
Who are you?
I'm from Berlin and make mini travel guides for Berlin.
What does your master plan look like?
I'm living my master plan right now. I want to do things that you like to do. I want to expand with my company, but not at any price. I want to continue to be of high quality. I am proud to be able to live my own dream. I like to travel and write and that's the core of the whole product and it's fun. Privately, I will stay in Berlin for the rest of my life, although I would temporarily go somewhere else for projects. I want to keep my friends and my boyfriend, too. Generally just say yes to life.
Do you have a plan B?
I don't have it. You have to believe in your plan A. In any case, I always want to do a job that I like to do. If Walk This Way doesn't work out, I might start something else.
What is your Achilles verse?
That I do too much and say yes to too much. I just have to set more priorities, but I'm not training to say no now. I have to accept that I can't do everything right away. But if I find something good and say that you can do it in the future, then I also stand by it and will be done.
Your tips for founders?
Just do it! One must not plan back and forth so long. You just have to try it out and on the simplest level. (An app, for example, you can create an analog mock up on notes. A dummy that you then give to friends and see what they would click and we are their user behavior.) Hold on! Not everything is always easy. There are often setbacks, but you just have to keep going. I've also had thousands of setbacks, but then I'll just ask again at a later point in time and check why they don't want to cooperate at the moment.
What are your three strengths?
Communicative, creative, good at organizing
A phrase that has left its mark on you?
Yesterday someone said to me: You are the market. But actually I am influenced positively by every conversation. I'm just an optimist.
Who deserves a bouquet?
My friend.
Your favorite dish?
I love desserts. Best Crema Catalana, that describes me best. But I can't cook myself.
Your thought at the following words: Vacation:
Next trip to Italy, Milan
Food: Cake
Success: Means for me to be rather happy. To be able to do everything you want and to share that.
Instagram: A post every day.
What about the person who would be the opposite of you?
Depressed.
Do you have a motto?
Every day I do something that makes me happy. That could be a pyjama day, for example. I also give a different person a pleasure every day, e.g. in the form of a compliment. So every day I do something for myself and for someone else.
What do you want to do, but you haven't dared yet?
I would like to hang out in New York for a few months. Actually I would need 4 lives for everything I want to do.