Rome – beyond Colosseum and Vatican. As I met Massimo on my Airbnb Experience Sex, Love & adversity, we talked about Rome (which I visited two years ago) and its hidden gems. According to Massimo, as many other tourists, I missed out a beautiful side of Rome, beyond the Colosseum. This is why I invited him to tell us about Rome's hidden gems, so that I also find them next time, I visit Rome. Here you go with his Top 5 hidden gems in Rome.
Every year millions of tourists crowd the streets of Rome. Roman people are happy to welcome them and show Italian hospitality. Unfortunately, most of the tourists don't go beyond the main sightseeing: Colosseum and Vatican. They are of course unique, majestic and amazing sights, but Rome can offer much more, therefore let me introduce you to Massimo's neighborhood Trastevere.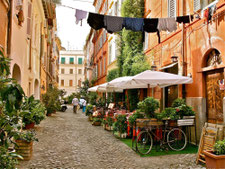 Trastevere
As Airbnb's host for 5 years Massimo has spent a lot of time with his guests, giving them suggestions and, sometimes, joining them in their Rome adventures. His favorite hidden gem to show is Trastevere. Everytime their reaction is the same: "Wow! We haven't never seen something like it". As frequent traveler he also has never seen a neighboorhood like Trastevere. If you come to Rome, try to spend at least a full day in Trastevere!
Its name comes from the Latin and means beyond the Tiber, as it is located west from Tiber and in the south of Rome. During the day Trastevere is a commercial area full of craft shops and markets. Sitting down in any cafes someone will talk with you and tell you the story of the last decades of the city. Walking along the Sanpietrini (old Roman pavement), enchanting views will open up. At night Trastevere is very popular with people of all ages, Italians and foreigners who spend their time in the bars, pubs, restaurants, pizzerias and fraschette (typical Roman taverns).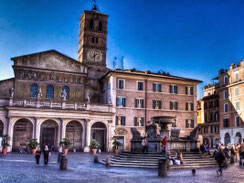 Piazza Santa Maria
The visit of Trastevere can only start at Piazza Santa Maria. Piazza Santa Maria is off the beaten track from Rome's central tourist area and located in Trastevere. Given the piazza is located in the residential area, if you visit it early by 8:00 you will feel like in the middle of old village, not Rome.
Here you will also find the Basilica of our lady in Trastevere, which is one of the true hidden gems in Rome. It is one of the oldest churches in Rome, dating back to 340s for the structure and to 1140–43 for most of the structures of the church. The first sanctuary was built in 221/227 by Pope Callixtus I and later completed by Pope Julius I. The church displays stunning mosaics from the late 13th century by Pietro Cavallini.
Piazza Trilussa
This relatively small Piazza Trilussa is surrounded by old Roman buildings and sights. It's name derives from the Italian dialect poet, Carlo Alberto Salustri (1873–1950), better known by his pen name of Trilussa. In the middle of the piazza you will find a monument to tribute him. Here you also find a fountain commissioned by Pope Paul V. Moreover, there is broad steps leading up to a monumental fountain. Sitting on the stairs you can enjoy the view over the river and Ponte Sisto, the bridge who connect Trastevere with Campo dè Fiori square. The stairs are a popular place in the evening for locals and tourists alike with or without a bottle of wine.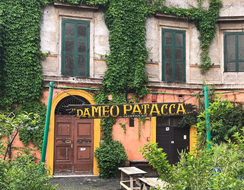 Meo Patacca
Meo Patacca is certainly one of the most characteristic restaurant of neighboorhood. Founded in the 1950s, you can taste the typical Roman cuisine (the Capresse salad is really good, specially the mozzarella!) and super friendly waiters with old Roman costumes and musicians run around the tables, which creates a lovely scenery and great surrounding. From here you can just hop over to Bar San Calisto to have a drink (or two ;) after dinner.
Piazza Dei Mercanti 30, 00153 Rome, Italy, +39 06 58 33 10 86, www.ristorantedameopatacca.it, Daily 12:15–15:15, 19:30–23:30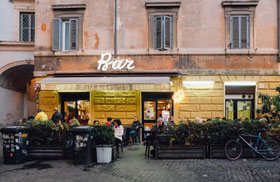 Bar San Calisto
This Italian bar is a local icon and for everybody, who wants to feel the "real Rome". It's a good place to drink possibly the cheapest Peroni in Rome. Here you find locals, well-selected wine, delicious coffee and Italian atmosphere. The bar "San Calisto" kept yet the counters and architecture of the sixties. It gets quite crowded by 18:00. You probably won't get a seat immediately, but as it's truly fabulous, it is worth the wait.
Piazza di San Calisto 3, 00153 Rome, Italy, +39 06 58 35 869, Facebook, Mon–Sat 18:00–2:00
Massimo is living since 2003 in Rome. He came from Sicily to attend a master course in Marketing in Rome and fell in love with the Italian capital. Today he is working at Greenpeace as marketing manager and is also renting an beautiful airbnb accommodation in Trastevere.