To mark the Chinese New Year celebrations yesterday, today I thought that I'd take you through my recommendations of the top 5 Chinese restaurants in Berlin. Whether you're looking for a quick spot for something to grab on the go, somewhere really extraordinary to enjoy a special meal or even for a new date-night restaurant to explore this week then I've got just the thing! Come along as I take you through the most authentic, beautiful and delicious Chinese restaurants in Berlin.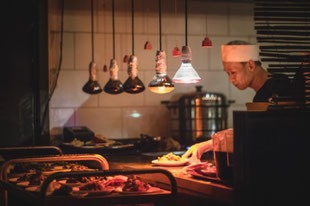 Long March Canteen
Here you'll find great Chinese dishes such as crunchy jellyfish salad and melt-in-your-mouth pork belly among other typical dim sum dishes. At this location, you'll feel the spirit of the Chinese New Year celebration due to the vibrant atmosphere and open kitchen layout. My recommendation would be to try the caramelised banana for dessert. The bananas are served with a bowl of ice water in which they are dipped for a short moment so that they become crispy on the outside and remain soft on the inside - simply delicious. Afterwards, why not walk to the nearby bar Schwarze Traube where you can finish your evening with a drink. I also recommend this restaurant in my map about Kreuzberg – BertaBerlin.
Wrangelstraße 20, 10997 Berlin (Kreuzberg), www.longmarchcanteen.com, Station: U1 Görlitzer Bahnhof, daily 18:00–24:00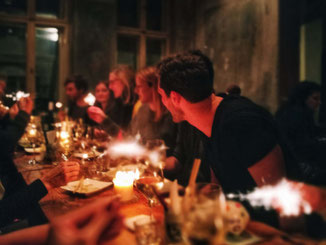 Dr. To's
Dr. To's is a restaurant combining Chinese and Japanese cuisine. If you feel hungry, I recommend that you stop by Dr. To's and have the Asian ceviche of salmon – it tastes like an ocean breeze! In Berlin Neukölln, this Chinese restaurant is known for its tasty dumplings and stunning presentation of food. This is a great Chinese spot to try out new things: Visit with friends and order many small dishes to discover new things and taste all that Dr. To has to offer!
Weichselstraße 54, 12045 Berlin (Neukölln), +49 163 16 33 122, www.dr-tos.de, yenwoohooo@gmail.com, Station U7, U8 Hermannplatz, daily 18:00–2:00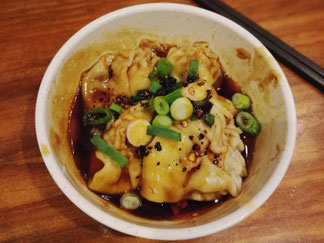 Lon-Men's Noodle House
A tiny Taiwanese place with an open kitchen where busy chefs fry, boil and cook dumplings, soup, noodles and baos. Make sure to always ask for the daily special at this delicious spot! Last orders can be placed at 22:30. I loved the Gua Bao Taiwan wraps, which are soft buns with bean sauce. As an entre, you can order the traditional noodle soup with beef. Here you can't reserve a table and will have to probably wait a little until you get in, but it is worth it! Sidenote: Bring cash, as they don't accept cards. More information can be found on my BertaBerlin map of Berlin Charlottenburg.
Kantstraße 33, 10625 Berlin (Charlottenburg), https://lon-mens-noodle-house.business.site, +49 30 31 51 96 76, daily 12:00–22:30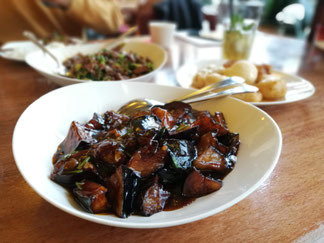 Peking Ente Berlin
A renowned Chinese restaurant in Berlin is Peking Ente. If you're visiting this restaurant for the first time then you simply have to try their peking duck as it is absolutely delicious! Here you can even dine on this famous Chinese dish without preordering: Something quite unusual among Chinese restaurants. If you're looking for somewhere to go for a special occasion then this Chinese restaurant could be a great place to consider. Book the 'round table' for a communal dining experience with your guests and host Mengling will curate a personal menu for you.
Voßstraße 1, 10117 Berlin (Mitte), +49 30 22 94 52, www.peking-ente-berlin.de, tang@peking-ente-berlin.de, Station: U2 Mohrenstraße, Mon–Fr 11:30–23:30, Sat–Sun 12:00–23:30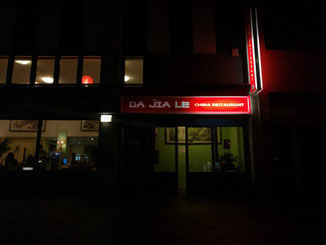 Da Jia Le
Da Jia Le is a hidden gem in often overlooked Schöneberg, Berlin. This Chinese restaurant dishes up a variety of authentic dishes from the Northern parts of China including a special mix of spicy, deceivingly simple, dishes. Every dish is full of flavour and delicious, but the highlight is their tofu leaf salad. This restaurant is best for groups who order family-style, ready to enjoy and share as many different dishes as possible. Many Chinese establishments in Berlin do not allow dogs, so this is another area that Da Lia Le stands above the rest – many well-behaved dogs can be found snoozing while their owners and friends enjoy a large family-style Chinese meal.
Goebenstraße 23, 10783 BerIin (Schöneberg), +49 30 21 45 97 45, dajiale.berlin@gmail.com, www.dajiale-berlin.de, Station: U2 Bülowstraße, daily 12:00–22:00 
More Chinese respectively Asian restaurants in Berlin: