In Berlin you are able to enjoy a piece of France without having to leave home, because every two weeks you can read the French newspaper "La Gazette de Berlin" comfortably at the kitchen table while eating a croissant and drinking a café crème. If you do want to leave your home, however, I have summarised the best French delicatessens, bakery and destinations in this article. I want you to get a taste of France in Berlin by introducing my "Top 5 French shops in Berlin".
In case you want to order the book,
just check out my online shop for "TRAVEL THE WORLD IN BERLIN".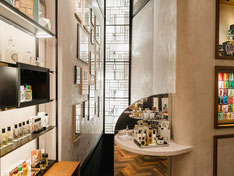 Diptyque Boutique
The first Diptyque store was located in Paris. Their candles are beautiful and loaded with special fragrances. A second boutique was opened in 2016, and fills Berlin's air with its Parisian fragrance. The intimate, fragrant shop in the Cumberlandhaus is decorated in Art Deco style and presents stunning scented candles that bring a piece of France to your home.
Kurfürstendamm 193, 10707 Berlin (Charlottenburg), www.diptyqueparis.com, Station: U1 Uhlandstraße, Mon–Sat 10:00–19:00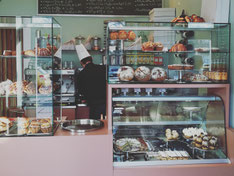 Salon Sucre
Hidden at the end of Görlitzerstraße you can indulge in delicious French delicacies like tartes with forest fruits or chocolate strawberry cakes with thousands of layers, and get a new hair cut at the same time: an unusual combination that you can also enjoy separately. In summer you can picnic with the French pastries you have bought in Görlitzer Park.
Görlitzer Straße 32A, 10997 Berlin (Kreuzberg), www.salonsucre.de, Station: U1 Görlitzer Bahnhof, Patisserie: Sat–Sun 10:00–17:00, Salon: Wed–Sat 10:00–17:00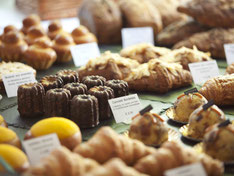 Du Bonheur
Live the life of Riley at Anna's charming pastry boutique in Berlin Mitte. Here, handmade croissants, brioche, éclairs and macaron creations such as gingerbread, cranberry whiskey and cardamom coffee are served with a Sidamo espresso. In summer you can enjoy their delights on their terrace.
Brunnenstraße 39, 10115 Berlin (Mitte), www.dubonheur.de, Station: U8 Bernauer Straße, Wed–Fr 8:00–19:00, Sat–Sun 9:00–19:00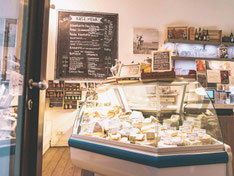 La Käserie
In this French cheese paradise, Romain and Bastien offer 80 different French cheeses, from Banon in Provence to Roquefort, depending on the season. You can also order an excellent glass of wine, and in the evening, the delicatessen transforms into a restaurant where you can combine delicious cheese platters with Merlot or Chardonnay.
Lychener Straße 6, 10437 Berlin (Prenzlauer Berg), www.lakaeserie.de, Station: U2 Eberswalder Straße, Tue–Thu 11:00–21:00, Fr 11:00–21:00, Sat 10:00–22:00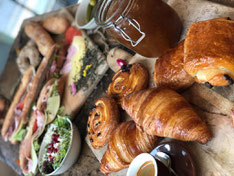 Makrönchen Manufaktur
That macarons actually come from France cannot be presumed in this 'German' pastry. Every day and with a lot of passion, Laura and her team make more than 20 delicious varieties of macaron: from classics like Chocolat noir or Caramel Beurre salé to daring creations like lemongrass or marzipan-orange macarons, this bakery creates a pastel-coloured paradise every day.
Apostel-Paulus-Straße 4, 10823 Berlin (Schöneberg), www.makroenchen-manufaktur.de, Station: U7 Eisenacher Straße, Wed–Fr 12:00–18:30, Sat 12:00–17:30
Where to find French places in Berlin:
Discover the world, without traveling! 
If you are interested in my upcoming book "Traveling the world in Berlin" just order the travel book in my online shop.