If you would like to discover the beauty of Berlin, then look no further than the many museums with their guided tours. During the tours, attendees gain an interesting and comprehensive insight into the architecture, photos and art as well as into the history of the Berlin. I love to not only visit museums but also learn about current exhibitions. So, here are my Top 5 guided tours in Berlin.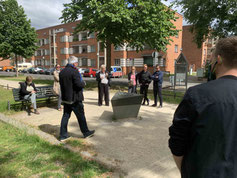 Guided tour about architecture
'Ticket b' offers architectural guided tours through Berlin. From a 1.5 hour tour of the interior of a single building to fixed half-day tours and multi-day programmes, you can book yourself different experiences. I joined the Bauhaus tour through Berlin, Wedding. In Berlin, the 1920s ideas of the new, modern, light-flooded living were implemented in a unique form. The six green housing estates were built as a counter-design to the misery of the tenement blocks of the Berlin working-class families that had prevailed until then. In 2008, they were inscribed on the UNESCO World Heritage List because of their social aspirations and their outstanding significance for urban development and architecture of the 20th century. If you want to know more about the buildings which you normally just pass by or in which you even live in, just book a tour.
About Schillerpark Estate Bruno Taut (in Berlin Wedding), www.ticket-b.de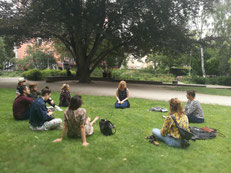 Guided tour about Jewish history
This guided tour starts at Rosenthaler Platz - once the cattle gate and only entry-point in Berlin for Jews. Here, we learned of Moses Mendelsshon and Jewish enlightenment. At Rosa Luxemburg Platz we met the extraordinary revolutionist and discovered why Jews were so drawn to communism. After, we strolled down Senefelderplatz that attracted East European 20th century Jews and visited the birthplace of Hollywood director Ernst Lubich as well as the Jewish Cemetery and the Synagogue in Rykestraße. At the end of the tour we set down in a lovely Israeli restaurant to taste Israeli food and chat even more about our discoveries. If you are interested in history and love to walk, this is the perfect guided tour for you!
If you are interested, you can contact Shlomit Lasky directly: 0176 6687 3131.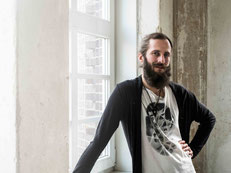 Guided tour about clubbling in Berlin
The clubbing culture in Berlin is pretty unique and developed after the fall of the Berlin Wall. Today a lot of these places are endangered due to the process of gentrification. Discover the links between art, city development and the political dimension of the clubbing scene. With Tobi you can explore Berlin and all its hidden gems. As an art historian and a restorator he has gained the knowledge and with all of his experiences he explained everything to me (us) and told us the best stories during his tour.
If you are interested, you can contact Tobi Aller and book a guided tour through his website: www.berlinkultour.de.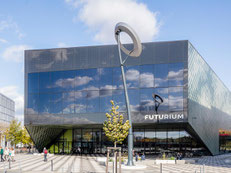 Guided tour at Futurium
Futurium is a House of Futures. Here, everything revolves around the question: how do we want to live? In the exhibition, visitors can discover many possible futures; in the Forum, they can take part in open discussions; and, in the Futurium Lab, they can try out their own ideas. The entrance is free, but I highly recommend to book a guided tour through the museum. Visitors can discover exciting options for the future in the thinking spaces of man, nature and technology and develop their own attitudes to controversial topics. The highlights of the exhibition are explained with illustrative examples, which is sometimes easier to understand and process in a group discussing compared to just reading the descriptions of the exhibition ;).
If you are interested, you can book a guided tour at www.futurium.de/en.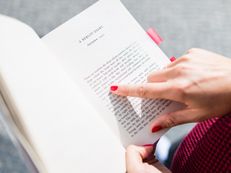 Guided tour about queer history
Let me walk you through nearly 100 years of queer history in a city where sexual identity can be freely expressed & desires of all varieties fulfilled! For this tour we'll meet in Schöneberg, a queer district famed for its alternative nightlife. This area blossomed in the '20s only to be crushed by Hitler, before blooming again in the '70s. One-stop on our tour will be the former Eldorado nightclub, a popular Weimar-era haunt, another the Berlin home of author Christopher Isherwood, who immortalised the city in his book Goodbye to Berlin. Each place we visit will be brought to life with stories about the colourful, fascinating people who made the city what it is - a symbol of liberation. Finally, let's finish up with a drink at Café Berio at Nollendorfplatz where we can chat and watch the world go by.
If you are interested, you can book a guided tour at www.airbnb.de.
pic by Nadja Wohlleben
If you want to join a guided tour (not in a museum), let me take you on my "Sex, love and adversity"-Tour in Schöneberg!
More guided tours in Berlin: