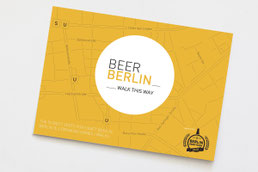 As I was scouting for my second edition of BeerBerlin map, I found many restaurants and bars and breweries, which offer tasty beer in Berlin. So what's the best place for a typical Feierabend in and around Berlin? The city is full of many amazing beer spots, so it was hard to pick just five. So relax, sit back with a beer and enjoy this post! In case you need a good overview of beer gardens in Berlin, my BeerBerlin map can help you out. But for now, here you have a lovely Beer Tour through Berlin. Cheers!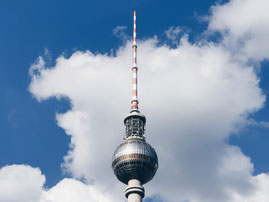 Sightseeing in Berlin
With the construction of this TV tower, completed between 1965 and 1969 by the architect Henselmann, East Berlin overshadowed the rival structure in West Berlin. The offices of Haus der Statistik were used by the state central administration for statistics and VEB Rechenmaschinen working in the GDR. The upper three floors were reserved for the Stasi. Built in 1970 the house has been vacant since 2010. Together with the Haus des Lehrers on Karl-Marx-Allee, it was part of a uniform urban ensemble. A neon advertisement with a steaming cup of coffee from the long-gone Mocca-Eck café still hangs on the façade of the house.
TV tower, Panoramastraße 1A, 10178 Berlin, +49 30 24 75 75 875, info@tv-turm.de, www.tv-turm.de, Station: U2, U8, U5, S3, S5, S7, S9 Alexanderplatz, Mar–Oct 9:00–24:00, Nov–Feb 10:00–24:00, Last entrance to the restaurant at 23:00, pic by Martin Widenka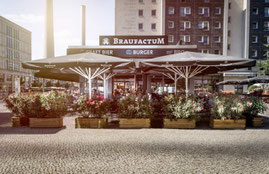 BraufactuM Berlin am Alexanderplatz
BraufactuM Berlin is the (craft) beer hotspot in Berlin Mitte offering 16 beers on tap (+ 20 more in bottle) with BBQ and burgers in a warm atmosphere and urban beer garden. They also run BraufactuM am Hausvogteiplatz, a restaurant with traditional German cuisine, sampler tray of beers and craft beer. If you like sausages, try some with sauerkraut (cabbage), as they are grilled over a fire pit in the restaurant.
Memhardstraße 3 (opposite Alexanderplatz), 10178 Berlin (Mitte), + 49 30 84 71 29 59 info@braufactum.berlin, www.restaurant.braufactum.de, Station: U2, U5, U8, S3, S5, S7, S9 Alexanderplatz, daily from 12:00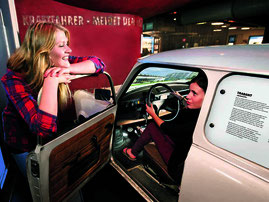 DDR Museum
Experience the everyday life in the former East Germany. This museum encourages its visitors to touch, feel and interact with a wide range of GDR relics encompassing the Berlin Wall, the Stasi and much more. Here you find beer bottles from "Schuter's Red Star Select - Premium Beer" brewed and bottled in East Berlin by the Berliner Bürgerbräu GmbH. This museum is also recommended in my GDR Berlin city map!
Karl-Liebknecht-Straße 1, 10178 Berlin (Mitte), +49 30 84 71 23 731, besucherbetreuung@ddr-museum.de, www.ddr-museum.de, Station: S3, S5, S7, S9 Hackescher Markt Sun–Fr 10:00–20:00, Sat 10:00–22:00 Payment by credit card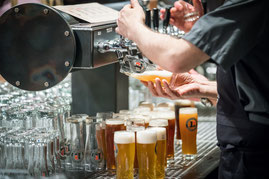 Brauerei Lemke
Local brewery with a wide range of classic German and international beer styles. Speciality of Lemke is their "Berliner Weisse" – a sour beer style originated in Berlin in the 17th century. The "Weisse" is produced with a traditional three culture fermentation. Besides "Berliner Weisse" they offer also a version fermented with real raspberries, real woodruff and aged on oak and Spree Coast IPA - this is an internationally known beer style: "West Coast IPA". Brewpubs at Hackescher Markt and close to Alexanderplatz. Brewery tours in German are available, for groups of 10 or more tours in English can also be arranged – previous reservation is necessary.
Brauerei Lemke – brewpub "Lemke am Hackeschen Markt", Dircksenstraße, S-Bahnbogen 143, 10178 Berlin, +49 30 247 287 27, hackeschermarkt@lemke.berlin, www.lemke.berlin, Station: S3, S5, S7, S9 Hackescher Markt, Daily 12:00–0:00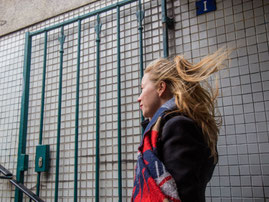 Shopping in the heart of Berlin
You can find a variety of brands like COS, & other stories, American Apparel etc., as well as second-hand shops like Made in Berlin (with a 20 %-off Happy Hour on Tuesday from 12:00–15:00) on these streets. You can walk from Alexanderplatz (TV Tower) through Memhardstraße to these shopping streets.
Alte Schönhauser Straße, 10119 Berlin, Station: S3, S5, S7, S9 Hackescher Markt, pic by Gili Chen for Adira be fearless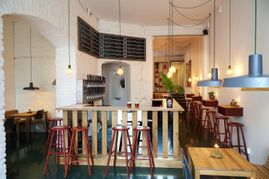 Mikkeller Berlin, Lehrter Straße 56 10559 Berlin
Cult Danish Brewery started out in 2006 by Gypsy brewer Mikkel Borg-Bjergsø. The brewery specialises in all kinds of ales, but particularly well known for its innovative take on sours, wild ales, Belgian styles and stouts including its famous Beer Geek series, a coffee oatmeal stout coming in many different iterations. Mikkeller also collaborates extensively between the beer, wine and food world and is well known for its art director Keith Shore's artwork.
Torstraße 102, 10119 Berlin, info@mikkeller.dk, www.mikkeller.dk, Station: U8 Rosenthaler Platz, Sun–Thu 15:00, Fr, Sat 15:00–2:00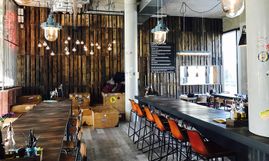 BrewDog Berlin Mitte
While our Beer Tour through Berlin you visited plenty beer spots and my many "beer" experiences. But it's the final destination that makes the tour also worthwhile: Germanys first BrewDog bar, with 30 taps from German and global breweries as well as an on-site BottleDog! Here you find great beer, friendly service and modern industrial design charm with brick walls, vintage lamps, lots of rustic wood as well as pinball machines!
BrewDog Berlin Mitte, Ackerstraße 29, 10115 Berlin, +49 30 48 47 77 70, berlinbar@ brewdog.com, www.brewdog.com, Station: U8 Rosenthaler Platz, Sun–Thu 12:00–0:00, Fr–Sat 12:00–2:00