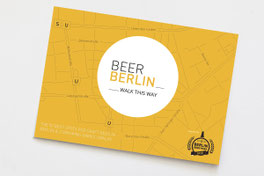 As I was scouting for my new BeerBerlin map, I found many beer gardens in Berlin and many different types of beer. So what's the best activity for a typical Feierabend in and around Berlin? Definitely an evening at the beer garden! The city is full of many amazing beer gardens, so it was hard to pick just five. So relax, sit back with a beer and enjoy this post!
In case you need a good overview of beer gardens in Berlin, my BeerBerlin map can help you out.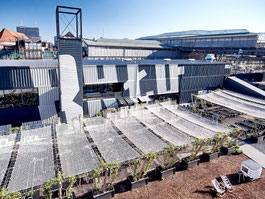 BRLO Brwhouse
We're now getting more serious when talking about our beer. If you want to taste a really good beer, what better place than a brewery? BRLO beer is brewed in-house to ensure the freshness of the beer. This place is special because it experiments with many new tastes and doesn't serve just the traditional range. And the location is beautiful, right by Gleisdreick Park, where you can enjoy a nice long walk before getting a drink. BRLO also organizes guided tours so you can learn all about their brewing process!
Schöneberger Straße 16, 10963 Berlin-Schöneberg, Station: U1, U2, U3 Gleisdreieck, +49 30 55 57 76 06, www.brlo-brwhouse.de, daily 12:00–00:00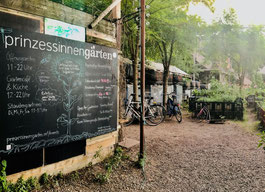 Prinzessinnengarten
The ambience here is beautiful. This is one of the first beer gardens I ever visited, so it holds a special place in my heart. When you first enter this place, you wonder where you ended up! It's like entering the woods in a fairy tale, with trees, plants and vases all around you. — a little green oasis in a bustling city. Walk a little further and that's when you spot the bar with its wooden benches and it is like a little piece of heaven. You won't just find beer here though; there is a real cafe with real food, made from ingredients sourced locally. In the summer, every other Sunday, the garden hosts the Neukoelln Flohmarkt. Needless to say, I'd be there every Sunday!
Prinzenstraße 35–38, 10969 Berlin-Kreuzberg, Station: U8 Moritzplatz, U1, U3 Prinzenstraße, +49 176 24 33 22 97, www.prinzessinnengarten.net, Mon–Sat 10:00–22:00 Sun 10:00–22:00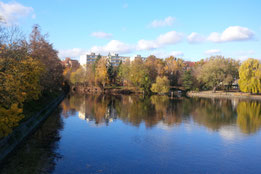 Jockel Beer Garden
You can find the beer garden Jockel right on the Landwehrkanal in Kreuzberg. If you want to stroll along the canal on a hot summer day and then relax with a cold beer, this is the place to go! It is a family business, which is why you will also find a nice little playground for children. You can also get delicious snacks and of course Pommes (fries).
Ratiborstraße 14C, 10999 Berlin-Kreuzberg, Station: M29 Bus, +49 30 69 59 80 60, www.biergarten-jockel.de, daily 11:00–22:00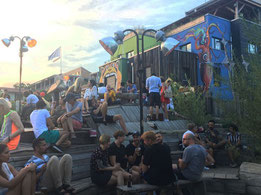 Holzmarkt Pampa
A new trend in the last two years emerged at Holzmarkt, an outdoor space with studios, apartments, shops and of course a beer garden. It's right by the Spree, next to the Berlin Wall. There are wooden benches where you sit and watch the river go by against the backdrop of the Fernsehentürm (TV Tower). And if you like the view, you'll also enjoy one of the most beautiful sunsets in Berlin. Apart from delicious beers and Radler (typical german beer blend with lemonade), you can also find pizza and burgers.
Holzmarktstraße 25, 10243 Berlin-Friedrichshain, Station: S3, S5, S7, S9 Ostbahnhof, U8 Jannowitzbrücke, +49 30 47 36 16 86, www.holzmarkt.com, Fr from 16, Sat–Sun from 14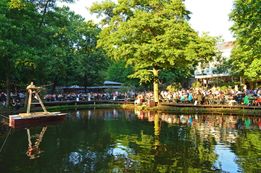 Café am Neuen See
And finally, if you want an evening of walking in the midst of nature and then relaxing with a beer, you must check out Café am Neuen See. Right in the middle of Tiergarten (one of the biggest parks in Europe), you can sit under the shade of the giant trees and enjoy a variety of beers and food, from breakfast to dinner. If it's your first time in Berlin, you definitely must check this place out. The special thing about this beer garden is that it's also open in the winter.
Lichtensteinallee 2, 10787 Berlin-Tiergarten, Station: U1, U2, U3, U9 Zoologischer Garten, +49 30 25 44 930, www.cafeamneuensee.de, daily 09:00–00:00

Co-Author: Carmela was born in Sicily 34 years ago. She moved out from her tiny village at the age of 20 and lived in Italy and around Europe. She considered herself a nomadic until she decided to move to Berlin seven years ago. When she does not buy a book she feels lost and even if she can't read it all she loves to accumulate them on her reading desk and look at them like they are her next goal in life. If you would take away good food and good wine from her life she would literally die. She works in a hotel for the last two years so if you're looking for a place where to sleep and for the best advice on Berlin give her a ring. "Dream dream my daughter" her father used to say, and this is now her motto in life.
Besides on my BeerBerlin map, you can find more of Berlin's beer spots on my blog: