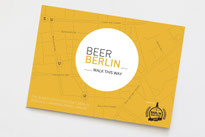 As I did scout for my BeerBerlin map, I found many restaurants and bars and breweries, which offer tasty beer in Berlin. So what's the best place for a typical Feierabend in and around Berlin? The city is full of many amazing beer spots, so it was hard to pick just five. So relax, sit back with a beer and enjoy this post! In case you need a good overview of beer gardens in Berlin, my BeerBerlin map can help you out.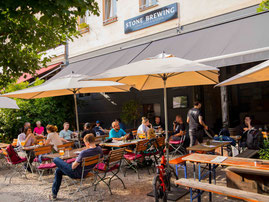 Stone Brewery Tap Room
This restaurant offers fine craft and artisanal beers on tap, including beers from the Stone US locations and from the Stone Berlin Pilot Series. About a third of the taps is reserved for guest beers from other breweries. At the Growler Filling Station, you can have your favorite beer freshly bottled and enjoy at home. There is also a selection of high-quality wines and spirits, non-alcoholic drinks and locally roasted coffee. "
Oderberger Straße 15, 10435 Berlin (Prenzlauer Berg), +49 30 44 012 090, www.stonebrewing.eu, Station: U2 Eberswalder Str. Mon–Thu 12:00–21:00, Fr–Sat 11:00–23:00, Sun 11:00–21:00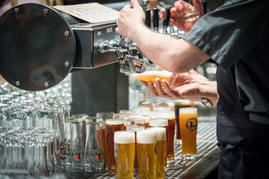 Brauerei Lemke
Local brewery with a wide range of classic German and international beer styles. Speciality of Lemke is their "Berliner Weisse" – a sour beer style originated in Berlin in the 17th century. The "Weisse" is produced with a traditional three culture fermentation. Beside the "Budike Weisse" (a pure Berliner Weisse) they offer also a version fermented with real raspberries, real woodruff and aged on oak. Brewpubs at Hackescher Markt and close to Alexanderplatz. Brewery tours in German are available, for groups of 10 or more tours in English can also be arranged – previous reservation is necessary.
Dircksenstraße S-Bahnbogen 143, 10178 Berlin +49 30 247 287 27 hackeschermarkt@lemke.berlin www.lemke.berlin Station: S3, S5, S7, S9 Hackescher Markt, Daily 12:00–0:00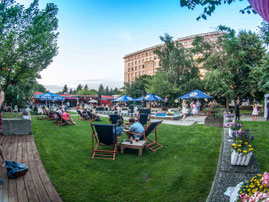 James June Sommergarten
James June Sommergarten is a beautiful and really green beer garden in the centre of berlin where you can enjoy unpasteurized and unhomogenized tank beer Pilsner Urquell in a cozy atmosphere. Especially now it is a lovely beer place in Berlin <3, where I hang out and enjoy the sun.
Karl-Marx-Allee 93, 10243 Berlin (Friedrichshain), +49 30 21 40 022, mail@jamesjune.de, www.jamesjune.de, Station: U5 Weberwiese, daily 15:00–24:00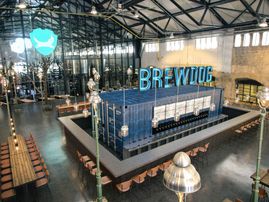 DogTap Berlin
Located in the historic Mariendorf gasworks building dating back to 1901. Here you can sip on super fresh beer while gazing through the 13 meters high glass wall into the brewery or enjoy delicious food while sunning yourself in the beer garden. Apart from great beer and amazing food, DogTap Berlin also features a co-working space, vintage arcade games, Olympic-sized shuffle boards, a dog park and craft beer museum.
Im Marienpark 23, 12107 Berlin (Marienfeld), www.brewdog.com, Station: S2 Attilastraße, U6 Alt-Mariendorf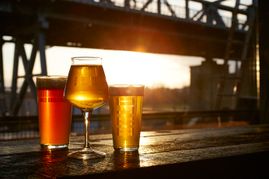 BRLO Brwhouse
In 2014, the company was founded as a project of three friends: Katharina, Christian and Michael. After the successful first years of brewing their own beer, the founders decided to create a place, where their ideas and their beloved beer could grow in new dimensions: BRLO Brwhouse. In this beer-wonderland you can get a wide, changing selection of beer, good food with a strong focus on vegetables or you can just meet nice people.
Schöneberger Straße 16, 10963 Berlin (Schöneberg), +49 30 55 57 76 06, rwhouse@brlo.de www.brlo-brwhouse.de, Station: U1, U2 Gleisdreieck, Tue–Fr from 17:00, Sat–Sun from 12:00
 pic by Seren Dal