After the great success of the first article on www.walk-this-way.net about Italian life style in Berlin, Carmela and I decided that we want to publish a new blogpost, because there is really too much to write about Italian spots in Berlin and we were struggling to decide on just five for the first article. So here we are, prepare your spaghetti and start reading.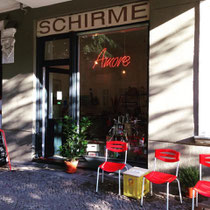 Amore Store
If you want to tour Italy within the comfort of a shop, well, Amore is the right place to go to. You will find different kind of products, from grocery to design and utensils for your kitchen. Are you curious to try the famous Sicilian fennel salami? You want to find nice coffee moka and not only? Well if you are answered yes to at least one of these questions then go to Amore Store and you won't be disappointed.
Sanderstraße 12, 12047 Berlin (Neukölln), Station: U8 Schönleinstraße, www.amorestore.de, Tue-Sat 12:00-19:00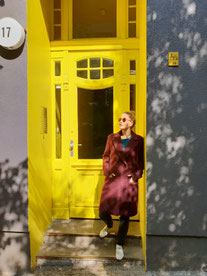 ZOLA
Definitely one of the best pizzas in Berlin. Every time I decide to have dinner at Zola I am never disappointed. It is almost like eating pizza in Naples. And I say almost because Italians would go crazy if I say that pizza at Zola tastes exactly like Neapolitan pizza. They have only a few pizzas on the menu that change often and they offer a good variety of original Italian products like "friarielli" or "lardo di colonnata". Absolutely a must try. Location is also very nice and be sure to reserve your table because it's always full! And recently they opened their new location at the Funkhaus so you have more possibilities to taste this marvelous pizza.
Paul-Lincke-Ufer 39-40, 10999 Berlin (Neukölln), Station: U8 Schönleinstraße, daily from 12:00 to 22:00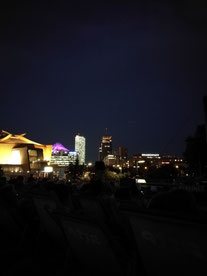 Potsdamer Platz
No, I didn't go crazy don't worry. I know it is a Berlin tourist attraction and I know it is not a store or a restaurant, but if you are a bit of an architect lover you have to admit that if you want to breath a bit of Italian style and genius then you have to get around the area. The entire project of the totally destroyed square in Berlin was directed from Renzo Piano in collaboration with Christoph Kohlbecker. Green space and water are the two predominant elements of the new Berlin area. One of the most famous building is the Daimler-Chrysler building.
Postdamer Platz, Berlin (Mitte), Station: U2, S1, S2, S25, S26 Potsdamer Platz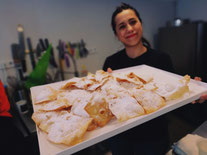 Lato Dolce
It is time for sweetness. You definitely have heard about tiramisù or bignè, but Italian desserts are definitely a world unto themselves. You can't even imagine which variety of delicious cakes and sweets Italy is capable of producing. Over twenty one regions own at least ten varieties of desserts and a book wouldn't be enough to describe all of them. When we talk about food in Italy , sweets are a fundamental part of the conversation. That's why you need to go to Lato Dolce and try their cakes, meringas, brioches,sicilan cannoli, flans, baci di dama, pasticcini, cannelles, ciambella and so on.
Graefestraße 11, 10967 Berlin (Kreuzberg), Station: U8 Schonleinstraße, +49 30 92 27 42 74, www.latodolce.com, daily 8:00–19:00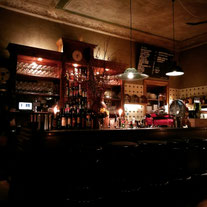 Gallina Weinbar
If you are into wine then Gallina is the place to be. Fine food and a big variety of wines make this place a must try. It is perfect for after-work aperitivo. They have self-imported wine from wine canteens in Italy that still follow handmade productions. They offer cheeses and Italian salumi from Venice, Puglia and Campania region. Great music and great atmosphere the heart of the Wrangelkiez in Kreuzberg.
Pücklerstraße 20, 10997 Berlin (Kreuzberg), Station: U1, U3 Görlitzer Bahnhof, +49 30 41 76 65 50, www.bargallina.de, daily 18:0–1:00
I hope you've enjoyed your Italian adventure in Berlin and I imagine after all that Aperol and pasta you are ready for bed, ciao bella/o.
If you want to find hidden gems of Berlin, check out my folding maps BertaBerlin and QueerBerlin. They are available in well-chosen locations all over Charlottenburg, Neukölln, Kreuzberg, Mitte and Prenzlauer Berg in Berlin and online. But for those of you, who want to stay up to date, feel free to follow me on INSTAGRAM, FACEBOOK or register for my NEWSLETTER BertaNews.

Author: Carmela was born in Sicily 34 years ago. She moved out from her tiny village at the age of 20 and lived in Italy and around Europe. She considered herself a nomadic until she decided to move to Berlin seven years ago. When she does not buy a book she feels lost and even if she can't read it all she loves to accumulate them on her reading desk and look at them like they are her next goal in life. If you would take away good food and good wine from her life she would literally die. She works in a hotel for the last two years so if you're looking for a place where to sleep and for the best advice on Berlin give her a ring. "Dream dream my daughter" her father used to say, and this is now her motto in life.