After the great success of the first article on www.walk-this-way.net about the Italian lifestyle in Berlin, Carmela and I decided that we want to publish a new blog post because there is really too much to write about Italian spots in Berlin and we were struggling to decide on just five for the first article. So here we are, prepare your spaghetti and start reading. In this chapter of my book "Traveling the world in Berlin" I would like you to discover Italy in Berlin. To explore the Italian culture you don't have to hop on a plane. Berlin offers many Italian restaurants, which bring "La Dolce Vita" to life. I want you to get a taste of Italy in Berlin by introducing my "Top 5 Italian restaurants in Berlin". Andiamo!
In case you want to order the book,
just check out my online shop for "TRAVEL THE WORLD IN BERLIN".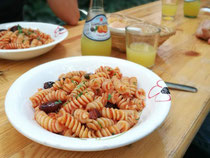 Lavanderia Vecchia
This restaurant feels like bella Italia. If you are looking for authentic Italian cuisine in Berlin, you will find it at the "Lavanderia Vecchia" in Neukölln. The former laundry Lavanderia Vecchia is very charming and friendly – especially the open kitchen. A small street leads to its home in the second backyard: reminding of former times Italian clotheslines are stretched across the paths. In summer you can sit down in the restaurant's own garden or in the courtyard. When it rains you can make yourself comfortable in the spacious, and Italian-style dining room. During the week the restaurant offers a three courses lunch menu for € 12. Italian cuisine lovers should try the multi-course evening menu. At Lavanderia Vecchia you find Italian cuisine, which tastes like "nonna" just prepared it for you.
Flughafenstraße 46, 12053 Berlin (Neukölln), Station: U8 Boddinstraße, lavanderiavecchia.wordpress.com, Mon–Sat 12:00–15:00, from 19:30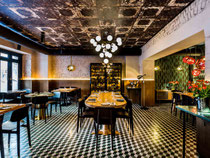 Mine & Wine Restaurant
This restaurant and wine bar is the perfect place to have classic Italian pasta and enjoy a glass of biodynamic and natural wine from the restaurant's wine cellar. Mikhail, son of the famous Russian chef Aram Mnatsakanov, opened his restaurant and wine bar Mine & Wine in Charlottenburg 2016. The owner often welcomes guests personally and guides them through his stylish restaurant. I found the ceiling wallpaper in the nostalgic tiled look and noble green marble tables particularly fascinating. By the way, this romantic restaurant is perfect for a rendezvous.
Meinekestraße 10, 10719 Berlin (Charlottenburg), www.minerestaurant.de, Station: U1 Uhlandstraße, Daily 17:30–24:00, wine bar Fr–Sat 19:00–24:00, pic by Akhtar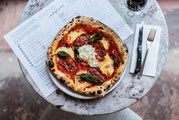 Gazzo Berlin
This Neuköllner Pizzeria Gazzo serves Berlin's best sourdough pizza. Through slow fermentation Robert, Mikel and Mikael transform organic flour into most delicious pizzas. At first glance the sourdough pizzas look like the Neapolitan version. But the sourdough makes the pizzas much more digestible, especially for people with wheat intolerance. The buffalo burrata with tomatoes and Berlin's most delicious soft ice cream made from Brandenburg buffalo milk with olive oil and sea salt for dessert should also not be missed.
Hobrechtstraße 57, 12047 Berlin (Neukölln), www.gazzopizza.com, Station: U8 Schönleinstraße, daily 12:00–22:00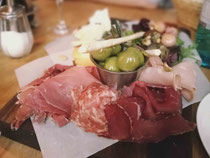 Mädchenitaliener
This Italian restaurant in Berlin Mitte is a real oldtimer, as it was established almost 20 years ago. The corner restaurant serves homemade pasta and a well-chosen selection of wines. My favourite dish is the Tagliatelle al Tartufo with fresh black truffles. And when you have finished your lunch, you can go shopping in the area. On Neue/Alte Schönhauser Straße you will find a variety of (second-hand) shops like Made in Berlin with happy hour on Tuesday from 12:00-15:00 and the delicatessen shop Mädchenitaliener Superbazaro. Here you can find truffle flavour  wines and Italian delicacies.
Alte Schönhauser Straße 12, 10119 Berlin (Mitte), Station: U8 Weinmeisterstraße, Mon–Sat 12:00–24:00, Sun 18:00–24:00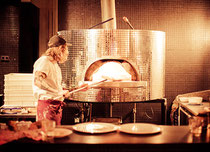 Monella
If you are looking for traditional Neapolitan pizza baked in a stone oven, you can find it in this Italian restaurant in Neukölln. Kate and Sebastièn, the owners of Monella, which means 'rascals', made it their mission to bring good Neapolitan pizza to Berlin. From traditional and fancy pizza-variations with figs and blackberries to excellent cocktails and Italian wines you will find all of these delights served here.
Weichselstraße 17, 12045 Berlin (Neukölln), www.monella.berlin, Station: U7, U8 Hermannplatz, daily 18:00–23:00