After the great success of the first article on www.walk-this-way.net about the Italian lifestyle in Berlin, Carmela and I decided that we wanted to publish a new blog post, because there is really too much to write about Italian spots in Berlin and we were struggling to decide on just five for the first article. So here we are, prepare your spaghetti and start reading. In this chapter of my book "Traveling the world in Berlin" I would like you to discover Italy in Berlin. To explore the Italian culture you don't have to hop on a plane. Berlin offers many Italian spots, which bring "La Dolce Vita" to life. I want you to get a taste of Italy in Berlin by introducing my "Top 5 Italian spots in Berlin". Andiamo!
In case you want to order the book,
just check out my online shop for "TRAVEL THE WORLD IN BERLIN".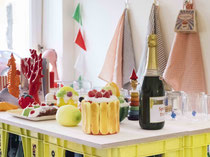 Amore Store
If you are a fan of Italian cuisine and design then you will fall in love with the Amore Store and its friendly owner Kerstin, who carefully sources high quality, Italian products. Focusing mostly on Italian delicacies and antipasti in the first room of the shop. The second room of the store features everything from home accessories, socks to espresso makers. Entering this 'Tante-Emma-Laden' with its beautifully designed trays you will immediately feel like in Italy.
Sanderstraße 12, 12047 Berlin (Neukölln), www.amorestore.de, Station: U8 Schönleinstraße, Tue–Sat 12:00–19:00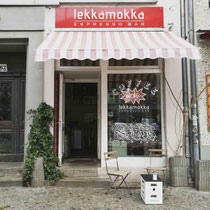 Lekkamokka
Ice cream is one of the most popular sweets in Italy. The original Italian production of ice cream is a real craft and Fabio, the owner of lekkamokka, is a virtuoso in the art of gelatieri. In this café, you will also find excellent coffee, from authentic espresso to cappuccino with soy milk foam. lekkamokka is a lovely, calmly place that invites you to stay and watch the hustle and bustle of Berlin go by.
Rosenthaler Straße 62, 10119 Berlin (Mitte), Station: U8 Rosenthaler Platz, Mon–Fr 9:00–19:00, Sat, Sun 11:00–19:00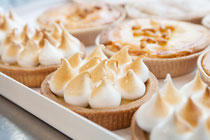 LatoDolce
It is time for sweetness! You might have heard about tiramisu or cream puff like bignè, but there is much more to explore: Over twenty-one regions own at least ten varieties of desserts and one book wouldn't be enough to describe all of them. Meringues  brioches, sicilian cannoli, flans, baci di dama, pasticcini, cannelles, ciambella and much more you can find at the patisserie LatoDolce. If you want to learn how to make these pastries at home, Natalie offers pastries course for beginners.
Graefestraße 11, 10967 Berlin (Kreuzberg), Station: U8 Schönleinstraße, daily 8:00–19:00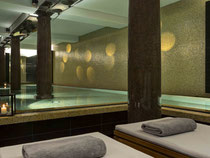 Rocco Forte Hotel de Rome

Those who like it a little more exclusive can round off this Italian journey with a Hugo de Rome on the roof terrace of Hotel de Rome. The spacious terrace offers a breathtaking view over Berlin! The historic building was the headquarters of the Dresdener Bank until 1945. Therefore, if possible, you should take a look into the former jewellery vault in the basement. Today, the De Rome Spa is located there, but the former safe deposit boxes can still be admired. If you are still hungry, you could visit their restaurant La Banca in the beautiful green courtyard and you enjoy Italian cuisine. The menu changes weekly. If you want to come back, you can take advantage of their business lunch including Italian coffee.
Behrenstraße 37, 10117 Berlin (Mitte), Station: U6 Französische Straße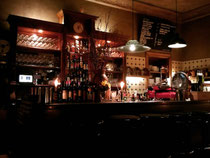 Gallina – Vineria Bar
Fine Italian food and a big variety of wines make this place a must try. It is perfect for after-work aperitivo. Gallina imports wine from wine canteens in Italy that still follow handmade productions. Besides wine they offer cheeses and Italian salami. The Italian vineria is a feel-good place for the neighborhood with great atmosphere at the heart of the Wrangelkiez in Kreuzberg.
Pücklerstraße 20, 10997 Berlin (Kreuzberg), www.bargallina.de, Station: U1, U3 Görlitzer Bahnhof, daily 18:00–1:00