Berlin has the largest Turkish community outside of Turkey, with most Turks living in Kreuzberg and Neukölln, after having come to the city in the 1950s, 60s and 70s as part of a post-war employment treaty called 'guest worker'. Bringing their cultural flare to Berlin, they've made the city into the world's second Turkish capital. This is why I would like to take you on a trip through Turkey in Berlin.
In my book, I have compiled the most beautiful Turkish places in Berlin. For now I want you to get a taste of Turkey in Berlin by introducing my "Top 5 places to experience Turkish culture in Berlin".
In case you want to order the book,
just check out my online shop for "TRAVEL THE WORLD IN BERLIN".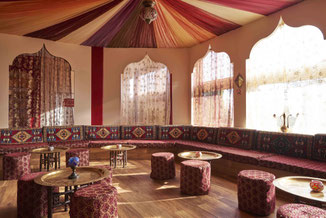 Turkish Sultan Hamam Berlin
Not to be expected from the outside, a beautiful Turkish bath clad with the finest marble is hidden in the high-rise building on Bülowstraße. In this classic Hamam you can find a traditional heated stone bath (Turkish: Göbek Tasi). Its warmth makes you forget the everyday life of Berlin. In addition, you can round off your visit with beauty treatments like body scrubs and soaping or manicures and pedicures.
Bülowstraße 56–57, 10783 Berlin (Schöneberg), www.sultanhamamberlin.de, Station: U7, S1, S2, S25 Yorckstraße, pic by Ferhat Topal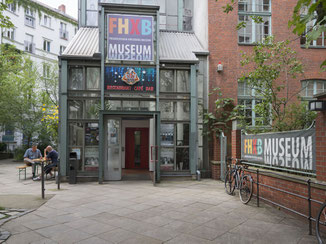 FHXB Friedrichshain-Kreuzberg Museum
Today, Turkish shops crowd together on the Adalbert and Oranienstraße. Almost 40 years ago, Kreuzberg became the centre of life for migrants from Turkey. The FHXB Friedrichshain-Kreuzberg Museum, located directly opposite the Baklavaci Kilicoglu, is dedicated to them and the history of migration in Kreuzberg. On two floors the museum shows the history of migration in Kreuzberg, for example of immigrants from Turkey.
Adalbertstraße 95A, 10999 Berlin (Kreuzberg), www.fhxb-museum.de, Station: U1, U3, U8 Kottbusser Tor, Tue–Thu 12:00–18:00, Fr–Sun 10:00–20:00, pic by Ellen Roehner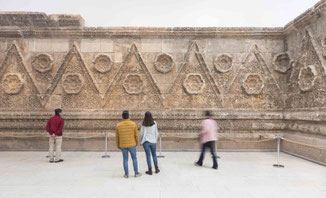 Pergamonmuseum
The Pergamon Museum houses three museums: the Collection of Classical Antiquities, the Museum of the Ancient Near East and the Museum of Islamic Art. The museum became famous for its impressive exhibits such as the Pergamon Altar, the Market Gate of Miletus and the Ishtar Gate with the Processional Way of Babylon and the Mshatta Façade. The monumental Pergamon Altar was built under King Eumenes II in the first half of the 2nd century B.C. in Pergamon (located in what is now Turkey). Also, the magnificent façade of the market gate of Milets from the 2nd century A.D. is originally from Milets (in today's Turkey). This museum is perfect to get to know Turkey in Berlin.
Am Kupfergraben 5, 10117 Berlin (Mitte), www.smb.museum, Station: U6, S3, S5, S7, S9 Friedrichstraße, Mon–Wed, Fr–Sun 10:00–18:00, Thu 10:00–20:00, pic by David von Becker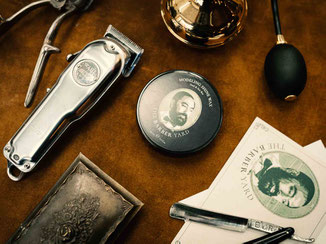 The Barber Yard
In this barbershop, you not only get your hair cut but also your beard shaved. From the classic shave with shaving foam to oil shaving with wet towels, this hairdresser offers a real wellness experience for men. Even haircuts in the style of the 1940s and 1950s are cut here and if you have to wait, just take a seat on one of the club chairs and enjoy the relaxing music. For another spot in  Berlin to discover Turkish culture then don't miss this barbershop!
Flughafenstraße 15, 12053 Berlin (Neukölln), www.barber-yard.com, Station: U7 Rathaus Neukölln, Tue–Sat 10:00–19:00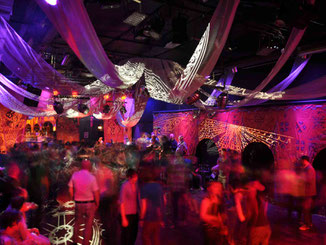 Gayhane at SO36
The SO36 is a Kreuzberg club and takes its name from the historical postal delivery district of the same name. Berlin SO 36 Gayhane is also the first 'Queer Oriental Party' in Germany. The name is a pun from gay and 'mayhane', Turkish for 'pub'. The aim of the hosts is to offer queer migrants a safe space with familiar musical sounds. Gayhane takes place on the last Saturday of each month.
Oranienstraße 190, 10999 Berlin (Kreuzberg), www.so36.de, Station: U1, U3, U8 Kottbusser Tor, pic by Fleig Konz