Let's face it, there are a couple of dishes that are hard to find in Berlin (looking at you, Indian cuisine!) and unfortunately high quality sushi is one of them. Although there are hundreds of restaurants that serve or deliver sushi (often together with other Asian cuisines like Vietnamese or Chinese… because Asian food is basically all the same, right?), most of them severely disappointed due to their dry, tasteless rice, low quality fish or overboard use of cream cheese. I felt even worse about them after visiting Japan, but there are a couple of outstanding places that definitely scratch my "I-miss-Tokyo-so-much" itch.
Sushi restaurant San in Berlin Mitte
A fairly recent opening in Mitte by two Japanese guys serving some of the best and most authentic sushi this city has to offer. Their nigiri is top notch, with the rice beautifully seasoned, slightly warm and sweet. The fish are incredibly fresh, especially the different cuts of tuna and hamachi (yellowtail) which wow me every time. They also offer flavorful starters like salmon marinated in ponzu sauce or tuna tartare. This place is not cheap, but worth every cent. Make sure to reserve a table online.
Lockdown note: Due to their dedication to high-end ingredients San decided to not offer take away boxes as they suffer badly in transit. Check their online channels to find out when they open again.
Weydingerstraße 22, 10178 Berlin (Mitte), +49 30 30 34 41 40, www.3berlin.com, @san__berlin , Station: U2 Rosa-Luxemburg-Platz, Mon–Sat, 18:30–23:00, pic by Alicia Kowol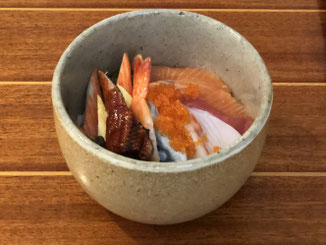 Sushi deli in Berlin Mitte
Smartdeli is a cute Japanese supermarket in Mitte with a couple of mismatched tables in their backroom. Eating there feels like visiting friends in their shared flat who feed you their home cooked food. While I'd recommend staying away from anything fried, knock yourself out ordering their sushi and sashimi. The taste of their fish and seafood transports you directly to Japan. I especially love their Chirashi Sushi bowl and at 13,80 € it's a real steal: Beautiful fish and seafood cuts over wonderfully seasoned sushi rice. Fairly priced, walk-ins are welcome.
Lockdown note: Takeaway available. Make sure to call beforehand to check if they are open.
Novalisstraße 2, 10115 Berlin (Mitte), +49 30 20 68 70 37, www.smartdeli.org, Station: U6 Oranienburger Tor, Mon–Sat 12:00–22:00, Sun 12:00–18:00; pic by Alicia Kowol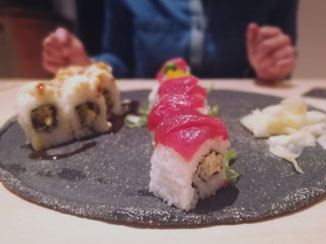 Sushi restaurant in Berlin Prenzlauer Berg
Sasaya is a lovely Japanese restaurant in Prenzlauer Berg and serves great nigiri - especially the lightly grilled ones are highly recommended! Personally, I am not a huge fan of their rolls, but their superb nigiri, fantastic donburi (rice bowls) and their fine assortment of starters and desserts, teas and sakes make a visit worthwhile. Go here for a casual date or to meet friends. Also: Good value for money! Reservation required.
Lockdown note: Sasaya is currently offering take away. Stop by or give them a call to order and take some yummi sushi or donburi back home with you.
Lychenerstraße 50, 10437 Berlin (Prenzlauer Berg), +49 30 44 71 77 21, www.sasaya-berlin.de, Station: U2, S8, S41, S42, S85 Schönhauser Allee, Thu–Mon, 12:00–15:00, 18:00–23:30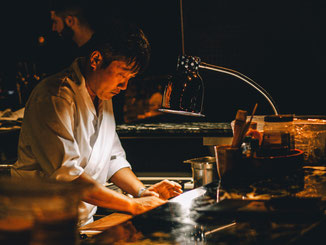 Sushi restaurant in Berlin Charlottenburg
Deep down in Charlottenburg on Kantstraße you find fabled 893 Ryotei behind unassuming, graffiti-covered windows. Standing in front of them, you'll never guess that they hide a fancy, plush interior with marble countertops, an open kitchen and some of the best sushi this city has to offer. 893 Ryotei is the brainchild of famous restaurant owner The Duc Ngo, who built a whole empire of unique Asian restaurants in Berlin. 893 Ryotei is undeniable his best one: Try their innovative, fusion-cuisine-inspired starters, dig into their sashimi and sushi and if you still feel hungry order some udon noodles. This hip place is not cheap, but worth its money. Just make sure to reserve weeks in advance.
Lockdown note: 893 Ryotei currently offers takeaway food - you find their scaled down menu online. Give them a call to place your order and pick it up.
Kantstraße 135, 10625 Berlin (Charlottenburg), +49 30 91 70 31 21, www.893ryotei.de, Station: S3, S5, S7, S9 Savignyplatz, Tue–Sat 12:30–21:00, pic by Paul Hüttemann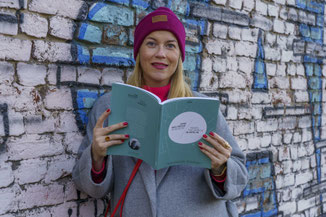 Sushi cafeteria in Berlin Mitte
Visiting Ishin feels like eating in the noisy cafeteria of a Japanese company that produces something boring like screws or paperclips - not fancy at all. If you date a foodie you will score some major points in their book though by bringing them here: Ishin's sushi, sashimi and rice bowls are authentic and full of flavor. Just do not expect a lengthy stay: Get in, eat the good food they quickly serve you, wash it down with a cup of free green tea and get out. I especially recommend the toro (fatty tuna), unagi (eel) and their gunkan - seaweed pockets filled with roe or sea urchin. Not expensive. Walk-ins are always welcome.
This lovely sushi restaurant is also recommended in my book "Travel the world in Berlin".
Lockdown note: Ishin Mittelstraße is currently closed. There are five Ishins in Berlin - whilst I can't testify to the quality of the others, it might be worth checking out the open ones in Charlottenburg and Kreuzberg.
Mittelstraße 24, 10117 Berlin (Mitte), +49 30 20 67 48 29, www.ishin.de, Station: U6, S1, S2, S3, S5, S7, S9, S25, S26 Friedrichstraße, Mon–Sat 11:30–20:00, pic by Daniel Kessler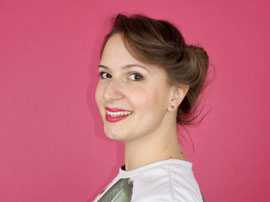 If co-author Alicia Kowol is not traveling the world her favorite pastime is eating out.
She loves to try everything: From the grittiest smash burger to high end Michelin starred cuisine. Alicia is always on the hunt for finding the very best food in each category. The craziest thing she ever tried was iguana in Mexico - an experience she would not like to repeat. She would eat bugs again though, they were really yummi.
Ask Alicia where in Berlin to find the crispiest sourdough bread, the freshest ceviche or the most authentic omakase menu - she'll know and is happy to share her secrets with you. Currently she also cooks a lot.
Follow her food adventures on Instagram: @alicialicious_berlin
More Japanese restaurants: