Berlin is a vegan's heaven, so it's not all that surprising that it'd be home to a multitude of trendy vegan restaurants. To help you find these perfect compilation of fresh ingredients, I wrote this Top 5 of vegan restaurants in Berlin for you.
Kopps
A must for every vegan gourmet. Be wowed by their innovative creations made from seasonal, organically farmed veggies & lots of love for detail. Tip: stop by early evening for their "come together's" & get a great deal on 3-courses. Or come for their excellent weekend-brunch.
Linienstraße 94, 10115 Berlin (Mitte), +49 30 43 20 97 75, kontakt@kopps-berlin.de, www.kopps-berlin.de, Station: U8 Rosenthaler Platz, Mon, Wed, Thu 12:00–24:00, Fr–Sun 12:00–2:00
Guten Appetit!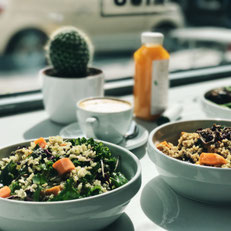 Good Bank
When it comes to vegan-only restaurants, Berlin has got herbivores covered. But where your vegan chum has to eat yet another 'veggie-side-as-main-course'? So, welcome to the vertical-farm-to-table restaurant Good Bank. Here you can look at huge ventilated shelves behind glass doors. Also different kinds of lettuce and kale is growing for some of the menu options.
Rosa-Luxemburg-Straße 5, 10178 Berlin (Mitte), +49 30 33 02 14 10, contact@good-bank.de, www.good-bank.de, daily 11:30–22:00, you can pay with credit card and get WiFi here.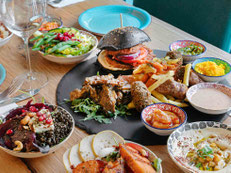 Kanaan
Don't leave Berlin without having tried Israeli food at this vegan restaurant in Berlin Prenzlauer Berg. Perfect for lunch, this veggie-vegan one is special though as it's run by an Israeli and a Palestinian! Apart from love and good vibes, you also get some of the best hummus in town. It's the proof: Good food overcomes any borders.
Schliemannstraße 15, 10437 Berlin (Prenzlauer Berg), +49 159 01 34 80 77, www.kanaan-berlin.de, Station: U2, S8, S41, S42, S85 Schönhauser Allee , Tue–Thu 18:00–22:00, Fr–Sun 12:00–22:00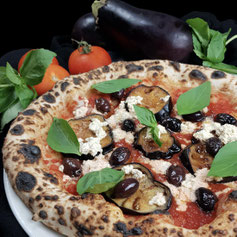 Hope Superfood Deli
This deli offers fabulous vegan and gluten-free dishes. At this vegan restaurant you can order sweet and salty snacks, soups, salads, Smoothies, juices, open sandwiches as well as Breakfast- and Lunch-Bowls. The dishes are always available as a vegetarian or vegan option. As with the big sister The Bowl is also in Hope "Clean Eating" the motto.
Akazienstraße 28, 10823 Berlin (Schöneberg), +49 30 68 40 24 00, www.hope-deli.com, Station: S1 Julius-Leber-Brücke, daily from 11:30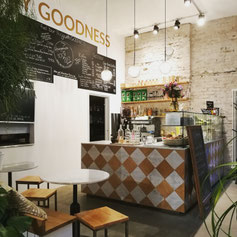 My Goodness Berlin
If you are looking for healthy, nutritious smoothies or tasty bowls, My Goodness Berlin is the right place to be. This little gem is located within the Becycle studio on Brunnenstraße. Here you can earn you lunch and participate an intense spinning workout or power yoga. The menu is seasonal and they only cook with pure vegetable organic ingredients. The smoothies can be upgraded into a Smoothie Bowl. The "Be smooth" was my favorite and is made out of banana, cacao, avocado, almonds and dates. In addition they offer daily, healthy and tasty lunches.
Brunnenstraße 24, 10119 Berlin (Mitte), isabelle@mygoodnessberlin.com, www.mygoodnessberlin.com, Station: U8 Rosenthaler Platz, Mon–Fr 7:30–19:30, 9:00–14:30, Sun 11:00–15:00, they have WiFi :)
If you want to find more hidden gems of Berlin, check out my folding maps BertaBerlin and QueerBerlin. They are available in well-chosen locations all over Charlottenburg, Neukölln, Kreuzberg, Mitte, Schöneberg and Prenzlauer Berg in Berlin and online. But for those of you, who want to stay up to date, feel free to follow me on INSTAGRAM, FACEBOOK or register for my NEWSLETTER BertaNews.