While it's not that hard to find good quality veggies in Berlin, it might be a little trickier to discover some proper animal product alternatives - be it vegan 'cheezes', 'tofurkys', nutritional yeasts or much more. While I was scouting for our VeganBerlin map with Claudia from GreenMeGuides, Marika from the great vegan cafe Plant Base has been searching for other lovely vegan locations. After compiling a list of the best vegan shops in Berlin we would like to share them with you. We've put together a list of the best vegan shops in Berlin for vegan food shopping (apart from your local farmer's markets) - for vegans and also all those looking to lead a more sustainable lifestyle.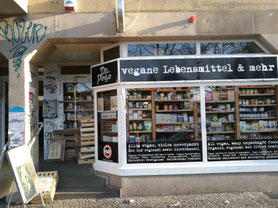 Dr Pogo Veganladen-Kollektiv
Visit this friendly collective and browse through their all-vegan grocery store in the beautiful Rixdorf area of Berlin. At this vegan shop, customers can find anything from vegan foods, sweets, cosmetics, homeware, pet food, books and lots more, all available at fair prices. P.S. this vegan collective and shop also run the vegan pizzeria La Stella Nera (an absolute must-visit!)
Karl-Marx-Platz 24, 12043 Berlin (Neukölln), +49 30 53 06 97 94, www.veganladen-kollektiv.net, Station: U7 Karl-Marx-Straße, Mon–Tue, Thu–Fr 9:00–20:00, Wed 12:00–20:00, Sat 9:00–16:00; pic by Gili Chen for Adira be fearless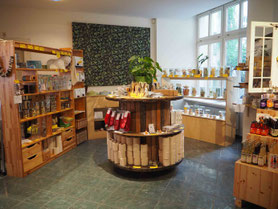 Der Sache Wegen
Der Sache Wegen is a wonderfully spacious vegan shop that is completely plastic-free. What makes this vegan spot stand out is that it is also 100% animal-cruelty free, palm oil free and only stocks top-quality organic, fairly made products. Visiting this vegan shop is like roaming through a zero-waste wonderland with amazing discoveries that go way beyond food! 
Lychener Straße 47, 10437 Berlin (Prenzlauer Berg), +49 30 85 62 61 02, hallo@der-sache-wegen.de, www.der-sache-wegen.de, Station: U2 Eberswalder Straße, Mon–Fr 12:00–20:00, Sat 10:00–18:00; pic by Christiane Sieg
Sirplus
Can you imagine a market that sells rescued foods? That's exactly what Sirplus does. Although not entirely vegan, the market chain is doing a great job fighting food waste in the food supply system. This shop offers vegetables, fruits, dry goods, lots of vegan products and more - all at prices below the usual market value. Sirplus shop is a great option for those on a tighter budget or looking to minimize their footprint whilst also looking to eat a vegan diet.
Schloßstraße 94, 12163 Berlin (Steglitz), Karl-Marx Straße 108, 12043 Berlin (Friedrichshain), www.sirplus.de, Station: U9 Schloßstraße, Mon–Sat 9:00–20:00; pic by Gili Chen for Adira be fearless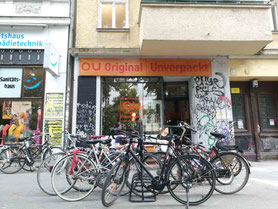 Original Unverpackt
Germany's first package-free supermarket is a star in Berlin's zero waste scene. The large choice of nuts, grains and even vegan ice popsicles at this vegan shop is sure to keep you energised! What's more, at this vegan paradise customers can browse for fantastic zero waste souvenirs and gifts such as cups made from recycled coffee grounds or HALM glass straws.
Wiener Straße 16, 10999 Berlin (Kreuzberg), www.original-unverpackt.de, Station: U1 Görlitzer Bahnhof, Mon–Sat 11:00–20:00
Veganz
Are you looking for a supermarket in Berlin that spares you the hassle of having to look through the ingredients list on the back of every product to check if it is vegan? Look no further! Go to to the "vegan temple" and be blown away by the enormous choice at Veganz - Europe's first and biggest vegan supermarket full of nuts and grains in bulk, cosmetics, 'mylks', condiments, dips, 'cheezes' and a great variety of frozen meals (we're talking vegan burgers, shrimps, nuggets and more!). After a visit to this incredible vegan shop, why not have a smoothie and cake at their in-house café, before taking a peek into the vegan shoe store Avesu, also in the same building! It may all sound a little overwhelming, but you'll make your way through this vegan paradise eventually and once you've discovered this spot you won't forget it!
Warschauer Straße 33, 10243 Berlin (Friedrichshain), +49 30 29 00 94 35, kontakt@veganz.de, www.veganz.de, Station: U1, S3, S5, S7, S9 Warschauer Straße, Mon–Sat 8:00–21:00; pic by Kristof Fischer 
Marika - who I wrote this article with - is a vegan advocate, chef and the owner of 'Plant Base' in Berlin, Prenzlauer Berg. This bright, friendly spot is an all-vegan-café by day and event space in the evenings. Workshops and events concerning all things veg - in theory, and practice take place here so don't miss out! From vegan dumplings and tofu classes to vegan book clubs, screenings and dating nights - Plant Base nurtures your body, mind and soul.
Prenzlauer Allee 208, 10405 Berlin (Prenzlauer Berg), hello@plantbase.berlin, www.plantbase.berlin, Station: Tram M2 Prenzlauer Allee/ Danziger Straße, Tue–Sun 9:00–18:00
If you want to find more hidden gems of Berlin, check out my folding maps BertaBerlin, QueerBerlin, BeautyBerlin, YogaBerlin, BeerBerlin and GDR Berlin map. They are available in well-chosen locations all over Berlin and online. But for those of you, who want to stay up to date, feel free to follow me on INSTAGRAM, FACEBOOK or register for my NEWSLETTER BertaNews.