Berlin is a vegan's heaven, so it's not all that surprising that it'd be home to a multitude of trendy vegan restaurants. To help you find these perfect compilation of fresh ingredients, I wrote this Top 5 of vegan restaurants in Berlin for you.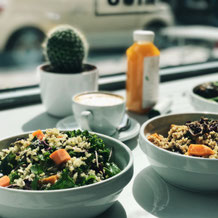 Good Bank
When it comes to vegan-only restaurants, Berlin has got herbivores covered. But where your vegan chum has to eat yet another 'veggie-side-as-main-course'? So, welcome to the vertical-farm-to-table restaurant Good Bank. Here you can look at huge ventilated shelves behind glass doors. Also different kinds of lettuce and kale is growing for some of the menu options.
Rosa-Luxemburg-Str. 5
10178 Berlin (Mitte)
+49 30 33 02 14 10
contact@good-bank.de
www.good-bank.de
Hours: Mon-Sun 11:30-22h
You can pay with credit card and get WiFi here.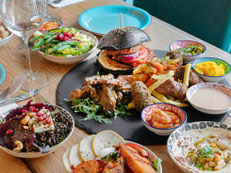 Rawtastic
The only 100% raw vegan restaurant in Prenzlauer Berg. On the menu of Rawtastic are only items that have been carefully created for maximum flavour, nutritional benefit, and aesthetic effect. Eating raw here means their food is not heated above 42ºC, because once past this point, the enzymes and nutrients in the food begin to diminish. So even the simplest-looking dish  has been dehydrated at 42ºC for 16 hours, surely an organisational feat for the chefs in the kitchen.
Danzigerstr. 16
10435 Berlin (Prenzlauer Berg)
+49 172 43 91 287
info@rawtastic.de
www.rawtastic.de
Station: U2 Eberswalder Str.
Hours: Mon-Fr 11-23h, Sat 11-23h, Sun 12-22h
Details: WiFi, you can pay with credit card and you can reserve a table.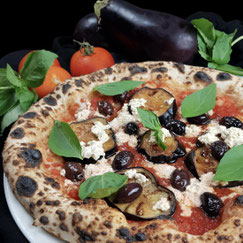 Hope Superfood Deli
This deli offers fabulous vegan and gluten-free dishes. At this vegan restaurant you can order sweet and salty snacks, soups, salads, Smoothies, juices, open sandwiches as well as Breakfast- and Lunch-Bowls. The dishes are always available as a vegetarian or vegan option. As with the big sister The Bowl is also in Hope "Clean Eating" the motto.
Akazienstr. 28
10823 Berlin (Schöneberg)
+49 30 68 40 24 00
www.hope-deli.com
Station: S1 Julius-Leber-Brücke
Hours: daily opening at 11:30h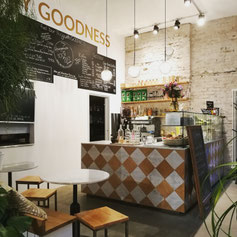 My Goodness Berlin
If you are looking for healthy, nutritious smoothies or tasty bowls, My Goodness Berlin is the right place to be. This little gem is located within the Becycle studio on Brunnenstraße. Here you can earn you lunch and participate an intense spinning workout or power yoga. The menu is seasonal and they only cook with pure vegetable organic ingredients. The smoothies can be upgraded into a Smoothie Bowl. The "Be smooth" was my favorite and is made out of banana, cacao, avocado, almonds and dates. In addition they offer daily, healthy and tasty lunches.
Brunnenstraße 24
10119 Berlin (Mitte)
isabelle@mygoodnessberlin.com
www.mygoodnessberlin.com
Station: U8 Rosenthaler Platz
Hours: Mon-Fr 7:30-19:30h, 9-14:30h, Sun 11-15h
They have WiFi.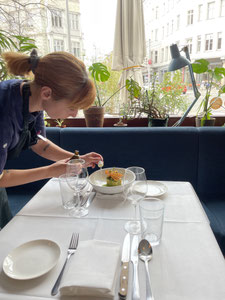 The Bowl
Gluten-free and lactose-free, this vegan restaurant is not only vegan, but also 100% organic certified. According to their name every delicious dish gets served in a single bowl.
Warschauer Straße 33
10243 Berlin (Friedrichshain)
+49 30 29 77 14 47
reservierung@the-bowl.de
www.the-bowl.de
Station: U1, S3, S5, S7, S75 Warschauer Str.
Hours: Mon-Fr 11:30-23h, Sat-Sun 10-23h
Here you can pay with credit card and will be provided with WiFi. 
Guten Appetit!
If you want to find more hidden gems of Berlin, check out my folding maps BertaBerlin and QueerBerlin. They are available in well-chosen locations all over Charlottenburg, Neukölln, Kreuzberg, Mitte, Schöneberg and Prenzlauer Berg in Berlin and online. But for those of you, who want to stay up to date, feel free to follow me on INSTAGRAM, FACEBOOK or register for my NEWSLETTER BertaNews.