I am constantly scouting for new awesome locations in Berlin all of the time as I usually have a lot of coffee dates. I'm not complaining, I love it! But sometimes, I like to try out something new. Berlin offers many do-it-yourself workshops which I find really refreshing. From painting and taking photos to plant and flower workshops: I've tried them all! I would definitely highly recommend workshops even for a unique birthday party or as a gift. To put it in a nutshell, here are my Top 5 workshops in Berlin!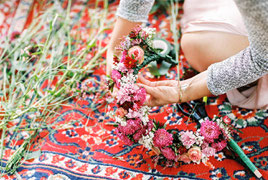 Kopflegenden
Flowers are special in a completely unique way. Jil from Kopflegenden understands this wholeheartedly and gives brides and grooms very special stories for their wedding in the form of bridal bouquets, floral accessories and impressive room decorations. With lots of creativity and attention to detail, works of art are created through flowers that will be remembered for a long time. In her studio, you can get comprehensive advice and inspiration, book private floral workshops for, for example, the perfect hen party!
Studio41, Cranachstraße 8, 12157 Berlin, (Friedenau), +49 157 80 30 53 53, jil@kopflegenden.de, www.kopflegenden.de, Station: S1 Friedenau, pic by Ashley Ludaescher Photography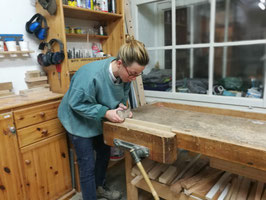 Workshop at Schokowerkstatt
The Frauenzentrum Schokofabrik e. V. is located in the middle of Kreuzberg in a former chocolate factory. The Schoko is Berlin's largest women's centre and offers a unique mix of advice, leisure activities and crafts. The centre was founded in the 1980s as a project of the feminist women's movement with the aim of promoting and strengthening women*, lesbians and girls. Rosi has been leading workshops in the chocolate workshop on the first floor for over 33 years. Women who would rather build their own furniture under the guidance of a carpenter in the workshop can do so every Monday and Thursday. I was lucky enough to be able to create a board to hold my maps in my office.  
Mariannenstraße 6, 10997 Berlin, +49 30 615 24 40, info@schokowerkstatt.de, www.frauenzentrum-schokofabrik.de, Station: U1, U3, U8 Kottbusser Tor, open furniture workshop: Mon 9:00–13:00, Mon 13:00–17:00, Thu 16:00–19:00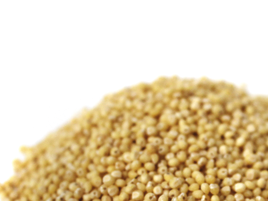 Vegan Starter Kit by Plant Base
Ohhh, Berlin has been waiting for this! A bright, friendly all-vegan-café during daytime - with vegan croissants! - turns into a space for workshops and events all concerning demystify veganism in theory and practice. From vegan dumplings to vegan book clubs, to raw-vegan dating nights, Plant Base nurtures your body, mind and soul. They also offer workshops in Berlin. The workshop is dedicated to plant-based "beginners" and those who would like to adopt this diet but don't really know how or where to start. It focuses on the nutritional aspects of the vegan lifestyle. You will learn about the benefits and effects of a plant-based diet, the sources of all the nutrients you need as well as how to compose your meals and make sure your body is given everything it needs to thrive.  
Prenzlauer Allee 208, 10405 Berlin (Prenzlauer Berg), hello@plantbase.berlin, www.plantbase.berlin, Station: Tram M2 Prenzlauer Allee/ Danziger Straße, Tue–Sun 9:00–18:00, food menu: Wed–Sun 9:00–15:00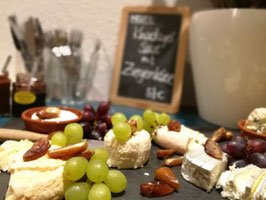 Cheese Workshop
Philipp and Leyla have created an interactive cheese workshop in which you learn everything you need to know about cheese production and milk, then have the opportunity to make your own favourite cheese. The whole workshop is accompanied by delicious cheese tasting with wine accompaniments from the Philipp Dhom Winery. The courses take place exclusively on weekends and thus, offers a great opportunity to spend a wonderful afternoon together with friends, family or colleagues and gain an insight into the art of cheese making. The workshops start at 3 pm and end at around 7 pm.
KAS – Kaesekurse, Obentratstraße 53, 10963, Berlin (Schöneberg), +49 173 2047241, pk@kaesekurse.de, www.kaesekurse.de, Station: U1, U3, U6 Hallesches Tor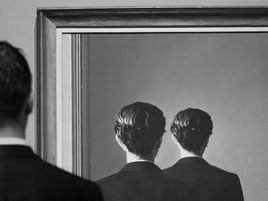 Art4Reflection
Take an insightful lunch break and take part in a Symbolon Art4Reflection tour. 'Art can be used to unlock undiscovered potential,' believes Gabriela from the Art4Reflection workshops. In these tours, visitors combine art, everyday life and decision-making in an uncomplicated manner, getting to know Berlin museums. 
Gabriela's contact is mail@lademacherberatung.de, the next workshops are on the 2nd of March and 6th of April at 13:00 in the Berlinische Galerie, Station: U6 Kochstraße Checkpoint Charlie
More workshops in Berlin: