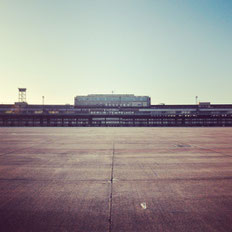 The former Tempelhof airport was once one of the world's busiest transport hubs. In 2008, it closed permanently and became a community park, where
barbecues,

sports and

other social events
are held around the twin runways.
You are free to skate, run, bike, fly a kite, walk your dog or just enjoy a drink in the beer garden.
Originally the Tempelhofer Feld was a parade ground. When the military cleared the site, the locals would swarm in to enjoy wideness. As today families would come with their baskets and enjoy a picnic or have a barbecue on one of many lawns.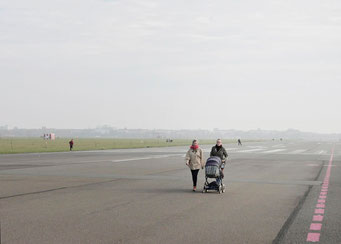 Tempelhofer Feld
There are other entrances at Columbiadamm and Oderstraße. They are open from sunrise to sunset.
Station: U6 + S41, S42, S45, S46 Tempelhof
Rental: www.mobilcenterberlin.de
Open: Jan [7:30-17h], Feb [7-18h], Mar [6-19h], Apr [6-20:30h], May [6-21:30h], Jun [6-22:30h],
Jul [6-22:30h], Aug [6-21:30h], Sep [6-20:30h],
Oct [7-19h], Nov [7-18h], Dec [7:30-17h]
This recommendation is one of many recommendation of the Mini Pocket Guide
BertaBerlin (for Berlin and Neukölln).
first pic py @iemaudreyanne
second pic by @mathiaskutt