The Badeschiff is one of the most amazing beach bars in Berlin. Its pool floats since 2004 on the river Spree. Besides a swim, you can enjoy the panoramic views of the city. A wooden footbridge connects the pool to the river bank where you can sometimes enjoy life music, have drink in the sun or play beach volleyball. The bar offers a variety of cocktails, but you can also get a bit to eat if you are hungry.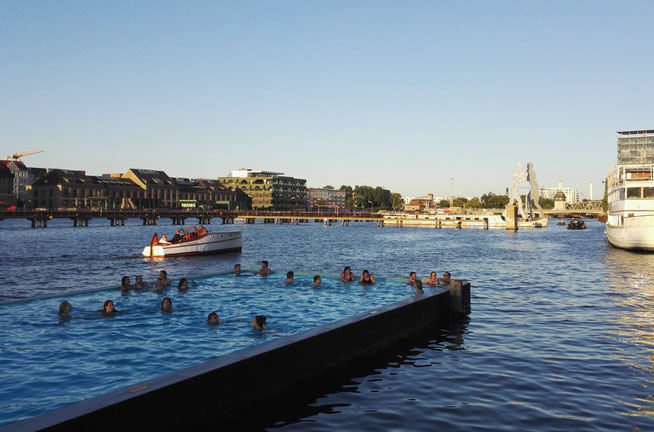 Swimming in the Badeschiff pool
Take a dip in the swimming pool that floats in the river or grab a drink at the beach bar. Badeschiff is the perfect get away from the city. The sky-blue swimming pool has a water depth of 2.05 metres. For children, there is an additional area where they can build their sandcastles. You can have a swim in the pool or do Stand Up Paddling on the Spree. If you want you can also take a Stand Up Paddling (pricing) or Yoga class (13 Euro, entrance fee included).
Yoga on the Badeschiff

Badeschiff offers peaceful morning Yoga classes from Juni to September
every Tuesday (footbridge) and
Thursday (sun deck) from 9 to 10 am.

Stand Up Paddling Yoga is Wednesday and Saturday.
So you can generate energy for the coming days. And if you are hungry after all the exercises, you can go to the Gorilla BBQ and have a (veggie) burger with fries.

Beach parties at the Badeschiff

Additionally to the relaxing opportunities of Badeschiff, they offer a lot of events, which you can check out on the event calendar. Badeschiff is a venue for concerts, parties like Badeswing and other events. So you have a lot of options to choose from.
Usually you have to pay an entrance fee of 5,50 Euro (students 3 Euro). But if you get lucky (after 8 pm), they let you in for free.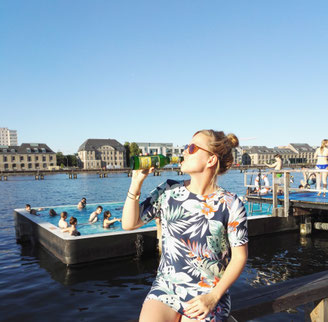 Badeschiff
Eichenstraße 4
12435 Berlin
Station: U1 Schlesisches Tor
www.arena.berlin/veranstaltungsort/badeschiff
Open: Swim season Season:
is from May-September: [8-24h]
Escobar is open:
from Thu-Sun: [16-24h]
Payment: cash only
Price range: affordable quality
(two stars out of three)

 

This beach bar is one of many recommendations of the Travel Guide BertaBerlin (for Berlin and Neukölln).